Transcript: Alvin Kamara talked about hitting man at Las Vegas Strip casino
Updated February 22, 2023 - 7:09 pm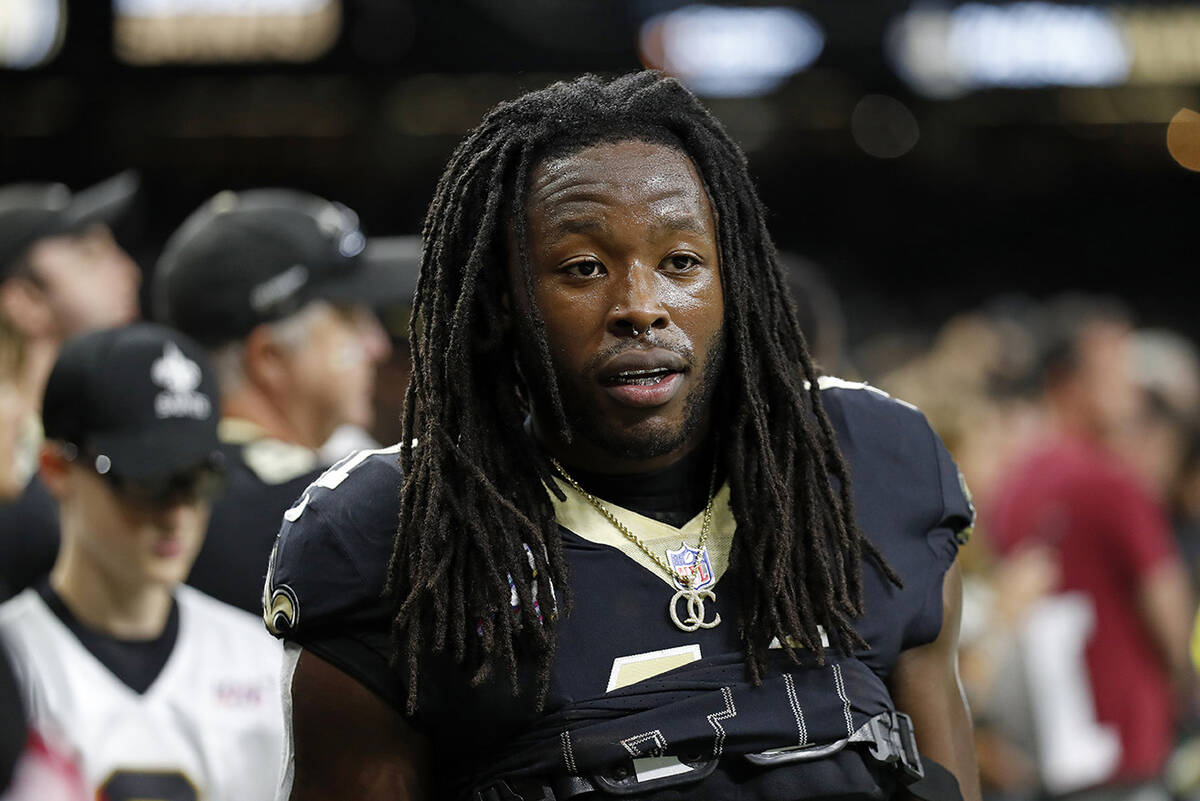 Limousine surveillance footage captured New Orleans Saints running back Alvin Kamara describing how he hit a man while leaving a Las Vegas nightclub last year, according to grand jury transcripts made public Tuesday.
Cincinnati Bengals cornerback Chris Lammons, Darrin Young, Percy Harris and Kamara were each indicted on a felony charge of battery with substantial bodily harm and a gross misdemeanor charge of conspiracy to commit battery in connection with an alleged attack in February 2022 at The Cromwell.
Metropolitan Police Department Det. Austin Bone told the grand jury that police identified the defendants through video from The Cromwell and inside a limo they used to leave the property.
Kamara could be heard on video inside the limo saying "I connected with that (expletive) jaw so hard" while holding his right hand in a fist, according to the transcripts.
The victim, Darnell Greene, told the grand jury he was leaving Drai's After Hours around 6:30 a.m. on Feb. 5, 2022 when he was beaten by multiple people who kicked and punched him. Video showed his head hit a wall before he fell to the ground, unconscious in the elevator.
"I went to step on the elevator and a guy put his hands on my, on my chest like to tell me, like push me back and tell me I can't get on the elevator," Greene said. "So when he pushed me I pushed his hands down off of my chest and then he pushed me real hard and then somebody hit me."
Greene said he suffered a permanent orbital fracture and had surgery on his right shoulder after the beating.
"I thought I was getting murdered," he said.
Defense attorney David Chesnoff said Tuesday that his client was defending other people when Greene was injured and pointed to a previous statement he and attorneys Drew Findling and Richard Schonfeld issued Thursday.
"The State has avoided a contested preliminary hearing by indicting Mr. Kamara. He intends to vigorously fight the allegations at trial as he was defending himself and others at the time of the incident," the statement said.
According to an arrest report, Kamara told police he thought that Greene had done something to someone in his group of people who were leaving the club. Kamara alleged that Greene punched Kamara as he ran away.
Surveillance video referenced in the police report approximated that Kamara punched the victim eight times, Lammons punched him once and stomped on him three times, Harris stomped on him 16 times, and Young stomped on him four times.
An initial arraignment is scheduled for March 2.
Contact Sabrina Schnur at sschnur@reviewjournal.com or 702-383-0278. Follow @sabrina_schnur on Twitter.