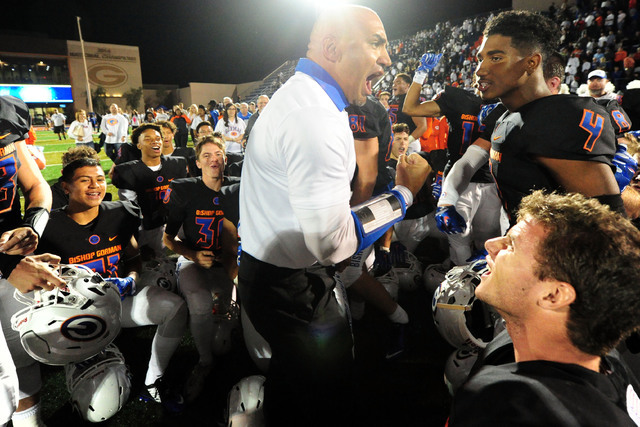 Bishop Gorman's football team was approved by the Nevada Interscholastic Activities Association on Wednesday to play an 11-game regular-season schedule.
The Gaels, who by February had contracted five nonleague games and may have the nation's most challenging nonleague schedule, were placed last month in a seven-team league after playing in a five-team league last season.
As a result, Gorman will have six league games, bringing its total to 11. The NIAA maximum is 10 games, including a designated Hall of Fame Game, which allows teams to play the 10th game if they make a contribution to the NIAA's Hall of Fame.
"In February, we had good conversations with the NIAA and correspondence with the Clark County School District," Gorman assistant athletic director Grant Rice said. "We informed them that we planned on scheduling five nonleague games. We anticipated having no more than six teams in our league, meaning that we would have five league games. We received no pushback."
Gorman played only four league games last year, but with the realignment that goes into effect next season, the Gaels were placed in the seven-team Southwest League.
Two of the Class 4A leagues have seven teams, one has six and one has five.
"We're simply making a one-year, one-time request to add a game to our schedule because of circumstances beyond anyone's control," Rice said. "We'd like you to remember this was not by choice when it started, it was by necessity. We understand that next year we would schedule a maximum of four out-of state games."
CCSD schools are permitted only nine games, as the district will not pay for a school to play a Hall of Fame Game. Gorman is not a CCSD member school.
Gorman is scheduled to visit Cedar Hill (Texas) to start its season Aug. 27. The Gaels also have a game scheduled at St. John Bosco (California) on Sept. 9 and have home games against Cocoa (Florida) on Sept. 2, Kahuku (Hawaii) on Sept. 17 and St. Thomas Aquinas (Florida) on Sept. 30.
"Schedules have been in place for a while," Rice said. "On May 25, when the (league) schedules were released, we didn't think there would be seven teams in our league. It's not something we planned or tried to get ahead of anybody. It was something that came out of circumstance."
Only five of the nine board members were present for the meeting, and Gorman's request for the 11th game passed on a 4-1 vote, with CCSD executive athletic director Ray Mathis voting no.
"I'm not blaming anybody," Mathis said. "I'm just worried about perception from the other leagues. It's going to be another situation where coaches will go absolutely crazy when they can only play nine games and Gorman is playing 11."
CCSD Board of Education members Erin Cranor and Carolyn Edwards, Clark principal Jill Pendleton and Lyon County School District Board of Education member Jason Sanderson voted yes.
BASKETBALL VENUE — The NIAA probably will be searching for a new home for its state basketball tournament when it's played in Las Vegas.
NIAA assistant director Donnie Nelson told the board that current host Orleans Arena needs an answer Thursday if the NIAA plans to continue its relationship. But the association is still waiting for final word on its partnership contract with Station Casinos and doesn't have the money in hand to pay what Nelson said would be a $35,000 bill for Orleans Arena.
"We're not going to be able to commit to something that is going to cost us a lot of money if we don't have the money," Nelson said.
Las Vegas hosts state basketball in odd-numbered calendar years and will host the tournament in the 2016-17 season.
HAVE MERCY — The board approved an additional mercy rule for baseball and softball that will end a game when a team has a lead of 15 or more runs after three innings.
Games will continue to have a mercy rule when a team leads by 10 or more runs after five innings.
"There's been a lot of input into our office over the past couple of years to do this," said NIAA assistant director Jay Beesemyer.
Contact reporter Bartt Davis at bdavis@reviewjournal.com.
Complete coverage of high school sports.