January 13, 2013 - 2:01 am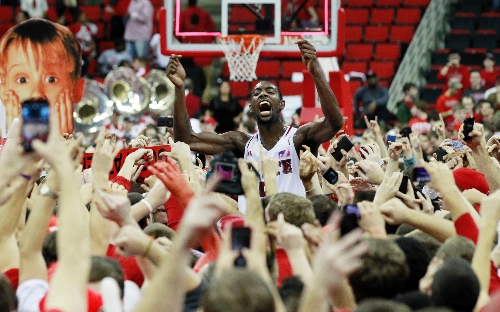 RALEIGH, N.C. – C.J. Leslie and Richard Howell wanted this moment, the chance to help No. 20 North Carolina State make a big step forward after a bumpy start to a season filled with potential.
Now, after a rousing performance to take down No. 1 Duke, the duo has put the Wolfpack back on everyone's radar.
Leslie scored 25 points, including six straight during a key second-half run, to help North Carolina State defeat the Blue Devils 84-76 on Saturday.
Howell added 16 points and 18 rebounds in a relentless performance for the Wolfpack (14-2, 3-0 Atlantic Coast Conference) in a matchup of the teams predicted to finish 1-2 in the league.
"Coach (Mark Gottfried) said in the locker room: Nobody's going to give us anything and we've got to take it," Howell said. "That's the mindset we came out with. We've got to take everything … and that's what we did."
North Carolina State was picked for the first time in nearly four decades to win the ACC, though two early losses drained some buzz.
No longer. Any lowered expectations are gone, as is Duke's perfect record.
"I thought our guys, they accepted the challenge," Gottfried said. "It's one of those (games) where it comes to a point where mentally you say, 'I'm going to get it done' and they're not going to go away. … Our guys showed a lot of toughness."
Lorenzo Brown finished with 12 points and 13 assists for the Wolfpack, while senior Scott Wood added 14 with three 3-pointers – including a four-point play in the first half.
Seth Curry scored 22 despite missing the final minutes with a left ankle injury for Duke (15-1, 2-1).
With the Blue Devils' loss, No. 2 Michigan (16-0) is the nation's last unbeaten team heading into today's game at No. 15 Ohio State.
"I thought we played our butts off," Duke coach Mike Krzyzewski said. "Our kids played with a lot of heart, their kids played with a lot of heart, and they were a little better than we were."
Fittingly, Howell hauled in the rebound on Duke's final shot, then passed the ball to Brown as Leslie began celebrating near midcourt. Brown flung the ball high into the air as the horn sounded, while students and Wolfpack fans stormed the court – the charge led by a fan in a wheelchair – to celebrate.
Fans soon lifted Leslie and Brown on their shoulders amid the sea of red-clad jubilation.
"I saw the whole court and I couldn't see a bit of court," Leslie said. "It was just people everywhere. So that's going to be a remembrance we'll never forget. We'll always keep this in our minds."
AROUND THE NATION
• CARDINALS CLAMP DOWN – At Louisville, Ky., Peyton Siva scored 17 points, and No. 3 Louisville (15-1, 3-0 Big East) held South Florida (9-6, 0-3) to 27 percent shooting in a 64-38 win.
• ARIZONA BOUNCES BACK – At Corvallis, Ore., Solomon Hill made five 3-pointers and had 16 points, and No. 4 Arizona (15-1, 3-1 Pac-12) bounced back from its first loss with an 80-70 victory over Oregon State (10-6, 0-3).
• HOOSIERS HOLD OFF GOPHERS – At Indianapolis, Victor Oladipo scored 20 points and Jordan Hulls made four 3-pointers, helping No. 5 Indiana (15-1, 3-0 Big Ten) gain an 88-81 win over No. 8 Minnesota. Andre Hollins scored 25 points to lead the Gophers (15-2, 3-1), who had won 11 in a row.
• JAYHAWKS' WIN STREAK AT 13 – At Lubbock, Texas, Kevin Young had 14 points as No. 6 Kansas (14-1, 2-0 Big 12) got its 13th straight win, 60-46 over Texas Tech (8-6, 1-2).
• BADGERS SURPRISE ILLINI - At Madison, Wis., Jared Berggren had 15 points and 12 rebounds, and Wisconsin (12-4, 3-0 Big Ten) scored the first 14 points in rolling to a 74-51 victory over No. 12 Illinois (14-4, 1-3).
• UCONN SNAPS IRISH WIN STREAK - At South Bend, Ind., Tyler Olander had 12 of his 16 points in the second half, and Connecticut (12-3, 2-1 Big East) ended the game with a 7-0 run to gain a 65-58 win over No. 17 Notre Dame (14-2, 2-1), ending the Fighting Irish's 12-game winning streak.
• SOUTHWELL LIFTS K-STATE - At Morgantown, W.Va., Shane Southwell hit two free throws with 21 seconds to play, then blocked Gary Browne's layup with a second left, giving No. 18 Kansas State (13-2, 2-0 Big 12) a 65-64 victory over West Virginia (8-7, 1-2).
REGIONAL
• HAWS CARRIES COUGARS – At Santa Clara, Calif., Tyler Haws scored 24 points on 10-for-14 shooting, and Brigham Young (14-4) climbed to 4-0 in the West Coast Conference with an 82-64 win over Santa Clara (12-6, 1-3).
• BRUINS WIN NINTH IN ROW – At Boulder, Colo., Shabazz Muhammad scored 14 points, helping UCLA (14-3, 4-0 Pac-12) gain its ninth straight win, 78-75 over Colorado (11-5, 1-3).