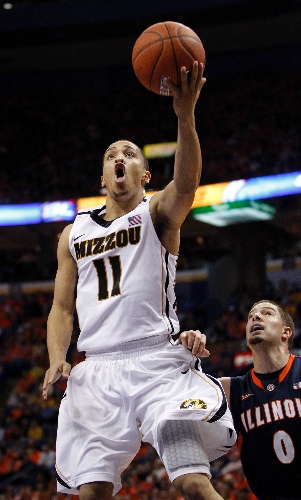 ST. LOUIS — Not much bragging for Missouri after this one.
Phil Pressey had 18 points, five assists and two steals, and the ninth-ranked Tigers held off a second-half charge by No. 25 Illinois for a 78-74 win in the annual Braggin' Rights game on Thursday.
"There's a fine line when you have an athletic team that is good in transition," Missouri coach Frank Haith said. "We don't want to play at warp speed all the time. That allowed Illinois to get back into the game."
Reserve Michael Dixon added 18 points and Ricardo Ratliffe had 14 in 19 minutes for Missouri (12-0), which squandered a 13-point cushion with 13 minutes left before recovering. The Tigers have won three straight in the series, and they're 12-0 for the first time since opening the 1981-82 season 19-0.
"We just had to dig it out," guard Kim English said. "An ugly win is better than a pretty loss any day."
Reserve Joseph Bertrand scored a career-high 19 points on 9-for-9 shooting, and Meyers Leonard had 14 points and 13 rebounds for Illinois (11-2) in its second loss in three games.
"They'll be one of the best teams we'll play all year," Illini coach Bruce Weber said. "We had to play small ball. Bertrand hadn't made a bucket in weeks, even in practice."
Bertrand, a sophomore, totaled two points in the previous six games and came in averaging 3.2 per game. He scored nine points in a 17-3 surge for a 62-61 Illinois lead with 7:01 to go.
AROUND THE NATION
ORANGE ROLL — At Syracuse, N.Y., Dion Waiters scored 15 points for No. 1 Syracuse, which opened 13-0 for the third straight season with an 80-61 win over Tulane (11-2).
BUCKEYES STAY HOT — At Columbus, Ohio, William Buford scored 18 points for No. 2 Ohio State (12-1) in its 69-40 win over intra-state rival Miami (3-7), the Buckeyes' 33rd straight home victory. Deshaun Thomas added 15 points and Jared Sullinger 11.
KENTUCKY SAFE AT HOME — At Lexington, Ky., freshman reserve Kyle Wiltjer scored a career-high 24 points for No. 3 Kentucky (11-1), which posted its 42nd straight home win with an 87-63 victory over Maryland-based Loyola (8-3).
UCONN HOLDS ON — At Hartford, Conn., Shabazz Napier scored 24 points for No. 8 Connecticut (10-1), which saw a 22-point lead shrink to three with 2½ minutes left before posting a 79-71 victory over Fairfield (7-5) in the final game before Huskies coach Jim Calhoun begins serving a three-game suspension for NCAA recruiting violations.
NO. 14 XAVIER TUMBLES — At Honolulu, Michael Caffey had 14 points, helping Long Beach State (6-5) gain a 68-58 win over No. 14 Xavier (8-2) in the Diamond Head Classic.
APPLING SAVES SPARTANS — At East Lansing, Mich., Keith Appling had 19 points, including 12 of 12 free throws, for No. 19 Michigan State (11-2) in its 90-81 win over Lehigh (9-4), which had won nine of 10. Draymond Green scored 16 for the Spartans.
REGIONAL
DUO LIFT BYU — At Provo, Utah, Matt Carlino scored 22 points and Noah Hartsock 21 for Brigham Young (10-3) in its 89-75 victory over UC Santa Barbara (5-5).
UNR TOPS PORTLAND — At Reno, Dario Hunt had 15 points and 11 rebounds for UNR (9-3), which won its sixth straight with a 78-60 victory over Portland (3-10).