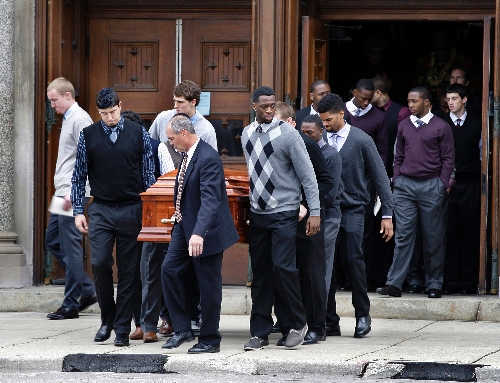 Rick Majerus was buried Saturday in Milwaukee, the city where he spent his formative years. He graduated from Marquette University, the place he grew to love as a kid and came to despise as an adult.
That in itself shows the complexity of a man who rightly has been called "a basketball savant" but at the same time could be cruel to those who needed him the most.
He was generous. He was vindictive.
He was my friend. And then he wasn't.
When Majerus died Dec. 1 at age 64 from heart complications while awaiting a transplant, I was covering the UNLV-Hawaii basketball game. It was fitting – because through basketball we became friends in 1991 and through it our friendship ended 15 years later.
To say I knew Rick Majerus would be a lie. Truth is, no one really knew him. Not those who played for him. Not those who employed him. Not those who tried to love him. Not those who disliked him.
Sure, he was a dinner companion, many nights holding court talking basketball while picking away at three or four entrees he had ordered – Rick always ordered for everyone. He could be at the coffee shop at Salt Lake City's Little America Hotel at 1 a.m. or at a mid-evening meal at the old Venetian Restaurant on West Sahara Avenue. He loved the company of basketball writers – provided you weren't his team's beat reporter.
The first time I was allowed to watch a Majerus practice at Utah – a privilege that wasn't extended to reporters who covered him daily – I came to realize there were two Rick Majeruses. And had I been covering his team full time, I also would have been on the outside looking in.
One night I asked Majerus why he treated his beat reporters the way he did. He thought for a moment and then said, "It's not that I don't like them. I just don't want them to get too close to me."
Complex? You bet.
But this isn't about sports writers and going out to dinner. The irony of Majerus dying from heart problems is that I experienced firsthand how big a heart he truly had.
On April 16, 2001, I was diagnosed with follicular thyroid cancer. Rick found out in the next 24 hours. He called me, and during our conversation he said I should come to Salt Lake City and go to the Huntsman Cancer Center for my treatment and that he would take care of everything.
I politely declined his generous offer, and in August I checked into the National Institutes of Health near Bethesda, Md. I would spend almost a month 2,500 miles away from home, pretty much by myself as I received treatment.
Turns out I wasn't alone. Every day, without fail, the phone would ring. It was Rick Majerus, checking in, making sure I was doing all right, that I was staying positive and that I was reading the inspirational books he had sent me.
That was the Rick Majerus I always will remember.
But I also won't forget the Rick Majerus who stopped talking to me shortly after he took the Southern California coaching job in December 2004 only to walk away from it days later.
I had written an article that was critical of the way Rick handled the USC situation. He thought it was an act of betrayal on my part.
Our last conversation was at the Southern Nevada Sports Hall of Fame induction ceremony in June 2005. Keith Kleven, the fine physical therapist who often had treated Majerus – he got him to do Pilates! – was entering the Hall, and Rick was presenting him.
Rick and I saw each other, and I stuck out my hand and said hi. He took my hand, but not the way friends do, and our conversation lasted maybe 20 seconds.
We never did reconcile. I left him a message when his mother died last year, but I never heard back from him.
I was happy – but concerned for his health – when he returned to the sideline at Saint Louis after an unsuccessful run as an ESPN analyst. He was too cerebral for his audience. I knew he loved coaching. More to the point, he loved running practice and watching film with his staff and players.
Unfortunately, his health deteriorated to the point where he wasn't going to recover. Sixty-four is far too early to die. Yet, Rick Majerus did a lot of living in those 64 years.
I was there for some of it.
Playing in a pickup basketball game with "Rick the Pick" and being coached by him on the court. Riding with him to Price, Utah, to watch a recruit and seeing the kid clearly was not good enough to play for the Utes, and then spending the drive back to Salt Lake City listening to him rip his assistants while trying to find a 7-Eleven for ice cream to tide him over until a late-night dinner at Little America.
Spending a few minutes in his suite at the University Park Marriott, the room strewn with boxes of sneakers, packages of T-shirts and sweatsuits, cases of soda and water and juices, and then watching him waddle around the room naked as a 350-pound jaybird after showering.
Listening to him talk basketball at the Roma Deli on West Flamingo and Decatur with Jerry Savio, a longtime UNLV booster who was legendary coach Al McGuire's best man and lifelong friend and who knew Majerus from his days at Marquette University High School.
And watching from courtside one of the greatest coaching jobs ever when Utah used a triangle-and-two defense to stop Lute Olson's powerful Arizona squad in the 1998 West Regional final in Anaheim, Calif., and advance to the Final Four.
I saw him laugh. I saw him cry. I saw him angry. I saw him act compassionately. He loved former players Andre Miller and Keith Van Horn. He had disdain for former player Lance Allred and Utah women's basketball coach Elaine Elliott. Why, I'll never know.
But that was the Rick Majerus I knew. And that's the Rick Majerus I will miss. The good and the bad.
All of it.
Contact reporter Steve Carp at scarp@reviewjournal.com or 702-387-2913. Follow him on Twitter: @stevecarprj.