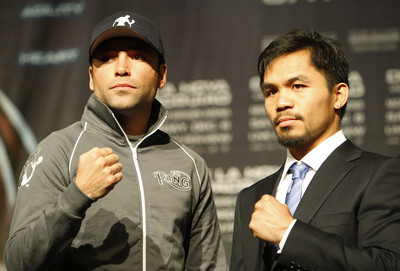 They might be the four least desirable words in a promoter's vocabulary:
"Good seats still available."
As the countdown continues toward Saturday's 147-pound fight between Oscar De La Hoya and Manny Pacquiao, a fight that claimed to have sold out within two hours more than two months ago suddenly has seats available.
Whether it's through the MGM Grand box office, after a "reconfiguring" of the Grand Garden Arena, or through ticket brokers who gobbled up tickets when they went on sale with the idea of cashing in on the magnitude of the fight, tickets are available for perhaps the biggest fight of the year between two of the biggest names in boxing.
The announcement that tickets still could be had was echoed at Wednesday's final news conference at the MGM's Hollywood Theatre. Top Rank's Bob Arum and Golden Boy's Richard Schaefer, who are co-promoting the fight, had to be cringing when they heard the announcement.
But both insist the arena will be full come Saturday.
"We're getting (ticket) orders from the hotels," Arum said. "Ticket brokers bought up most of the tickets when they went on sale in September. They assumed they could resell them for two or three times the face value. But when the economy went bad, they saw they couldn't sell those tickets like they thought. … I don't feel bad for the ticket brokers."
De La Hoya didn't seem too concerned about tickets suddenly being available.
"It doesn't bother me at all," he said Wednesday. "As far as I know, we have a sold-out fight."
Schaefer said the fight already has produced a live gate of more than $15 million, so he's not worried about ticket brokers selling tickets at less than face value on the Internet.
"We already have our money in the bank," he said.
Schaefer said he thinks fans who want to see the fight, whether it's in person or at home in front of their television, will do so.
And while the closed-circuit telecast at MGM Mirage properties, where seats are going for $40 and $60, might not do as well as hoped — 8,000 of 30,000 seats had been sold — Schaefer said he thinks the pay-per-view telecast on HBO could be better than people have been predicting.
"When the economy is bad like it is right now, people still want to be entertained," Schaefer said. "They'll find a way to see it."
Perhaps. But not in as many numbers as anticipated when the fight was made three months ago. The two promoters thought there was a chance De La Hoya-Pacquiao could come close to matching or surpassing De La Hoya's 2007 fight with Floyd Mayweather Jr., which did a record 2.4 million pay-per-view buys and grossed $120 million.
But with the economy officially in a recession, Schaefer and Arum have backed off that notion. Some industry people think the fight won't reach 1 million buys. Yet Schaefer said he thinks as many as 1.5 million buys is possible.
"I think that's a more realistic expectation," Schaefer said of the pay per view, which retails for $54.95 ($64.95 in high definition). "The early indications are good. But I don't know what realistic is in these tough economic times.
"We won't know how well we're doing until we see the tracking numbers (today), but we believe there's a big demand for this fight. If it does 1.5 million buys, I'd be very happy."
• NOTES — De La Hoya remains the betting favorite at minus-170, with Pacquiao at plus-140. … Friday's weigh-in inside the Grand Garden will begin at 2 p.m. and is open to the public. Admission is free.
Contact reporter Steve Carp at scarp@ reviewjournal.com or 702-387-2913.