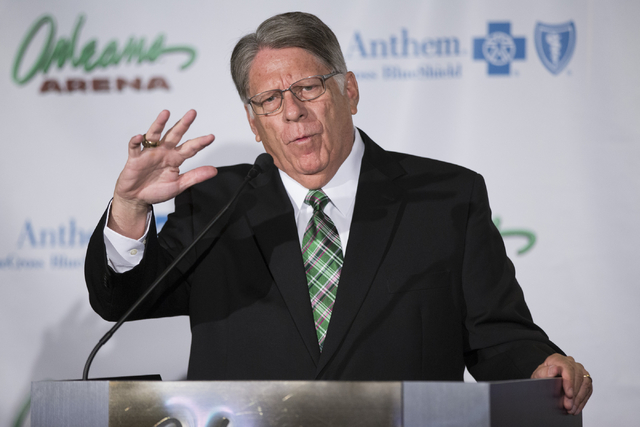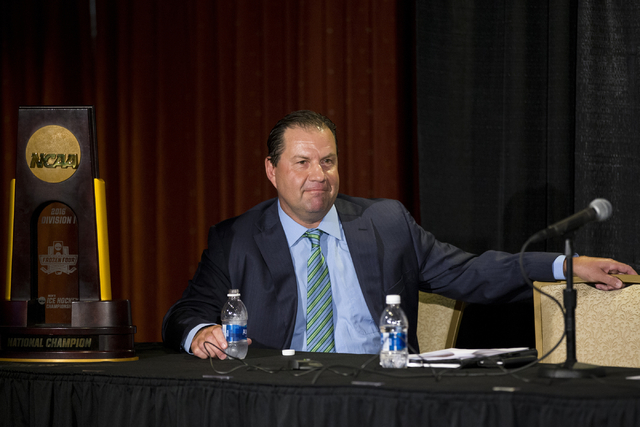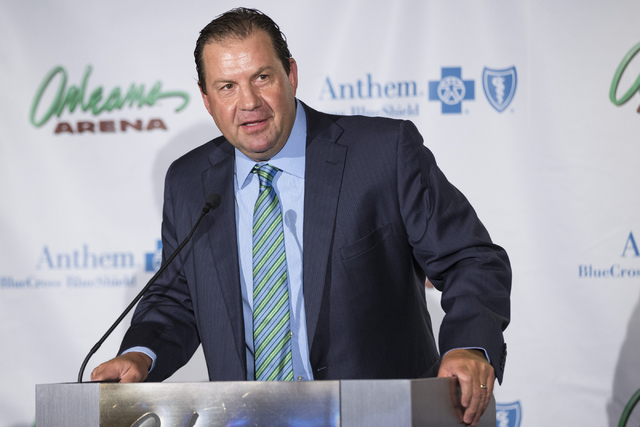 One of college hockey's most storied and intense rivalries is coming to Orleans Arena.
Minnesota and North Dakota will meet Oct. 27, 2018, in the U.S. Hockey Hall of Fame Game. The neutral site game will be an NCAA exempt event and a fundraiser for the Hall of Fame, located in Eveleth, Minnesota.
"We've got a great rivalry," said North Dakota athletic director Brian Faison, whose school will be the host team for the event. "We're going to a great destination, and our fans are going to have a ball. This place will be virtually green."
Orleans Arena seats 7,453 for hockey, far less than T-Mobile Arena's 17,500. By going to a smaller venue, the game is expected to sell out quickly.
North Dakota, which won its eighth NCAA championship in April and finished the season 34-6-1, is hosting this year's Hall of Fame Game on Oct. 15 at Ralph Engelstad Arena in Grand Forks, North Dakota, against Rensselaer Polytechnic Institute. Minnesota played in last year's Hall of Fame Game, losing to Vermont 3-0. The Gophers did not make this year's NCAA playoffs, finishing 20-17.
North Dakota coach Brad Berry said having a high-profile game such as this one in Las Vegas can be an effective recruiting tool.
"It's a big selling point to recruits," he said. "We talk about the student-athlete experience and being able to go to different places. We've been to New York, to Tampa and now coming to Vegas in 2018. It definitely helps our recruiting."
Minnesota coach Don Lucia was on vacation in Alaska and did not attend Wednesday's news conference at The Orleans.
"This is both a great experience for our student-athletes and an opportunity to grow the game in a nontraditional college hockey market," Lucia said in a statement. "Taking our rivalry with North Dakota to Las Vegas will be great for both programs, our fans and college hockey, and we are certainly looking forward to it."
The rivalry dates to 1930, and Minnesota has a 146-130-15 series edge. Both schools have sent numerous players and coaches to the NHL, and with Las Vegas joining the league in 2017, the Hall of Fame Game is another opportunity to grow the sport locally.
The only other Division I college hockey game in Las Vegas was Dec. 15, 1995, when Bowling Green played Western Michigan at the Thomas & Mack Center. Western Michigan won 6-4 before a crowd of less than 3,000.
Faison said he's already getting calls from fans wanting tickets and hotel rooms.
"Fan are calling us about suites," he said. "That's how we roll."
Nevada Lt. Gov. Mark Hutchison said he hopes the game will be a precursor to the NCAA lifting its ban on cities hosting championships that allow gambling on college athletics. There has been a movement within the membership to rescind the law to allow Las Vegas to host championship events such as the Frozen Four.
"We'd love to have more college events and eventually have championship events," Hutchison said. "I think there is a change in the mindset to bring college sports to the state of Nevada."
Tickets, priced at $79, will go on sale Feb. 10, 2017.
Contact Steve Carp at scarp@reviewjournal.com or 702-387-2913. Follow on Twitter: @stevecarprj