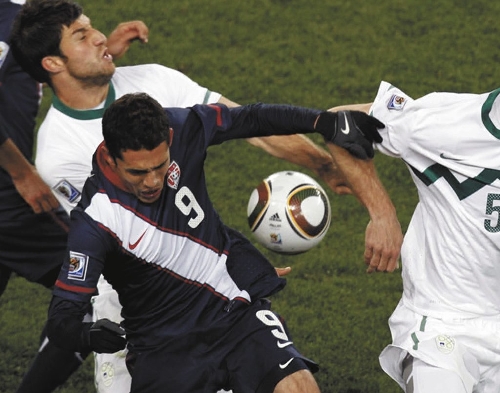 IRENE, SOUTH AFRICA — Charleston and Lamb.
That's where Herculez Gomez spent November and December in Las Vegas, dragging himself to the 24 Hour Fitness center there twice a day. Once in the morning, once in the afternoon or evening. Long workouts. Hard workouts. Tedious workouts.
But what other choice did he have? Gomez was a soccer player without a soccer team, and he wasn't going to find one if he sat around and watched TV and waited for the phone to ring. He had spent parts of the two previous seasons as an attacking midfielder and forward with the Kansas City Wizards of Major League Soccer, appearing in 35 games, starting 28, playing 2,238 minutes, taking 62 shots. Only one had gone in.
So it wasn't a big surprise that the Wizards ran out of patience and released him when the season ended in the fall. There isn't much use for 27-year-old forwards who can't score.
Charleston and Lamb. That's where Gomez went instead, where he went to dream amid the whir of exercise machines and clinking of weights.
"I didn't have a job. I didn't know what was going to happen," says Gomez, now 28, who stayed with his parents at Sunrise Mountain. "I was in double sessions at a 24 Hour Fitness. I'd be there by myself, working out, wondering what was going to happen, where I'd end up, and I'd just picture myself having a good season. I'd be thinking, 'Man, this is your last chance.' "
The World Cup was six months away, and the U.S. team had just completed its qualification. Did he close his eyes and imagine himself in South Africa?
Gomez laughs.
"It was one of those things where it would be nice, but let's be honest," he says. "I was 27, I didn't have a team, and I wasn't anywhere on their radar.
"So, no."
FORMER COACH AWAITS THE NEWS
It was late, past midnight. Frank Lemmon still hadn't heard.
Gomez had been a surprise call-in to the U.S. men's national team for its World Cup training camp, and he came on as a substitute to score a goal in a tuneup match against the Czech Republic a few hours earlier. Lemmon, 41, a partner at Price Waterhouse Cooper from Los Angeles, had some meetings on the East Coast and went a day early to see the game in East Hartford, Conn.
"I went berserk when he scored," Lemmon says. "I put my arm around the neck of one of my partners and started jumping up and down. I almost choked him."
After the game, Lemmon said hi to Gomez, the kid he coached for nearly a decade at a youth club in Henderson, and returned to his hotel. And waited. There were 30 players in camp, and U.S. coach Bob Bradley could take only 23 to South Africa. He was making the cuts that night.
Unable to take the suspense, Lemmon finally texted Gomez: Heard anything?
Gomez texted back: Bad news.
Lemmon: I'm so sorry, Herculez.
Gomez: Bad news for your wallet.
Lemmon is relaying the story from Ellis Park Stadium in Johannesburg, an hour before the United States played Slovenia there, 2½ hours before Gomez was an 80th-minute substitute and helped set up the dramatic equalizer in a 2-2 tie that kept alive U.S. hopes of reaching the World Cup's second round.
He is wearing a felt Uncle Sam hat, a red-and-blue USA scarf, a white No. 9 U.S. jersey with "GOMEZ" on the back. He sticks a finger under his glasses and sweeps away a tear.
"Your eyes kind of well up thinking about what it means for that kid, what he's done, what he's gone through," Lemmon says. "There have been a lot of highs and lows. Yeah, it's pretty special. He overcame a lot to be here. He opened the door for himself and then took advantage of the few opportunities he was given.
"I was talking to one of the parents from our club the other day and he said, 'Who would have ever thought the kid who was offside all the time would make the World Cup squad?' "
SHOWING PROMISE AT AN EARLY AGE
Gomez was 10, too young to comprehend all the details, but he remembers that his father's various businesses all failed and "we lost everything." They were living in Oxnard, Calif., and now they were moving — two parents, five kids — to Las Vegas. It was summer. He even remembers how hot it was in his neighborhood when they arrived: 124 degrees.
And the Chevy Astro van. He remembers that, too.
"We took everything we owned in that Astro van, furniture, clothes, everything," Gomez says. "For the first couple months, we stayed with one of my dad's friends. Then my dad ended up getting a two-bedroom apartment in North Las Vegas for all seven of us, and we were there for a while.
"It got to the point, it was pretty sad, but to afford the apartment and get by, my dad sold the Astro van. He would literally bike to the grocery store."
Lemmon remembers getting a call that a new kid in town was looking for a team, but the other clubs were all full, which usually means that they had seen him play and were trying to pawn him off on someone else. Except this time nobody had bothered giving Gomez a tryout. Lemmon had a policy of always looking at kids first, just in case.
Good thing. Gomez, a wisp of a kid, arrived at his first practice with Neusport FC and promptly scored a goal on a bicycle kick.
Lemmon made room for him.
Gomez would play for Neusport FC for eight years, never paying anything because Ken Kefalas, a local businessman, covered the annual dues for the kids who couldn't afford it. His coach all eight years was Lemmon, who grew up in Argentina and had a godfather who was a goalkeeper for famed professional club River Plate, and who made the 45-minute drive to pick up Gomez for practice.
"He lived in Henderson, which is a nice area," Gomez says. "I lived in northeast Las Vegas, which is probably the opposite."
Most members of the U.S. World Cup roster grew up in manicured suburbia, in a big house with wealthy parents and new cleats every six months and fresh orange slices at halftime. Most were part of the Olympic Development Program, or ODP, which in the past cost money and is notoriously political. Most played on youth national teams, went to college, were drafted into MLS or signed by a European club.
They didn't live in Hispanic neighborhoods that have long been ignored by national-team programs. They don't have a father who sells used cars and a mother who is an usher at the Barry Manilow show at the Las Vegas Hilton. They don't have a brother, Ulysses, who is a mixed martial arts fighter and wears Herculez's jersey into the cage.
They didn't spend their winter at Charleston and Lamb.
"I didn't come up through the traditional ranks of ODP, of youth national teams," Gomez says. "I didn't do all that stuff. I'm just grateful that I had the opportunity to play."
Or as Lemmon puts it: "He's not a pedigree player. He's grass roots. But he's also one of these guys who doesn't know what the limits are."
Gomez's road to South Africa?
It wound through Las Vegas High, through Mexico's rough and tumble minor leagues, through an open tryout for a third-division amateur team in San Diego "with everyone from the mailman to semi-pro players," through the indoor San Diego Sockers, through the reserve team of the Los Angeles Galaxy with a salary of $16,500, through Colorado and Kansas City and finally Puebla, Mexico.
"I've kind of been around the block once or twice, you know?" Gomez says. "It's been one of those things where I've learned to appreciate things more, so when things come in and out of your life, you know how to filter things — take in the good and leave out the bad.
"This is all amazing right now. I'm soaking it all in. But I know how easily this can all be gone, how sometimes this can all go away."
One time, for a mass MLS tryout, Gomez bleached his hair blond.
"I told him he looked like a prima donna," Lemmon says. "He said, 'I don't care what they think as long as they notice me.' "
They did and signed him to a developmental contract. But he rarely played and was loaned to the Seattle Sounders of the de facto second division. Then he broke his foot.
He played for the indoor San Diego Sockers, working two jobs on the side, and was getting regular minutes and scoring goals. Then the team folded.
He finally broke in with the Galaxy and scored 18 goals in 2005, including the game-winner in the U.S. Open Cup final. Then the Galaxy changed coaches and he was traded.
With the Colorado Rapids, he did well enough to be invited to play for the U.S. national team in the 2007 Copa America, making two appearances. He was finally on the radar. Two weeks later, he blew out his knee.
He was traded to Kansas City near the end of the 2008 season and helped the Wizards make an improbable run to the playoffs. The next season, he didn't score in 26 games and was released.
The savior was Puebla, an unfancied team in Mexico's top league that needed a reserve forward for the Clausura season starting in January and figured why not. Gomez speaks Spanish. He's familiar with Mexican soccer. He works hard. He came cheap.
Fourteen games later, Gomez had 10 goals and finished tied for the Clausura scoring title with Javier "Chicharito" Hernandez, the Chivas Guadalajara forward who was recently signed by England's Manchester United. Gomez became the first American-born player to win a scoring title in Mexico, or any other foreign pro league for that matter. He didn't have bleached hair, and people were still noticing him. He was on the radar.
In mid-May he turned down offers from European teams to sign a contract with Pachuca, Mexico's most successful team over the past decade. Four days later he was texting Lemmon, telling him to make plane reservations for South Africa.
Two days after that, the kid from the cinder block home at Sunrise Mountain was at the White House, meeting President Barack Obama with the rest of the U.S. team.
"I kind of fell in between the cracks, and I feel there are a lot more people like that out there, so, no, I'm not representing just myself and my family," Gomez says. "I'm representing all those kids who never got a chance."
ANOTHER LEG OF GOMEZ'S WILD RIDE
The U.S. team's World Cup base is in Irene, South Africa, a 2,000-acre dairy farm in rolling countryside about an hour's drive north of Johannesburg. Twice a day the cows are milked. Chickens and geese waddle across the grounds. A family of monkeys lives in the nearby trees.
Gomez says he offered to pay for his parents, Manuel and Juanita, to travel to South Africa for the World Cup, to see the latest stop on his winding journey through soccer's wilds. But they look after several grandchildren and, on such short notice, couldn't leave Las Vegas.
His girlfriend and her sister made the trip. So did a cousin. And no way were Lemmon and his wife missing this, no matter how bad the news for his wallet.
Being so isolated in Irene, the players have had little time with their friends and families. But after the first game, a 1-1 tie against England, the players were given the day off and bused into Johannesburg to visit them.
Gomez got off the bus on the other side of the world from Sunrise Mountain and saw Lemmon. They embraced.
"It's the same hug I used to get on the sideline when he was 14 and he was running off the field," Lemmon said, his eyes welling with tears again. "He kind of puts his head on your shoulder. It's not a Superman hug, and he doesn't say anything.
"But nothing really needs to be said."
Mark Zeigler is a sports writer for the San Diego Union-Tribune.