Now healthy, 51s' Robert Gsellman impresses on mound
August 11, 2016 - 11:12 pm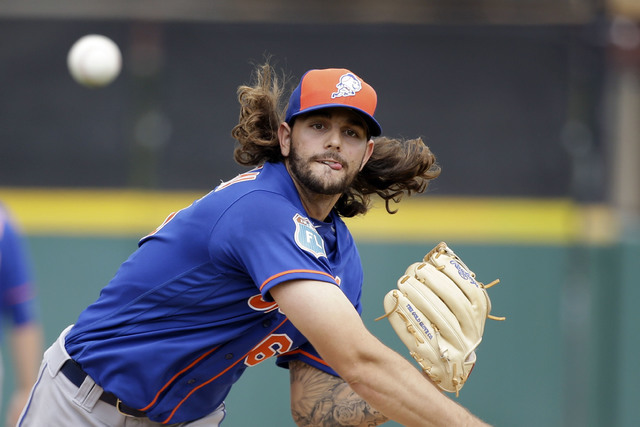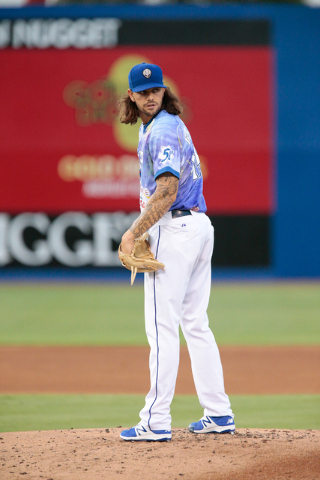 Robert Gsellman's first three starts for the 51s were less than ideal. The right-hander didn't make it past the fourth inning in any of them and gave up five earned runs in each.
Gsellman, one of the New York Mets' top pitching prospects, was promoted in June. In his first start, he gave up nine runs, five earned, against Albuquerque in three innings.
The 51s then shut him down for a month as he dealt with a lingering quad issue.
His next two starts back, the results weren't much better.
But since that point, Gsellman, who will start for Las Vegas on Friday night against the New Orleans Zephyrs at Cashman Field, has lived up to expectations.
"The last four starts, he's been very aggressive, he hasn't walked anybody, he's gone after the hitter and he's succeeding," pitching coach Frank Viola said. "When you have superior stuff like he has, you're going to succeed, and that's what he's finding out."
In those starts, he's compiled a 3.04 ERA, having given up nine runs in 26 2/3 innings. All four were quality starts. For the season, he's 1-5 with a 5.89 ERA.
"(I'm) just feeling more comfortable on the mound and more confident," Gsellman said. "My legs are getting back under me, so (I'm) starting to feel pretty good on the mound."
Gsellman originally suffered the quad injury in spring training, but pitched through it at Double-A Binghamton, where he went 3-4 with a 2.71 ERA.
After making one start with the 51s on June 11, he didn't pitch again until July 9.
More than two months later, Gsellman said his legs don't feel weak, and through stretching, strengthening and running, his quad is much stronger than when he arrived.
"The only thing that he was able to maintain during that time he was on the disabled list was the fact that he could still throw, but the other things he wasn't able to do, his running, stuff like that," manager Wally Backman said. "He got back into a real baseball-season routine, I think, and he made some adjustments, too, because he got hit pretty hard early."
Getting back into a real baseball-season routine has required some extra attention. Viola described Gsellman as a "laid-back kid" who needs to be pushed.
"If you don't tell him or stay on him, he'll cut corners, and I don't mean that in a negative way. A lot of guys do that," Viola said. "I was like that as a player, too. If somebody's not watching you, you're going to take it a little slower. He's one of those kids, though, when you have so much ability like God's given him, you really have to stay on him."
When Gsellman first came back from his injury, Viola said he wasn't running his sprints all out. But now that he's healthy, making sure he's staying on top of his work and conditioning is a staff effort.
"As far as the arm goes, it's there. It's just the subtle stuff," Viola said. "Just get a routine going, stay with that routine, work hard when you have to, slack off when you know you can, get out there, be ready to go every fifth day."
Viola hasn't had to get on him to the full extent and said he's seen "nothing but positives," from Gsellman, especially in his past four starts.
The results are now translating to the field and could lead Gsellman, who is on the Mets' 40-man roster, to a September call-up. But regardless if he debuts this year, the 51s are liking the look of a healthy Gsellman.
"This kid has it. There's not a lot of guys you can say that about," Viola said. "The last couple years we said that about (Jacob) deGrom. We said that about (Noah) Syndergaard. We said that about (Steven) Matz.
"This is the next one. I mean, this kid's going to make a difference in major league baseball."
Up next
Who: New Orleans Zephyrs at Las Vegas 51s
When: 7:05 p.m. Friday
Where: Cashman Field
Starters: Justin Nicolino (6-5, 3.46 ERA), Zephyrs, vs Robert Gsellman (1-5, 5.89 ERA)
Next five
Saturday: New Orleans at Las Vegas, 7:05 p.m.
Sunday: New Orleans at Las Vegas, 7:05 p.m.
Monday: New Orleans at Las Vegas, 7:05 p.m.
Tuesday: Round Rock at Las Vegas, 7:05 p.m.
Wednesday: Round Rock at Las Vegas, 7:05 p.m.
Update
The 51s released their 2017 home schedule Thursday. Las Vegas will host Fresno for its home opener April 11. They will close out the home slate Sept. 4 against Tacoma. In the middle, they will host a Fourth of July game and have a 13-day, 12-game homestand.
Betsy Helfand can be reached at bhelfand@reviewjournal.com. Follow on Twitter: @BetsyHelfand