Obama says NFL 'behind the curve' in handling of Ray Rice case
December 12, 2014 - 11:17 am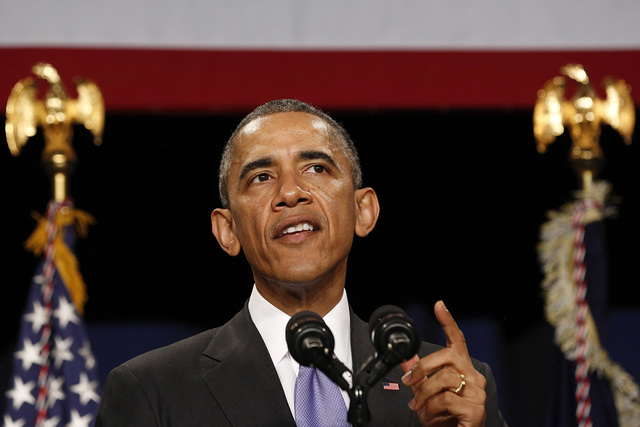 President Obama said Friday during a radio interview that NFL commissioner Roger Goodell seemed to be making up policy as he went along in handling player discipline such as the Ray Rice case.
In an interview with Colin Cowherd on ESPN Radio, Obama said the Rice case troubled him as it shined a spotlight on domestic violence in America.
"I think the most prominent example, obviously, was the Ray Rice situation," he said. "I'm so glad we got more awareness about domestic violence. Obviously, the situation that happened in the Rice family was important, but it did lift up awareness that this is a real problem that we have to root out and men have to change their attitudes and their behavior."
Obama said the NFL was caught off guard in dealing with the Rice case.
"The way it was handled also indicates that the NFL was behind the curve, as a lot of institutions have been behind the curve, in sending a clear message," Obama said. "You don't want to be winging it when something like this happens. You want to have clear policies in place. The fact that policies have now been established I think will be helpful in sending a message that there's no place for that kind of behavior in society, whether it's in sports or anyplace else."
Rice was suspended indefinitely Sept. 8 for violating the NFL's personal-conduct policy after a second video from inside an elevator at an Atlantic City, N.J., casino showed him hitting and knocking out Janay Palmer, his then-fiancee and now-wife.
Goodell originally had suspended the former Baltimore Ravens running back for just two games after he pleaded not guilty to a third-degree charge of aggravated assault.
On Wednesday, the NFL owners unanimously approved a stricter and revised personal-conduct policy that calls for the league to hire special counsel to conduct investigations independent of Goodell's office.
Obama said he hasn't had a lot of time to watch NFL games this season.
"The Bears haven't given me that much reason to want to watch the game," Obama said. "The Bulls I'm feeling more optimistic about."