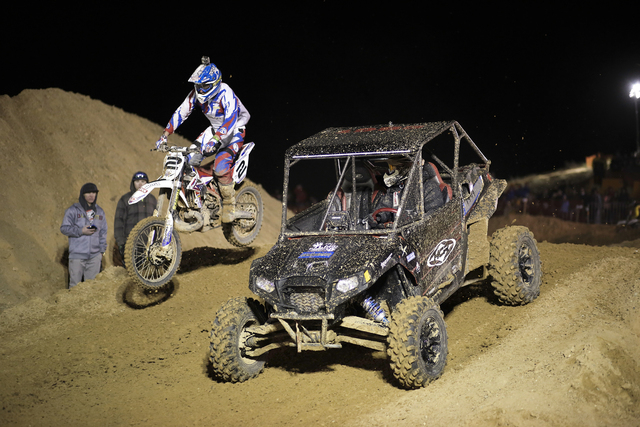 The idea was so out there that Kenny Bartram couldn't believe what he was hearing.
Motorcycles, both freestyle and endurocross, sharing the same course and the same race with all-terrain and utility-task vehicles.
"I thought it sounded like a crazy, stupid idea," Bartram said. "And I wanted in."
The race, called Beyond Pro, made its debut last year at the Mesquite Off-Road Weekend.
The first try at the Beyond Pro was so successful with the competitors and the crowd of 5,500 that turned out for the event near the Eureka Casino Resort that it will return.
And, organizers expect, the fans will be back as well. The racers certainly are returning this weekend.
The Mesquite Off-Road Weekend begins with a series of events today, and the Beyond Pro main attraction is at 6:30 p.m. Saturday. The competition wraps up Sunday.
Bryan Green and Gregg Godfrey created the format, a unique event in off-road racing as a way to bring the best to one spot and test their limits.
And when a freestyle motorcyclist has a UTV bearing down on him from behind, a racer's guts get tested as well.
It's one thing to come up with an idea. It's another to execute it.
Phone calls had to be made to potential participants. Whether they accepted the invitations was another matter.
"The freestyle guys were worried about the endurocross course because they're not accustomed to worrying about obstacles in their way," Green said. "And the off-road racers were worried about the freestyle ramps. They're not accustomed to jumping freestyle ramps. Everyone's first reaction was, 'What the hell is the Beyond Pro?' "
So the selling job took some work, and it ultimately was successful.
Bartram, a legend in freestyle motocross, won the event. He has a background in endurocross, and used that experience with riding over obstacles to his advantage.
And, for Bartram, there weren't many surprises about how the race would unfold, probably another factor in his favor.
"It actually turned out to be exactly what I thought — mass chaos and a great time," he said. "It was absolute pandemonium on the track. It was so many people going every different direction. It was a blast. It was so much fun."
Cody Webb, an endurocross rider and the 2010 AMA National Time Trials champion, had some difficulty navigating the freestyle portions of the race. But now that he has gone through the event once, Webb is eager to attack the course Saturday.
"Last year, I didn't know what I thought of it," Webb said. "It was definitely crazy insane. It was really exciting. At the same time, a little dangerous."
Green said some changes have been made to the course, providing a setup that should be more spectator friendly.
Beyond Pro belongs to Mesquite for now, but this might be a concept that will catch on elsewhere.
That probably wouldn't bother Green, but he isn't planning to be the one to set up similar races in other venues.
"It works in Mesquite, and it would work elsewhere, and it would work with other sports," Green said. "… But the Beyond Pro race itself, I don't personally have an aspiration to doing a traveling show with it, but it definitely could be applied elsewhere."
■ NOTES — Las Vegas Motor Speedway will host Daytona 500 viewing parties at seven locations at 9 a.m. Sunday. Those in attendance have the chance to win tickets to NASCAR weekend in two weeks at LVMS and Kobalt tools kits. Go to lvms.com for locations. … The Battle at Primm, a Southern Nevada Off Road Enthusiasts event, is today through Sunday.
Contact reporter Mark Anderson at manderson@reviewjournal.com or 702-387-2914. Follow him on Twitter: @markanderson65.