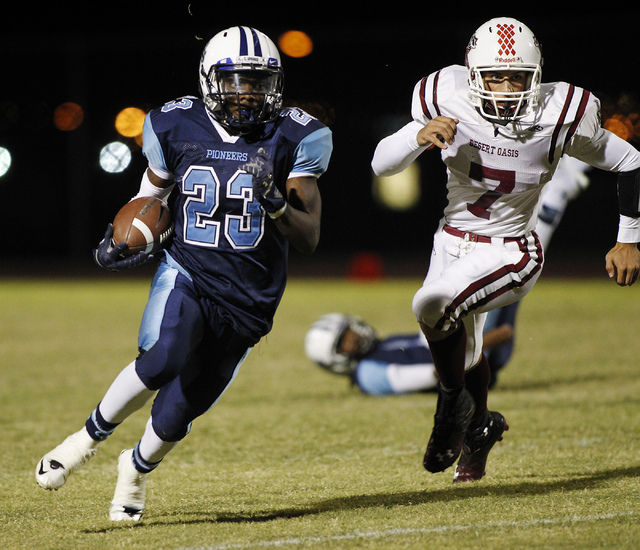 Canyon Springs has remained the area's final undefeated Division I team thanks in large part to a stingy defense that has allowed an average of 9.3 points.
But coach Hunkie Cooper knows if the third-ranked Pioneers want to stay undefeated, the offense will have to come through when they host No. 6 Green Valley at 7 tonight with first place in the Northeast League on the line.
"We want to be physical, we want to play fast, and more than anything else, we want to execute and score points," Cooper said.
Green Valley's offense has been as impressive as Canyon Springs' defense. The Gators (5-2, 3-0 Northeast) are averaging 42.6 points and 479.4 yards of offense.
"Green Valley's a good, good offense," Pioneers senior defensive back Raequan Bascombe said. "Last year we were faced with a lot of adversity during the game, and we don't expect it to be any different this year. We know they're going to make good plays, but we're going to make good plays on defense, too."
Bascombe said it will be important for the Pioneers (7-0, 3-0) to get some key stops on defense to prevent the up-tempo Gators from wearing down the defense.
"We're trying to get off the field fast," Bascombe said. "Three-and-outs. That's what we want. Three-and-outs and give our offense the chance to get down the field and score."
While the Pioneers relied last season on running back Donnel Pumphrey, now at San Diego State, Cooper said this year's squad has far more balance.
Junior quarterback Bradley Alexander has thrown for 1,237 yards and 10 touchdowns with just two interceptions. The Pioneers passed for just 921 yards in 11 games last season.
Junior running back Zaviontay Stevenson has provided the ground support, rushing for 675 yards and five TDs.
"Last year we were kind of a one-man band; everybody kind of watched D.J.," Cooper said. "I think we have a lot more balance this year, throwing the football, running the football, and our defense has always provided them with great support."
Cooper said Alexander's play has helped him solidify his game plan.
"It's a great feeling to have a kid that's consistent," Cooper said. "Consistency is better than talent any day. If I know what I'm going to get from you all the time, then I know what to call. If I don't know what I'm going to get from you on any given day, it's difficult to put together a game plan. I know Brad is going to manage the game now."
Even though the Pioneers are the area's last unbeaten team in Division I, they are working toward larger goals.
"It's what we worked for, so we're not surprised," said senior defensive back A.J. Cooper, the coach's son. "We just want to not be satisfied and keep working."
Senior linebacker Isiah Carter said the team has earned the undefeated record.
"I feel like our hard work is paying off," he said. "It's showing. We worked hard all summer, and we're working our butts off in the classroom to keep our grades up so we can play. I think the reward is beautiful."
Contact prep sports editor Damon Seiters at 702-380-4587 or dseiters@reviewjournal.com. Follow @DamonSeiters on Twitter.
Thursday's Games
(All times 7 p.m. unless noted)
Needles at Mountain View, 1 p.m.
Round Mountain at Spring Mountain, 2 p.m.
Green Valley at Canyon Springs
Las Vegas at Valley
Rancho at Silverado
Basic at Liberty
Foothill at Eldorado
Del Sol at Coronado
Shadow Ridge at Arbor View
Palo Verde at Sierra Vista
Durango at Spring Valley
Legacy at Desert Oasis
Bishop Gorman at Bonanza
Centennial at Cimarron-Memorial
Cheyenne at Clark
Western at Faith Lutheran
Mojave at Pahrump Valley
Desert Pines at Moapa Valley
Virgin Valley at Sunrise Mountain
Calvary Chapel at Laughlin
White Pine vs. Agassi Prep at Rancho
Sandy Valley at Beatty
Tonopah at Indian Springs
Boulder City at Chaparral, 8 p.m.