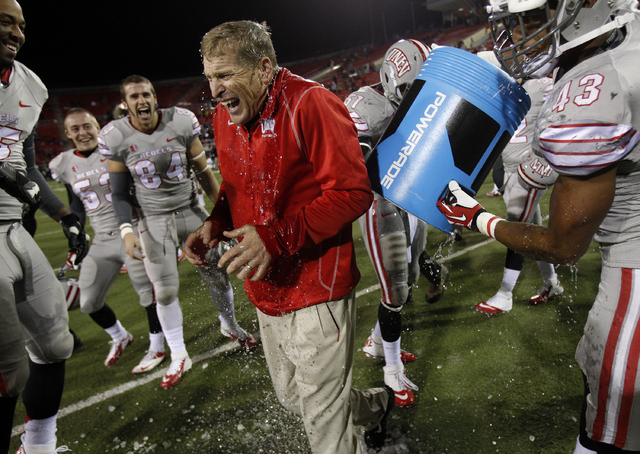 TURNING POINT
Normally, the kickoff to begin the second half with a team leading 24-7 is no big deal, unless of course, something big happens. And since this is UNLV and San Diego State, the bizarre tends to be the norm.
So when the Rebels' Marcus Sullivan fumbled the opening kickoff to start the third quarter Saturday at Sam Boyd Stadium with UNLV ahead 24-7 and the ball squirted from him like something out of a rugby scrum and into the UNLV end zone where San Diego State appeared to have recovered, it looked as though it was going to be yet another one of those weird happenstances that defines this series. More important, San Diego State was looking at seizing some much-needed momentum in its attempt to get back in the game.
But while Sullivan was on his back from having been laid out by the Aztecs and being attended to by the UNLV training staff, the officials were huddling in the end zone. Somehow, San Diego State managed to be offsides when it kicked off as Chase Price was guilty of getting ahead of things, so UNLV would get another chance to receive.
Offsides on a kickoff is a rarity. But again, this is UNLV and San Diego State. Strange and stupid things tend to happen.
So there was no points. The Aztecs were penalized the requisite five yards and they had to re-kick.
Keith Whitley was the return man and he held on to the ball this time as UNLV began the quarter from its own 33. Seven plays and 67 yards later, the Rebels were celebrating as quarterback Caleb Herring had scampered the final five yards for a touchdown, extending the lead to 31-7.
UNLV didn't have to fear about getting caught as Herring threw for four TDs and the Rebels pretty much secured a bowl berth at 7-5 with their 45-19 win in front of 15,884.
The fact the Rebels were able to put together such an impressive opening drive was huge. San Diego State possesses quick-strike capability and while the UNLV defense had done a solid job in the first 30 minutes, save for a first-possession double-reverse flea flicker that gave the Aztecs their first points, there were no guarantees they could sustain that effort.
So the offense's ability to take care of the ball, move downfield and finish off a drive was critical. Herring used his legs as much as his arm in taking his team toward the SDSU end zone, running for a couple of first downs, then capping the drive with his five-yard scoring run.
And as a way of saying thank you, the UNLV defense responded in its first series, picking off San Diego State's Quinn Kaehler as safety Mike Horsey intercepted the errant throw at the Rebels' 37 to keep it at 31-7 and maintain the momentum.
Going into Saturday, the Aztecs had won four straight after trailing at halftime. But there would be no such heroics this time. UNLV saw to that. Even a mishap to start the second half wound up being a positive.
Contact reporter Steve Carp at scarp@reviewjournal or 702-387-2913. Follow him on Twitter @stevecarprj.
RELATED: Rebels blow out San Diego State for statement win
Twitter loves UNLV's trashing of SDSU, hates uniforms