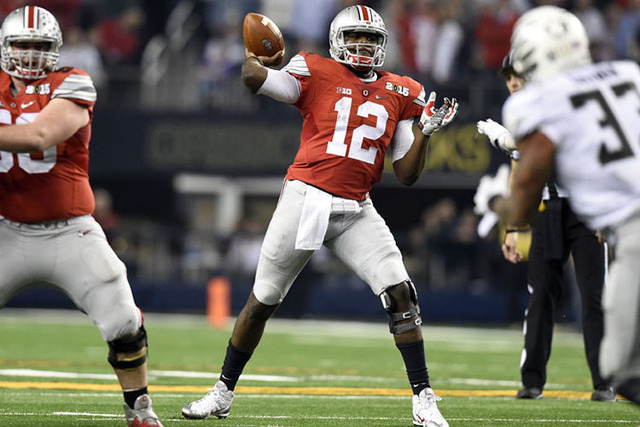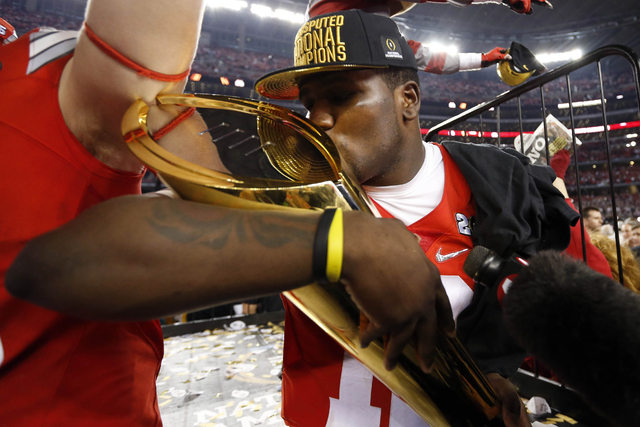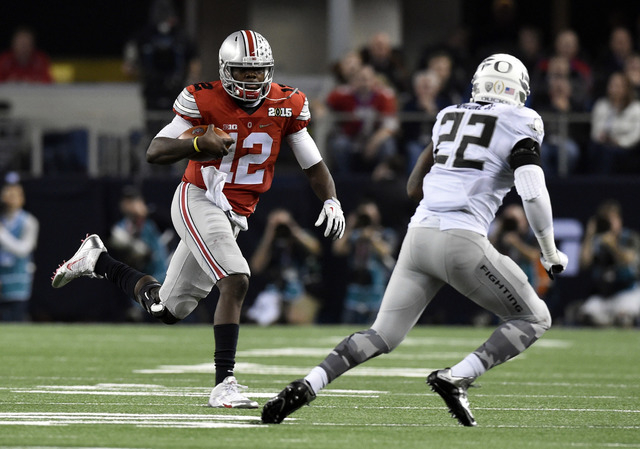 Cardale Jones is staying at Ohio State.
The redshirt sophomore quarterback who led the Buckeyes to the first College Football Playoff championship in spectacular fashion announced Thursday in Cleveland at his high school that he will be back in Columbus for another season.
He called it a "simple" decision to return.
Jones had never started at game at Ohio State until J.T. Barrett suffered a fractured ankle in the regular-season finale against Michigan. That left the Buckeyes with no choice but to turn to Jones, who began the season as the third-stringer behind Heisman Trophy candidate Braxton Miller and Barrett.
Miller was lost for the season after reinjuring his throwing shoulder during preseason camp and replaced by Barrett, who played so well that he was in the running for the Heisman before the injury.
The 6-foot-5, 250-pound Jones started for the first time against Wisconsin in the Big Ten championship game in December and led Ohio State to a 59-0 victory. Three weeks later, Jones and the Buckeyes defeated Alabama 42-35 in the Sugar Bowl, which served as a national semifinal, and then handled Oregon 42-20 in the championship game on Monday night in Arlington, Texas.
Jones' size and strong arm earned him the nickname 12-gauge and make him an intriguing NFL prospect, but Jones decided that he needed more experience before launching a pro career. He also wants to continue to pursue his college degree.
Jones said the last 48 hours since the championship game were stressful as he weighed the decision. The deadline for underclassmen to announce their decision to enter the NFL draft was Thursday.
"After I'm done with football, I have my whole live to live," Jones said during the announcement at Ginn Academy. "That's when I think my education will come in handy."