Oklahoma City Thunder hire Florida's Billy Donovan as head coach
April 30, 2015 - 10:34 am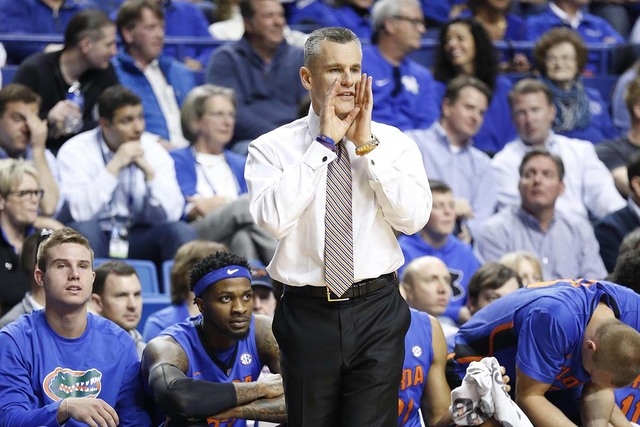 Billy Donovan has agreed to a multi-year deal to be the head coach of the Oklahoma City Thunder, according to reports Thursday.
Donovan comes to Oklahoma City after 19 years and two national titles as head coach of the Florida Gators.
Yahoo Sports reported the deal is for five years. An official announcement is likely to come as soon as Thursday or Friday.
Donovan and Thunder general manager Sam Presti began talks Wednesday about the position to replace Scott Brooks, who was fired last week after seven seasons and five postseason appearances. The Thunder missed the playoffs this season.
Donovan has a close relationship with Presti, who has hired two members of Donovan's staff — Mark Daigneault as coach of the Thunder's Development League team and Oliver Winterbone as a data analyst — within the past 12 months.
Donovan's priorities with Oklahoma City would be to help convince star forward Kevin Durant to sign a long-term extension and push the Thunder toward their first championship.
Durant, the 2014 NBA Most Valuable Player, can become a free agent in the summer of 2016. Point guard Russell Westbrook can become a free agent in 2017.
Donovan, who turns 50 on May 30, has a 467-186 record in 19 seasons with the Gators, winning back-to-back national championships in 2006 and 2007. He has won six regular-season Southeastern Conference titles and four conference tournament titles. This season, the Gators finished 16-17 and failed to make the NCAA Tournament for the first time since 2009. Donovan is 502-206 in 21 seasons at Marshall and Florida.
Florida recently extended Donovan's contract through the 2020 season, and he is set to make about $4 million next season. His buyout for an NBA job is $500,000.
In 2007, Donovan agreed to take the coaching job with the Orlando Magic after winning his second national championship but changed his mind and decided to return to Florida.