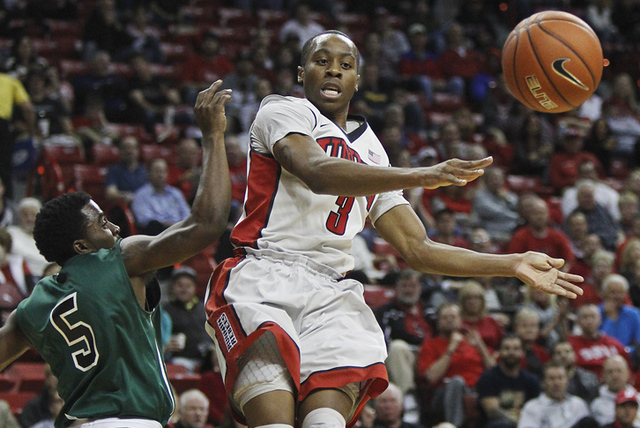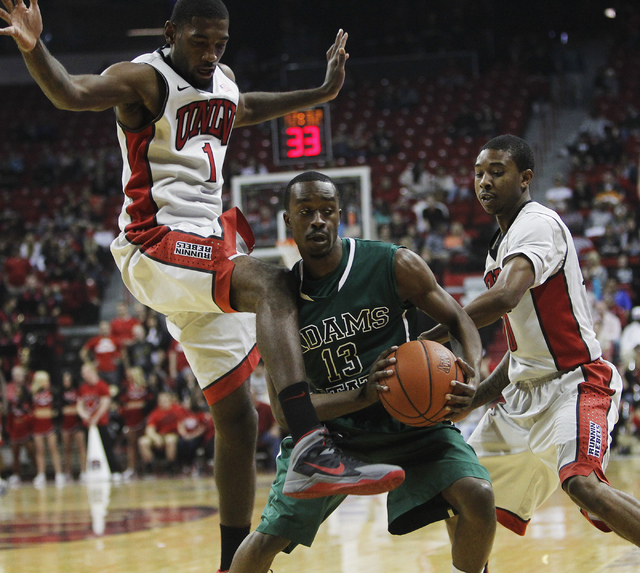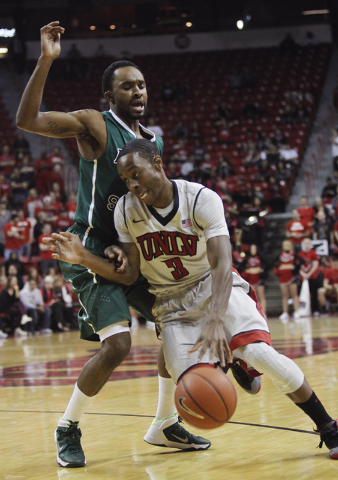 It took longer than Kevin Olekaibe had hoped for the NCAA to approve him to play this season. But the senior guard's arrival came just in time to help UNLV escape another exhibition embarrassment.
If not for Olekaibe's presence Tuesday night, the Rebels probably would have been a lost cause.
"We have a lot of new faces, we know it's going to take time, and we've got to be patient," he said.
In his UNLV debut, Olekaibe scored 17 points to lead the way to a 72-67 victory over Division II Adams State (Colo.) before a crowd of 11,275 at the Thomas &Mack Center.
Olekaibe, a former Cimarron-Memorial High School standout and a transfer from Fresno State, was cleared to play Monday by the NCAA, and his eligibility was granted final approval by the Mountain West about six hours before tipoff.
He started in place of junior guard Bryce Dejean-Jones, who was out with a strained right hamstring. The Rebels looked ragged without their top two players, Dejean-Jones and junior center Khem Birch, who was held out for precautionary reasons with left ankle and toe injuries.
UNLV coach Dave Rice said he expects Birch to start Friday in the regular-season opener against Portland State. Dejean-Jones' status is questionable.
"There's more room for improvement when you throw Khem and Bryce into the mix," Rice said. "Bryce may play on Friday. I just don't know yet."
Olekaibe, a three-year starter at Fresno State, scored 10 points to lift the Rebels to a 32-29 halftime lead. He made 3 of 6 3-pointers in the first half but missed his first five attempts in the second half before connecting on a 3 with 2:16 to go to make the score 68-60.
"Kevin will make a lot of those shots," Rice said. "He's one of those guys that when he shoots the ball, I think it's going to go in."
Despite shooting 5 of 17, including 4 of 12 from 3-point range, Olekaibe was UNLV's most effective offensive source.
"When I was missing those 3s, Coach Rice just told me to shoot the next one," Olekaibe said. "I had a little nerves. It was great out there. I never really played in front of a home crowd like this."
Olekaibe and junior point guard Deville Smith, who had 10 points and six assists, each logged a team-high 33 minutes.
The Rebels opened a 38-29 lead early in the second half only to see the Grizzlies wipe it out with a 9-0 run. UNLV finally pulled away in the final eight minutes with a boost from freshman guard Kendall Smith, who finished with 12 points on 6-for-8 shooting.
Julian Scott's 27 points and 11 rebounds carried Adams State, which threatened to send the Rebels to a second exhibition setback in five days.
UNLV was coming off its first exhibition loss since 2001, a 71-70 defeat to Dixie State. The Rebels shot 16-for-30 on free throws in Friday's game and 12-for-26 on Tuesday.
"If we just make a reasonable amount of free throws, we probably win that game going away," Rice said.
Junior forward Roscoe Smith totaled seven points and 11 rebounds, and senior center Carlos Lopez-Sosa, starting in Birch's spot, had seven points and seven rebounds.
"It's a different vibe out there on the floor when you haven't had much game time with each other," said junior guard Jelan Kendrick, who finished with eight points and five rebounds.
His team's sloppy play against a pair of Division II opponents, coupled with the injuries to Birch and Dejean-Jones, had Rice talking in a concerned tone.
"We understand how far we have to go," Rice said. "We understand it starts for real now. These games are going to get very hard very soon."
Contact reporter Matt Youmans at myoumans@reviewjournal.com or 702-387-2907. Follow him on Twitter: @mattyoumans247.