Olivier counting on sophomores to carry Lady Rebels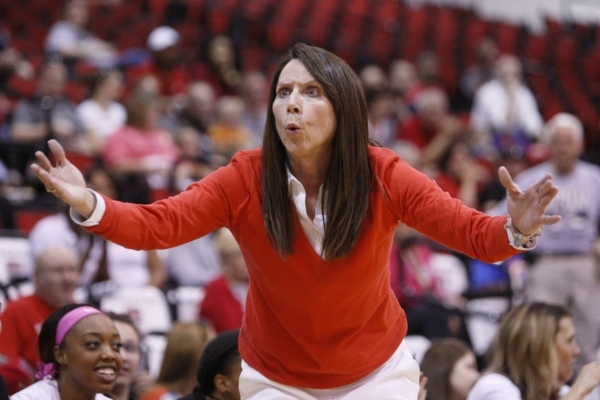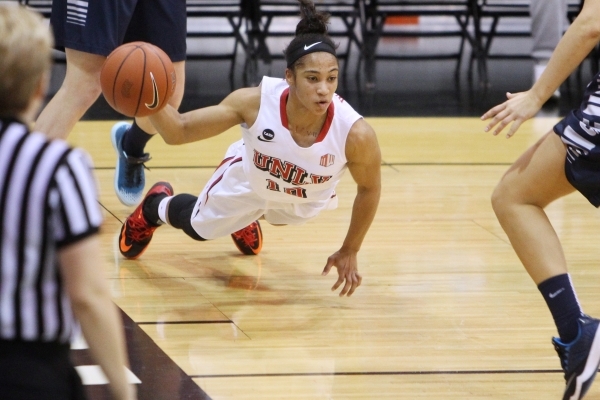 When Kathy Olivier returned to coach her alma mater in April 2008, she envisioned multiple postseason appearances, creating enough buzz that 3,000-seat Cox Pavilion wouldn'€™t large enough to house the fans who would want to see UNLV play basketball.
She still has those dreams of reaching the NCAA Tournament and becoming popular enough that some games would have to shift to the Thomas & Mack Center, as they did for the final eight games of the 2001-02 regular season.
Which also was the Lady Rebels'€™ last appearance in the NCAA Tournament.
UNLV begins its summer conditioning program today with hopes of making a postseason push, and the Lady Rebels will rely largely on a quartet of sophomores to help get them there in what will be a crucial season for Olivier.
She has two seasons remaining on her five-year contract, and coaches usually are extended or fired with a year left. Olivier has guided the Lady Rebels to just one postseason appearance in her seven seasons, making the Women'€™s National Invitation Tournament in 2012. Her record is 98-121.
"€œPersonally, I feel like I let down people when that happens,"€ Olivier said of her struggles to make the postseason.
Olivier draws hope from last season when UNLV became the Mountain West'€™s hottest team in February, winning five games in a row. The Lady Rebels took down three of the conference'€™s top four teams in Fresno State, Boise State and New Mexico.
They failed to sustain the success, though, ending the season with a four-game losing streak, including a 64-46 loss to Boise State in the conference tournament quarterfinals to finish 13-17.
Olivier said the players performed much better as underdogs, but didn'€™t understand how to handle success one they began to win. It was a good lesson for those returning.
"€œI think the run kept me going in the summer, knowing that we have the ability to do that,'€ Olivier said.
UNLV will put a young team on the floor this season, with just two seniors in the rotation in post players Aley Rohde and Amie Callaway. They combined to average 14.3 points and 12.8 rebounds per game last season.
But much of the focus will be on the four sophomores, including returning starters Nikki Wheatley and Brooke Johnson, who share the point guard spot. Johnson also plays shooting guard.
Both players had promising freshman seasons, combining to average 12.8 points, 7.6 rebounds and 5.0 assists per game.
The other sophomores, Gonzalez twins Dakota and Dylan, sat out last season after transferring from Kansas. They'€™re known more for their Instagram followers — each has more than 700,000 —€" but Olivier brought the guards to UNLV for their basketball skills.
UNLV will need the sisters to produce, especially since the only players to average double figures in scoring last season are gone —€" Danielle Miller (18.5) and Alana Cesarz (15.9).
"They weren'€™t as focused,"€ Olivier said of last season'€™s team. "This group is more determined. I don'€™t want to knock Bri (Briana Charles) and I don'€™t want to knock Dani or Alana because I thought they were really good, but we weren'€™t consistent. We weren'€™t consistent with the focus. I don'€™t blame them. Maybe it'€™s me. You know what I mean? Why aren'€™t we doing that? That'€™s part of my job.
"€œI think for us this year is adding focus and attention to detail, and I think we have a group that wants that. That, to me, is the difference. They want to be pushed. They want to be great."€
Whether they become great, or even good, won'€™t be known until the season unfolds. UNLV opens Nov. 14 against Southern Utah at the Thomas & Mack, and the results will begin to count on whether Olivier returns the following season to fill out her contract.
She is one of the most-liked members in UNLV'€™s athletic department, so there isn'€™t is a rush to get her out. Olivier, though, knows coaching is a bottom-line business.
"You'€™re not naive to what happens when you don'€™t win,"€ Olivier said. "€œI don'€™t go there because I'm going to work my butt off regardless."
Contact Mark Anderson at manderson@reviewjournal.com or 702-387-2914. Follow him on Twitter: @markanderson65.