Olson's ex-wife a real wildcat
November 8, 2008 - 10:00 pm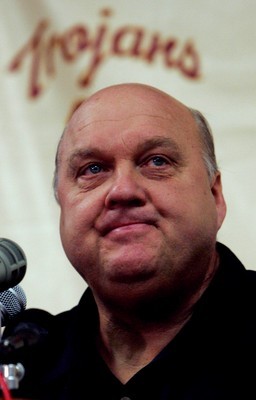 While at Arizona, former Wildcats coach Lute Olson helped develop NBA sharpshooters such as Gilbert Arenas, Jason Terry and Mike Bibby.
But it's unclear if Olson also helped his second wife, Christine Olson, hone her shooting skills, because she apparently prefers firing a gun, not a basketball.
The Arizona Daily Star reported that on the day Olson announced his retirement, his ex-wife threatened the coach's doctor by placing a bullet-riddled target sheet in his office, according to a restraining order issued Tuesday against Christine Olson. The order, which was obtained by Dr. Steven D. Knope, said Christine Olson was to have no contact of "any sort" with Knope.
According to court documents, Christine Olson called Knope's office three times Oct. 23 asking to speak to him but was told he was busy. Around 3 p.m., she arrived at the medical office and "behaved in a threatening manner" to staff members.
After waiting 20 minutes, she walked past the reception area and into Knope's office, where she placed a target-practice sheet on his desk chair. It reportedly contained 25 bullet holes in the paper head and body.
In the request for a restraining order, Knope said Christine Olson had exhibited "inappropriate and aggressive behavior" toward Knope during the past year. She "has blamed Dr. Knope for (her) recent divorce from Lute Olson, asserting that Dr. Knope destroyed her marriage," the document said.
Last week, Knope announced that 74-year-old Lute Olson had suffered a stroke within the last year. Olson, who retired after 24 seasons at Arizona, divorced Christine Olson last spring and is engaged to Tucson, Ariz., resident Kelly Pugnea.
• LOW HOPES — St. Louis men's basketball coach Rick Majerus is bracing for the worst this season with seven freshmen on what he calls the "youngest team in America."
"They're going to get shellacked," Majerus told the Belleville (Ill.) News-Democrat in assessing his team's chances in its season opener against Missouri-St. Louis. "There's a train wreck coming. It's inevitable. It's going to be a bloodletting."
• SOUTH CAROLINA SCOOTERS — Forget about getting hurt on the football field. South Carolina freshman tailback Kenny Miles recently became the third Gamecocks player this year to get injured in a scooter accident.
Miles is out for two weeks with bruises and abrasions sustained in a scooter wreck, the Web site gogamecocks.com reported.
In separate scooter accidents in a six-day span in January, tight end Nick Prochak suffered a broken leg, and former South Carolina player Clark Gaston sustained a bruised knee and hip.
None of the players was wearing a helmet, which is required by state law for anyone under 21 and also now is required by Gamecocks coach Steve Spurrier, who said players caught riding without one could be suspended.
COMPILED BY TODD DEWEY REVIEW-JOURNAL