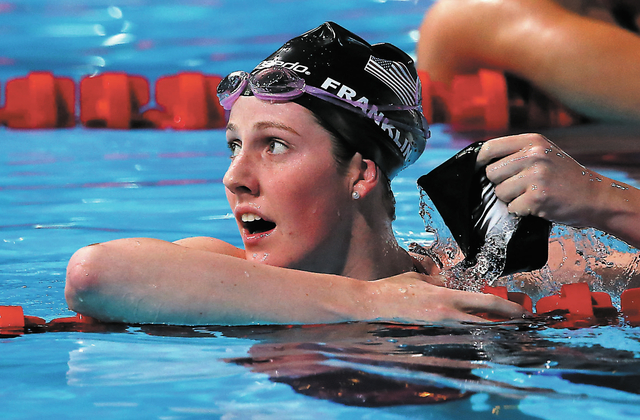 Picture this: You are a college basketball player in 2013, and your team is hosting a tournament for some of the better programs nationally. You line up for the opening game, stare across the court and realize who you're competing against.
It's LeBron James, times 10.
That's pretty much how swimmers from UNLV and other programs will feel this week.
Missy Franklin is the humble face of U.S. Swimming, a golden phenom in water, setting standards not seen historically on the women's side of her sport.
She also is an 18-year-old freshman at California who will compete at the UNLV Fall Invitational, which will draw some of the country's top men's and women's teams to the Buchanan Natatorium on campus from Thursday through Saturday.
This is big, heady stuff in the world of collegiate swim meets.
It's, well, Missy Franklin.
"It is possible to beat people just with your name, much as Michael Phelps did for so long," UNLV swimming and diving coach Jim Reitz said. "Missy is up there in the rarest of history that stands out among hugely talented people. You not only have to beat them, but you have to beat who they are.
"You have to beat the aura around them."
Franklin is a four-time gold medalist from the London Games and world-record holder in the 200-meter backstroke (short and long course) while holding American records in the 100-meter and 200-meter backstroke (long course). She's also a member of the world-record 400-meter medley relay team.
UNLV hasn't held such a fall invitational in 12 years. This week, it will welcome, among others, No. 1 Cal and No. 17 UCLA on the women's side and No. 5 Stanford and the No. 25 Rebels for the men.
In all, 17 programs will compete.
Franklin's teammates at Cal include Rachel Bootsma (Olympic gold medalist), Elizabeth Pelton (world champion), Stephanie Au (Olympian from Hong Kong), Marina Garcia (Olympian from Spain) and Farida Osman (Olympian from Egypt).
How deep a team is Cal?
In a meet against then-No. 1 Florida last month, the world's best swimmer — Franklin — didn't race in an event in which she holds a world record, and the Bears still bested the Gators 238-210.
Cal swimming is like Kentucky and Duke and Kansas basketball all rolled into one team, only with a heavy dose of foreign influence.
"(Swimming) is absolutely global in how we all recruit now," Reitz said. "A good time is the same in Russia as it is in China as it is here. When you get up in rarefied water, the top times take care of themselves, no matter where you are from. We will have many of those kinds of swimmers here this week.
"I'm excited to see our kids swim against such good competition and to show the community we can run a good meet in an NCAA-level setting over three days. We have a little over 300 entries. Twenty years ago, we would have had 550. That was too big, too crowded. This week should be very good."
Prelims begin at 9 a.m. each day, with finals scheduled for 5 p.m. on Thursday and Friday and 4 p.m. on Saturday.
Cost for admission is $20 for an all-sessions pass or $5 per session; children 12 and under are admitted free.
Las Vegas Review-Journal sports columnist Ed Graney can be reached at egraney@reviewjournal.com or 702-383-4618. He can be heard from 11 a.m. to 2 p.m. Monday through Friday on "Gridlock," ESPN 1100 and 98.9 FM. Follow him on Twitter: @edgraney.
SWIMMING SHOWCASE
▶ What: UNLV Fall Invitational
▶ Who: Four-time Olympic gold medalist Missy Franklin is among swimmers in a field that includes No. 1 California and No. 17 UCLA on the women's side and No. 5 Stanford and No. 25 UNLV on the men's side.
▶ When: Thursday-Saturday. Prelims 9 a.m. each day; finals 5 p.m. Thursday and Friday, 4 p.m. Saturday.
▶ Where: Buchanan Natatorium, UNLV.
▶ Cost: $20 for all-sessions pass or $5 per session; children 12 and under free.