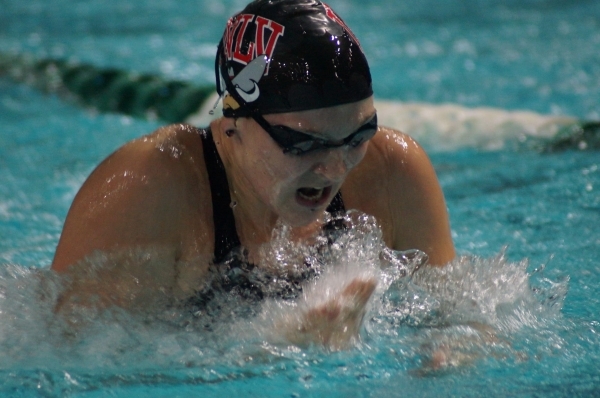 Jim Reitz retired as UNLV's swimming and diving coach last year after 35 seasons, during which time he built the Rebels into one of the school's most successful programs with 14 conference titles and 17 top-30 finishes at the NCAA Championships.
The UNLV's men's swim team has been especially dominant, placing in the top 30 at the NCAAs in five of the last six years and claiming 10 of its last 11 conference crowns. The Rebels might be hard-pressed to continue that success this season, but only because of their strong tradition of sending swimmers to every Summer Olympics since 1984.
"We're a little bit down with three of our top scorers who are in line to make their countries' Olympic teams redshirting this year," UNLV interim coach Bobby Folan said. "It's a big hole to fill there. But the team is very driven as it always has been."
The Rebel swimmers who are training for their countries' respective Olympic trials are Henrique Machado of Brazil, Tom Paco-Pedroni of France and Or Sabatier of Israel.
"Jim (Reitz) took pride in allowing our international contingent to focus on making their Olympic team every four years," said Folan, an Australian who swam at the University of Connecticut and served as an assistant coach under Reitz for three years before replacing him. "The team understands it's an important thing that only comes around every four years."
Dillon Virva will lead UNLV, which will host Air Force and the Harvard men's squad at noon Saturday in a meet at the school's Buchanan Natatorium.
Virva, a senior from Nevada City, Calif., is the school and Mountain West conference record-holder in the 50-yard freestyle and has earned NCAA All-American honors as an individual and on relays.
RATHSACK ON ROLL — UNLV junior Lina Rathsack has earned several accolades this season, including CollegeSwimming.com national swimmer of the week honors in December. The German won the 100-yard breaststroke with a time of 1 minute, 1.52 seconds at the Cal State East Bay Christmas Invitational and posted the top time in the preliminaries of the 200 breast.
Rathsack also earned MW swimmer of the week honors in November after setting a pair of school records in the Georgia Tech Invitational with a winning time of 2:11.83 in the 200 breast and a runner-up time of 1:01.14 in the 100 breast. Both times are tops in the MW and good for an NCAA 'B' cut as well.
Rathsack was named Outstanding Rebel of the Week as well by the school on Jan. 6 after she won three events (100 and 200 breast, 200 individual medley) at a meet at UC San Diego. But she won't rest on her laurels.
"It's really nice to be honored, but it doesn't make me satisfied with what I've done. I still think I can do better than that," Rathsack said. "I really want to (qualify) for NCAAs this year. I just have to go really fast."
Folan said the hungry Rathsack and four other UNLV women — Michelle Troupe of Australia, Elena Gavrilova of Russia, Julia Fehervari of Hungary and Jessica Wong of Canada — all have a great shot at making the NCAAs on relays.
"She's a very aggressive swimmer," Folan said of Rathsack. "When she's in the water, she takes no prisoners. She attacks her races with authority. She gets out front and she stays there."
LADY REBELS HOST UNR — The UNLV women's basketball team will host Mountain West foes Utah State (8-9 overall, 3-3 MW) on Wednesday and rival UNR (2-14, 1-4) on Saturday at Cox Pavilion. The Lady Rebels (9-7, 2-3), who escaped with a 60-56 win over Air Force (0-16, 0-5) on Saturday, have won nine of their last 10 meetings against the Wolf Pack and are 16-0 vs. UNR in Las Vegas.
UNLV has four players averaging more than 10 points per game in guards Brooke Johnson (12.9), Dakota Gonzalez (12.5) and Nikki Wheatley (12.0) and senior center Aley Rohde (10.4, team-leading 9.6 rebounds per game), who has missed the past four games with a foot injury and is out indefinitely.
Contact reporter Todd Dewey at tdewey@reviewjournal.com or 702-383-0354. Follow him on Twitter: @tdewey33.