Bishop Gorman alum Inbee Park captures women's golf gold at Rio Olympics
August 20, 2016 - 10:03 am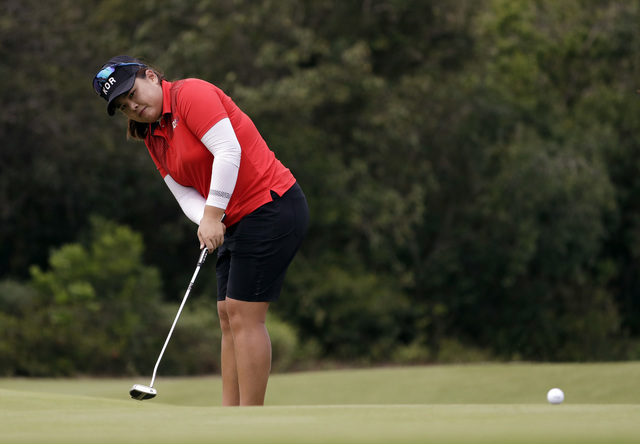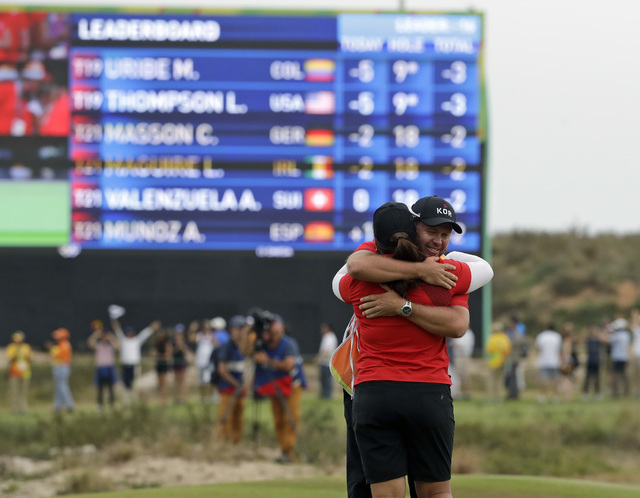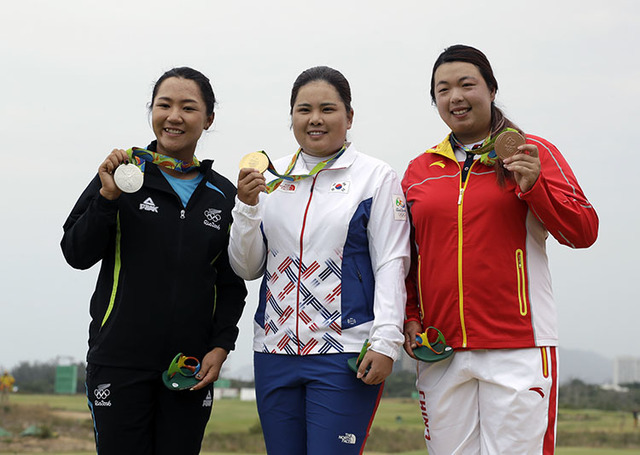 Bishop Gorman graduate Inbee Park won gold at the first Olympics to feature golf since 1904.
The South Korean golfer shot a 66 in her final round Saturday, keeping her atop the leaderboard with a final tally of 268 at the Olympic golf tournament in Rio. She shot a 66 in the first, second and final round and shot a 70 in the third on the par-71 course to finish five strokes ahead of silver medalist Lydia Ko of New Zealand.
Park adds her Olympic gold to several other major wins on her resume, including three PGA championships, two U.S. Open titles and one British Open victory.
Shanshan Feng of China shot 69 and took the bronze.
This is the first time golf has been featured in the Olympics since the St. Louis games in 1904, and back then it was only a nine-hole competition.
Park, who committed to UNLV but turned pro before college, was playing top competition for the first time in two months because of a thumb injury.
The Olympic gold was Park's first victory of the season.
Ko, the No. 1 player in women's golf, made an 8-foot birdie putt on the final hole for a 69 to claim the silver.
Park, battling the thumb injury all year that led to speculation she was going to retire, missed the last two majors on the LPGA Tour. She took time off to prepare for the Olympics, but when she missed the cut in a Korean LPGA event, the 28-year-old South Korean heard chatter that she should give up her spot to another player in better form.
Instead, she reminded those in a country where golf is a passion why she ranks among the best.
Park already has seven majors, including the career Grand Slam, and earlier this year she became the youngest in history qualify for the LPGA Hall of Fame. Now she has the first gold medal awarded in women's golf since 1900.
Stacy Lewis had a chance at a medal for the Americans with birdies on the 16th and 17th holes. She missed her 15-foot birdie putt on the final hole and shot 66, finishing one shot out of the bronze.
South Korea has been the dominant nation in women's golf, and Park brought home the biggest prize. A large gallery held up South Korean flags for her to see behind every green and on the way to every tee. Park kept her composure, even as she was making one birdie after another to demoralize Ko and anyone else trying to challenge her.
During the final round, when she tapped in from 2 feet for par on the final hole, she raised her arms and tilted her head to a cloudy sky.
She finished at 16-under 268, the same score with which Justin Rose won the gold medal last Sunday in men's golf.
The Associated Press contributed to this story.
RELATED
Bishop Gorman alum Inbee Park in 2nd after Round 1 of women's Olympic golf
Las Vegas golfers Alex Cejka, Inbee Park looking for Olympic gold in Rio
Former Gorman standout Inbee Park qualifies for LPGA Hall of Fame