Clark High School grad Uhunoma Osazuwa hurdles obstacles to reach 2nd Olympics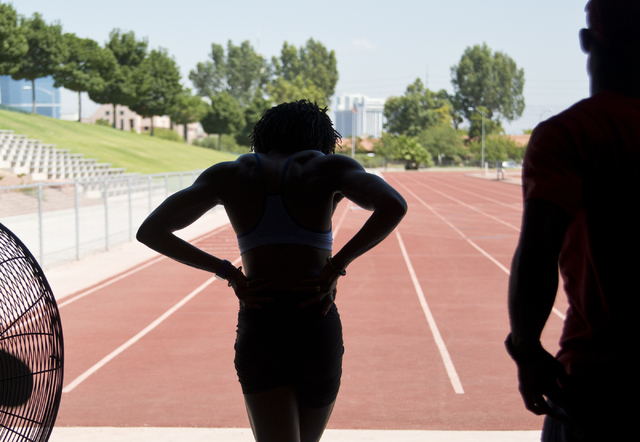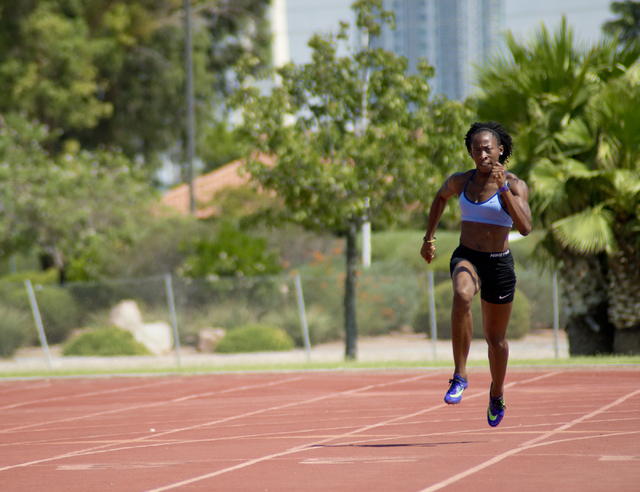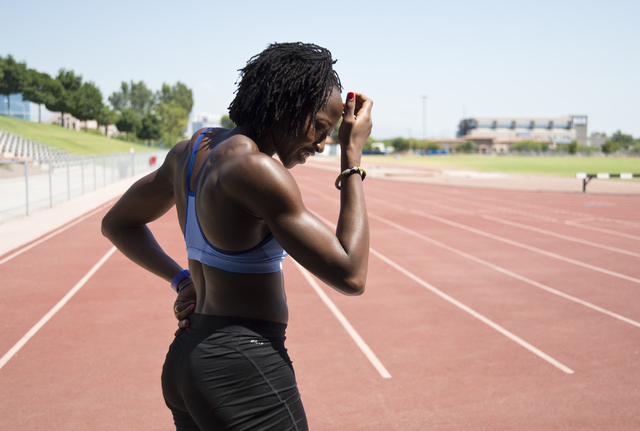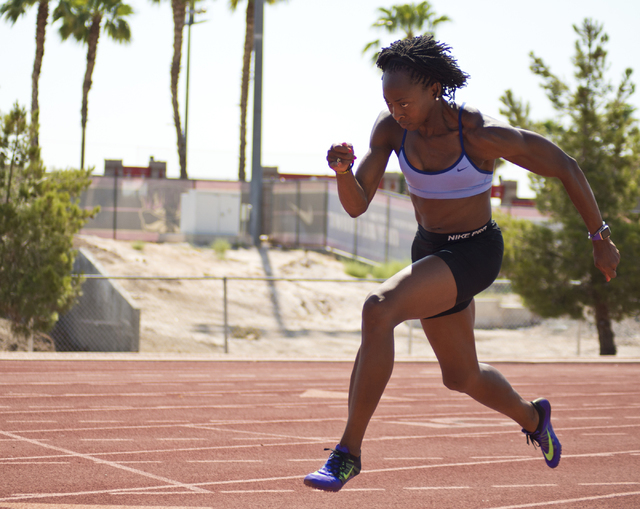 Uhunoma Osazuwa set her water bottle down in the 100-degree heat and placed her feet onto two starting blocks set on UNLV's Myron Partridge Track.
Soon she sprung up and sprinted through a 100-meter stretch of track with 12 hurdles in her way. The roar of overhead planes, the rush of cars on adjacent Swenson Street and her training partner's shouts provided her only soundtrack.
This is how the 28-year-old Clark High School graduate prepared for her second Olympics. The heptathlete, who will be competing for Nigeria, has leaped over many more obstacles than hurdles to fulfill her Olympic dreams, and she has her sights set on a top-10 finish and an African record.
"I don't feel as intimidated," Osazuwa, who was born in California to parents who hold dual citizenship, said. "Now I feel I've been in this position before, I feel more like I belong, I feel like I'm actually ready to compete this time."
Osazuwa called her first Olympic experience one of the most bittersweet experiences of her life.
She hadn't thought much about a post-collegiate career until her final year at Syracuse, when she realized she still hadn't reached her peak.
In the two years leading up to the 2012 Games, Osazuwa trained hard and improved her scores dramatically in the heptathlon, a seven-part event where participants compete in the 100-meter hurdles, high jump, shot put, 200-meter dash, long jump, javelin and 800-meter run.
When she got to London though, her body was spent after working so hard to qualify. She strained her groin and knee and pulled out after five events.
"My body just kind of broke down on me," Osazuwa said.
She was also drained mentally, as her build-up to the Olympics took place during her first two years of pharmacy school at the University of Michigan. When she returned, she began a two-year break from track.
"I didn't want to, but to get anything more out of track and field I had to give more and I had nothing left to give," Osazuwa said.
She graduated in 2014 and that fall she moved back to Las Vegas, ready to reconnect with the heptathlon and a familiar face.
Enoch Borozinski, once the Syracuse assistant who recruited her and turned her into an All-American, was working as an assistant coach at UNLV and ready to train her once more.
Borozinski was the first college coach to see Osazuwa as a potential heptathlete, and he stuck with her despite early struggles.
Her first two years, she wouldn't go over a hurdle in many practices.
"As a coach, you just wanted to bang your head against the wall," Borozinski said. "Some days you didn't know if you were going to do anything in practice."
Things started to click more after her first two years and she became more focused, despite the occasional hiccup. Now Borozinski said it's "nothing like it used to be."
Borozinski coached Osazuwa in all her events in college but now focuses on her field events while UNLV assistant Larry Wade focuses on her sprints and hurdles.
She typically trains two to four hours a day, four to five days a week year-round while balancing a job as a Walgreens' pharmacist. She works 40 hours a week when possible, but her job is flexible enough to allow her to keep competing.
Her heptathlon schedule the last two years demanded flexibility, as she competed in the event seven times last season and the Olympics will make it six this year. One of her training partners, UNLV volunteer assistant Logan Taylor, said seven in a season is "unheard of."
"What she's able to do and bounce back from … it's pretty amazing," Taylor, who competed in the 110-meter hurdles at the U.S. Olympic Trials, said. "I know quite a few other Olympians, but I haven't met anyone quite like Uhunoma."
Osazuwa's last heptathlon this year came at the African Championships on June 25-26, when she took first with a personal-best score of 6,153. Discomfort in her elbow affected her javelin though, which kept her score under the automatic Olympic qualifying mark of 6,200.
The score was still high enough to send her to Rio when not enough athletes met the standard to fill out the 32-woman field. The feeling in her elbow has improved, and she's hoping when she competes August 12-13 she can break Margaret Simpson's African record of 6,423 points.
"I just think she's such a neat role model," Borozinski said. "She's gone through school, put herself through pharmacy school, and to do all that while she's maintaining this training, and now do a full-time job, and still compete, that's a role model more kids need."
Contact Ben Gotz at bgotz@reviewjournal.com. Follow him on Twitter: @BenSGotz