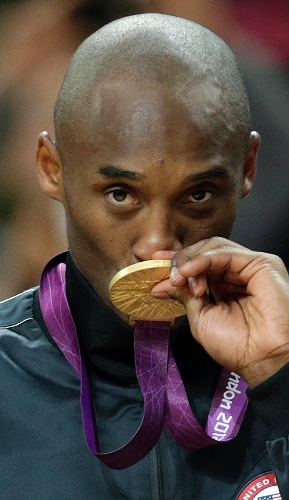 LONDON — This is what happens when some become incredibly rich and successful. They are often single-minded in scope, never considering the alternative to something they believe a business opportunity that will line their pockets even more.
They can't see the big picture through all those dollar signs.
It was closer than you imagined, yes? The United States won its second straight gold medal in men's basketball Sunday, but not without some serious pressure being applied to its NBA stars, eventually sending Spain home with a 107-100 defeat and another silver medal.
It was highly competitive in a way that either team could have stood atop the medals podium, a one-point game entering the final quarter that had flags from both nations being waved in earnest throughout a sold-out North Greenwich Arena.
And others want to change this format because, why exactly?
Here's a shock: It's about money.
The bottom line has always dominated thoughts of NBA commissioner David Stern and the owners he represents. But there is a bit of irony to their opinion that Olympic basketball should follow the model of soccer and become an event for players 23 years and younger.
Kobe Bryant was asked about the concept before these games: "It's a stupid idea."
With a capital S.
The same players who won for America on Sunday, and many greats who came before, are the reasons basketball is bigger now on a global stage than at any point in its history.
Twenty years removed from the Dream Team's dominance, the world is no longer merely a bug on the windshield of Team USA's golden bus. It competes now. It can push the U.S., and that's good for everyone, including the Americans.
It makes Bryant and LeBron James and Kevin Durant and Chris Paul have to play five of their best minutes collectively Sunday just to have a chance at winning gold.
The NBA did this to the Olympics. It built this sort of passion and interest in its brand and players. Stern wanted his league to open doors abroad and allow other nations to become better at what he considers its greatest game. They opened. Others became better. There were few empty seats when the U.S. played here, even for pool-play games destined to be blowouts.
But now the commish and his owners want the World Championship to partner with the NBA, which is where lining those pockets comes into the picture. They'll tell you it's to protect their stars from injury in the grind of a league season followed by international play over a summer, but in truth they would be devaluing the Olympic tournament for the sake of making the Worlds into a financial windfall.
"I may play (the Olympics) in Rio in 2016, but if the under-23 rule goes in, I'm not playing," James told reporters here, despite him being an obvious selection as one of two players teams would be allowed to have who are older than 23. "All my guys ain't playing, either.
"Teams are built on friendship and camaraderie and being together. You can't just throw a team together and see what happens. It takes a three-year commitment to win. I love what we've got going on with USA Basketball, and I'm happy to be a part of it."
The good news: FIBA this week shot down the under-23 idea for now, saying it won't propose such a move for Rio. That doesn't mean Stern and his owners will give up easily.
When they want something, they keep after it.
Let's hope they never succeed. Games such as the one Sunday are an example of the level of basketball an Olympics can produce when the biggest stars compete. The U.S. wouldn't have won without Durant's 30 points or big shots and plays by James and Paul in the closing minutes. Spain and Pau Gasol were that good.
The U.S. program built these last seven years by Jerry Colangelo as its director returned America to its expected place atop the basketball world. It's rolling again. Durant is 24. Paul and James are 27. Kevin Love and Russell Westbrook are 23. Carmelo Anthony is 28. Dwight Howard, who missed the Olympics with an injury but whose defensive presence could have definitely helped Sunday, is 26.
"I'm definitely not playing (in Rio)," said Bryant, 33. "The other guys are good to go. Hopefully, we can continue building through our program that's in place, continue mentoring the young fellas to carry on the tradition."
Not too young.
Not an under-23 team.
That would just be stupid.
With a capital S.
Las Vegas Review-Journal sports columnist Ed Graney can be reached at egraney@reviewjournal.com or 702-383-4618. He can be heard from 11 a.m. to 2 p.m. Monday through Friday on "Gridlock," ESPN 1100 AM and 98.9 FM. Follow him on Twitter: @edgraney.