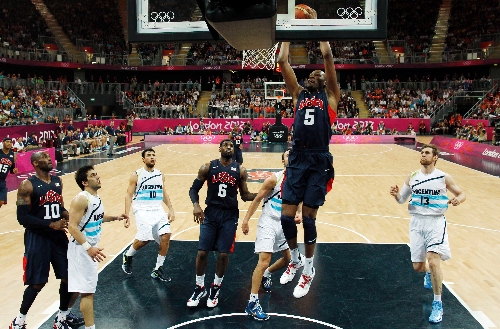 LONDON – One 3-pointer after another, Kevin Durant shot down Argentina – and perhaps the notion that defense wins championships.
This U.S. Olympic men's basketball team is living proof that the best defense is a good offense. The road to gold in London is built on scores, not stops.
Durant scored 17 of his 28 points during the Americans' 42-point third quarter, turning a one-point game into a blowout that sent the U.S. soaring into the quarterfinals with a 126-97 victory on Monday night.
Two nights after surviving their first real test in a 99-94 victory over Lithuania, the Americans seemed headed for another tight finish. Argentina shot 56 percent in the first half, and the U.S. led just 60-59.
Minutes later, the game – the last before single-elimination play starts – was effectively over.
"I think we did a great job of responding from last game," Durant said. "It was a tough game, and so was the first half tonight. Guys played together. That second half is how we want to play."
The NBA scoring champion matched the Argentines' point total in the period, going 5 of 6 from 3-point range, the last one from well beyond 25 feet. The Americans didn't stop shooting and scoring until Carmelo Anthony made a 3-pointer in the final second of the quarter while taking what he and the U.S. bench right behind him felt was a cheap shot from Argentina's Facundo Campazzo, setting off an exchange of words and technical fouls.
It was too late by then for the Argentines. They needed to get closer to the U.S. shooters much sooner, and that was hard to do from some of the spots where Durant was pulling up.
The Americans (5-0) will play Australia (3-2) in a quarterfinal game Wednesday.
LeBron James added 18 points, including the Americans' first seven of the third quarter before Durant took over. Chris Paul finished with 17.
Durant's 3-pointer after James' surge gave the U.S. 10 points just 2:10 into the second half, and he hit back-to-back 3s midway through the period to make it 85-68. Then he nailed consecutive 3s again later in the quarter, one from beyond the hash line, a distance that most players would never consider pulling up from.
TRACK AND FIELD
Jenn Suhr has been America's best female pole vaulter for a while. Now she's the best in the world.
Suhr rounded out her resume with Olympic gold, vaulting 15 feet, 7 inches to defeat Cuba's Yarisley Silva, who cleared the same height but lost on a tiebreaker because she had one more miss in the competition.
Suhr also beat two-time defending Olympic champion Yelena Isinbayeva of Russia, who was trying to become the first woman to win the same individual track and field event at three consecutive Olympics. Isinbayeva settled for bronze with a vault of 15-5.
Grenada's Kirani James won the men's 400 meters, and 35-year-old Felix Sanchez of the Dominican Republic took the men's 400 hurdles on a rainy night at Olympic Stadium. Other track and field winners included Belarus' Nadzeya Ostapchuk (women's shot put) and Russia's Yuliya Zaripova (women's 3,000 steeplechase).
Michael Tinsley was second in the 400 hurdles, but it was a disappointing session for the U.S. overall. The U.S. was without a representative in the 400 final, and it was the first time since the 1980 Moscow Games that someone other than an American won the race.
UNLV assistant track coach Khadevis Robinson raced in the men's 800 but didn't advance from the first round, taking fourth in his heat.
GYMNASTICS
Gabby Douglas was nowhere near the podium this time. The all-around champion, who also helped the United States to team gold, finished last among eight on uneven bars. Russia's Aliya Mustafina rallied to the victory.
"Toward the end of the Olympics, you get mentally and physically tired, and you're just like drained," Douglas said. "I tried to fight through it as much as I could."
Mustafina, who injured her left knee in April 2011, gave Russia its first gold in women's gymnastics in London. That completed her medal set, following a silver in team competition and bronze in all-around.
Arthur Zanetti finished first on still rings for Brazil's first gymnastics medal, and Yang Hak-seon of South Korea added the gold on vault to his world title.
BOXING
Flyweight Marlen Esparza and middleweight Claressa Shields clinched the U.S. team's first two boxing medals. Esparza patiently outboxed Venezuela's Karlha Magliocco, and the 17-year-old Shields closed furiously in an 18-14 win over Swedish veteran Anna Laurell.
The Americans were in awe of the decibel-busting atmosphere in the Olympic debut of women's boxing.
"I had to keep myself calm out there," said Shields, who somehow managed to hear instructions her personal coach, Jason Crutchfield, shouted from the stands. "I didn't want to be overanxious, but it was kind of like, 'Wow.' "
VOLLEYBALL
David McKienzie scored 17 points, and the defending champion U.S. men's team clinched a top seed for the knockout round with a win over Tunisia. Sean Rooney added 12 points in the 25-15, 25-19, 25-19 win, which set up a quarterfinal against Italy on Wednesday.
CYCLING
Jason Kenny won the sprint for Britain's fifth gold medal out of a possible seven in track cycling. Kenny earned his first win against three-time world champion Gregory Bauge of France. The 24-year-old from Bolton made good on the British team's decision to enter him in the event instead of defending champion Chris Hoy.
DIVING
Ilya Zakharov of Russia led the men's 3-meter springboard preliminaries, with He Chong of China close behind in second during a competition marked by pratfalls.
Troy Dumais of the U.S. was third at 486.60. Two divers scored all zeros on dives, while two others got low scores for badly botching their dives.
DOPING
American judo competitorNick Delpopolo apologized after he was expelled from the Olympics for doping, blaming the disqualification on his unintentional consumption of something baked with marijuana. Delpopolo is the first of the 10,500 London Games athletes to fail an in-competition doping test.
The International Olympic Committee said it disqualified him from the 73-kilogram class, where he placed seventh. The IOC added that he tested positive for metabolites of cannabis after competing on July 30.
Defending Olympic 50K race walk champion Alex Schwazer also tested positive for doping, and the Italian Olympic Committee said he had been removed from the team. He was scheduled to compete on Saturday.