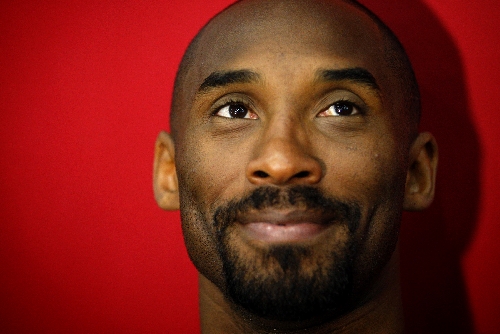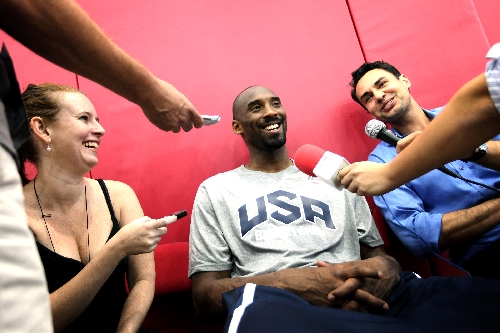 Steve Nash will have to wait his turn to be Kobe Bryant's teammate.
Bryant has prior business to attend to with some other new teammates in Kevin Durant, Russell Westbrook, Kevin Love and Andre Iguodala as the Los Angeles Lakers veteran super­star guard chases a second Olympic gold medal in London later this month.
"We've got some new faces and we have our work cut out for us," Bryant said Sunday after Team USA's practice at UNLV's Mendenhall Center. "There's a lot of good teams – Brazil, Spain, Argentina are always tough. A lot of the countries have really improved with good, young players.
"We're going to be a little different than we were in China. We're not as big. But we're more athletic and quicker than we were (in 2008) and I think teams are going to have a hard time matching up with us."
Bryant, who turns 34 next month, said despite not having Dwyane Wade, Dwight Howard and Chris Bosh this time around, he doesn't think Team USA will miss a beat in London.
"I think (Russell) Westbrook gets D-Wade's role for us," Bryant said, referring to Wade being the sixth man for the Americans. "He pushes the ball and gets to the rim and can defend all over the floor. One thing D-Wade did for us was extend possessions for us and create steals that resulted in a lot of easy run-out baskets for us. Russell's just as good at doing that."
At the last Olympics, Bryant found time to attend other events. He plans to do the same thing in London.
"That's my favorite part of the Olympics," he said. "I'm looking forward to seeing the other athletes compete, especially in the sports that don't get a lot of recognition – swimming, equestrian, archery. I like to get out and support all our teams and athletes.
"I go to all the events because I want to see the other sports. These athletes train for years for this one moment but because it's not a popular sport like basketball, you don't get to see them on TV as much. But they work just as hard and sacrifice as much, if not more, than we do."
But this is a business trip first and foremost.
For Bryant, who is the NBA's No. 5 career scorer with 29,484 points, has five NBA championship rings to go with his 2008 Olympic gold and is a lock for the Basketball Hall of Fame, winning a second gold medal with this group means a lot to him personally.
"I love the competition, representing your country, playing against the best," Bryant said of his decision to come back to Team USA. "Plus, it's fun. I love being around these guys."
Bryant said he's ready to go physically after the Lakers made an early exit from the NBA playoffs in May at the hands of Durant, Westbrook and the rest of the Oklahoma City Thunder. Bryant said one need not be a basketball savant to understand why the Lakers were bounced in the playoffs.
"It was a lack of execution, offensive execution," he said. "We didn't know what we wanted to do or how we wanted to do it. When we ran the triangle (offense under former coach Phil Jackson), we knew what we wanted to do. This time, we were constantly changing things and we never found the one thing we were truly good at.
"It'll get better. It has to. We'll figure it out this summer. We're playing for championships. It's championships or nothing."
To that end, Bryant is excited about having Nash as a teammate after doing battle with him for virtually his entire 16-year NBA career.
"He gives us a much, much better chance," Bryant said of the former Phoenix Suns guard. "He's a terrific shooter. And shooting is something that was lacking for us. His ability to be a playmaker for others out of the pick-and-roll is one of the best we've ever seen. He has a high basketball IQ, in terms of being a coach out on the floor."
Bryant believes Nash will make him more effective, both with and without the ball in his hands.
"It puts me in my natural position, which is that of a shooting guard and that of a finisher," Bryant said. "Michael (Jordan) had Scottie (Pippen), who was a great facilitator for him and enabled Michael to do what he does best, which is score the ball."
Bryant had faith that general manager Mitch Kupchak would not stand idly by and watch the rest of the league change for the better.
And when the Lakers return to Las Vegas on Oct. 19 against Sacramento at the Thomas & Mack Center, they might have a few more new faces besides the 38-year-old Nash.
"I don't think they're done," Bryant said. "There's certain franchises that always seem to figure things out and we're one of them."
Contact reporter Steve Carp at scarp@reviewjournal.com or 702-387-2913. Follow him on Twitter: @stevecarprj.