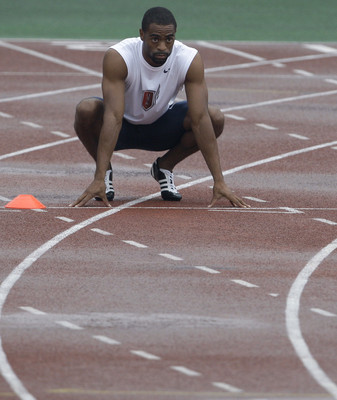 BEIJING — Tyson Gay is the one who makes you hope the layers of suspicion haven't grown so thick that no blade is sharp enough to penetrate them.
He is the world-class sprinter with the embarrassed smile and soft voice, the one who telephones his mother to calm his nerves before a race, who genuinely respects opponents, whose idea of talking trash is wishing others good luck before the starting gun, who woke up each Sunday as a child raised in the Bible Belt of Arkansas and headed for church services.
He is the latest hope against dope for anyone who still believes you can be the world's fastest human without blood so tainted it sets a chemist's hair ablaze. You want to accept he is clean and yet find it incredibly difficult to acknowledge.
"It comes with the territory," Gay said. "Past champions have tested positive, so the Olympics champion should be clean and have to prove it."
You won't see Gay run the 100-meter final in prime time Saturday because NBC has taken the Olympics' most exciting event and demoted it behind swimming and gymnastics. That's partly because of Michael Phelps' swim toward record gold and because no one does huge TV ratings like pixies on a balance beam. The other reason is that track and field today is as clean as the Yangtze River.
Such delayed placement is a shame, because this 100 contested inside the Bird's Nest has every chance of being the fastest in history, with favorites Usain Bolt and Asafa Powell of Jamaica and Gay having all flown into the 9.7s. It is justified in that the harsher track and field has become with regard to drug testing, the more prominent athletes there have been to get caught.
To accept Bolt and Powell and Gay as clean means you accept it is humanly possible to run in the 9.7s and not dope. You have to find no coincidence with the fact three of the other four sprinters in history (Ben Johnson, Justin Gatlin and Tim Montgomery) who went under 9.8 were guilty of doping and the fourth (Maurice Greene) has been accused by a Texas steroids dealer with wire transfer receipts to have purchased tens of thousands of dollars in performance-enhancing drugs.
You have to take a Mike Powell-distance leap of faith, but Gay is at least one who would compel you to begin jogging down the runway.
The last time we saw him, Gay was setting the American record in the 100 with a quarterfinal time of 9.77 at the Olympic Trials in Eugene, Ore., running a wind-aided 9.68 the next day and then squirming face down on the track, having stumbled in the 200 final. The last time we saw him, he was being carted off and frightened he had lost any chance at medaling — or even competing — in Beijing.
This is how paranoid track athletes are: Shortly after the fall, Gay's trainer described the injury as a "mild strain in the semitendinosus muscle." It's another way of saying he pulled a hamstring, but sprinters at this level consider even breathing the h-word in a negative light unthinkable.
"When it happened, I was really upset," Gay said Monday. "It hurt my confidence. I'm 100 percent now. I'm fully confident it will hold up."
There is nothing like the 100, nothing as distinctive and unfussy at the same time. It is you against your buddy back in the fourth grade, from the water fountain to the classroom when the lunch bell rings, the one who can run faster and straighter earning bragging rights until school lets out and you race again. Think about it: No one dreams of being slow, except perhaps Jessica Alba's dentist.
There is also nothing like one of the planet's fastest men owning this kind of humility: "I met Kobe Bryant in the (athletes' village) and asked to take a picture with him so I could have one for memories," Gay said. "He said, 'How is your leg, man? I'm going to check you out and keep you in my heart.'
"I texted my Mom right away and said Kobe Bryant asked about my leg. She was shocked as well. It was amazing. He's a huge superstar. At the opening ceremonies, he was left of me and I told one of our coaches, 'I'm going to get by Kobe so I can get on television.' He said, 'Nah, trust me. Stay right where you are at and everything will work out.' "
You want it for Tyson Gay. You want to believe there is still a blade sharp enough, that he truly is our best hope against dope.
Sadly, it's an impossible leap to take free of suspicion.
Ed Graney can be reached at 383-4618 or egraney@reviewjournal.com.