Henderson celebrates Olympic gold medalist Connor Fields
August 30, 2016 - 10:22 pm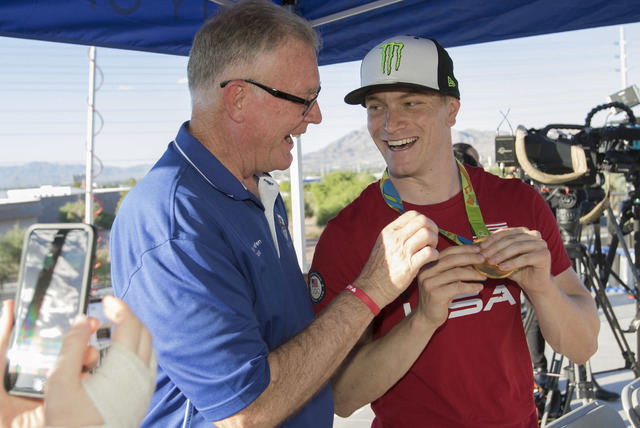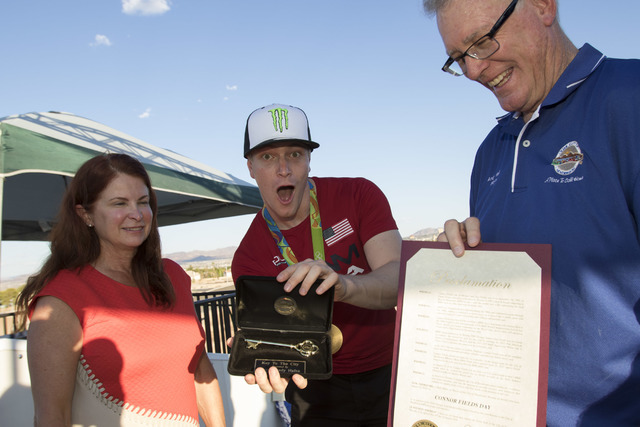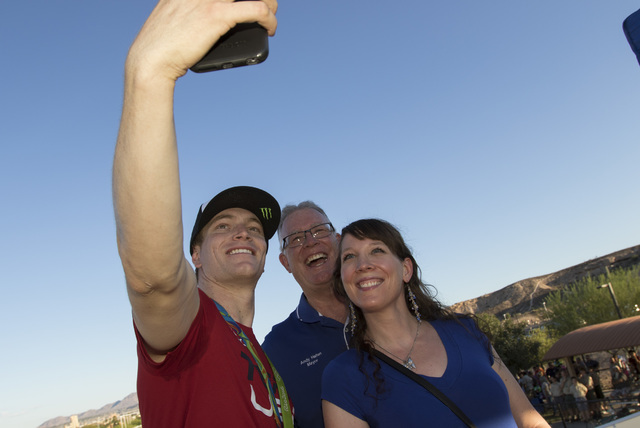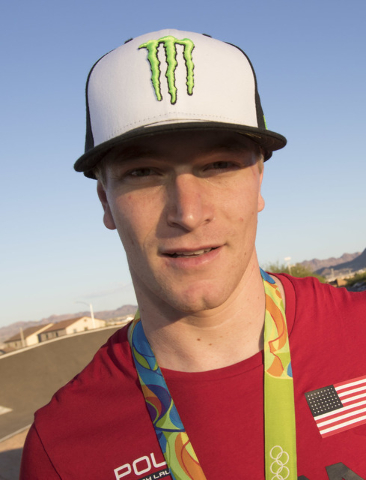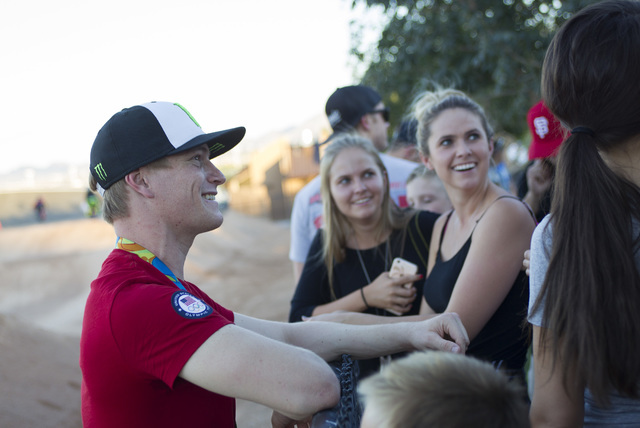 In Rio, Connor Fields won the gold. In Henderson, he felt the love.
In a cheerful Tuesday ceremony, Henderson celebrated Fields, its resident Olympic gold medalist and bicycle motocross racer, presenting him with a key to the city.
"It's so awesome to see the support from the city and feel like they're all behind me," Fields, 23, said. "I love Vegas and I love Henderson. I feel at home."
Henderson Mayor Andy Hafen gave Fields the key, congratulated him on his accomplishments and bestowed a special honor.
"I proclaim August 30, as Connor Fields Day here in the city of Henderson," Hafen said.
Fields said his life has been a "whirlwind" since he returned home.
"Since winning the race, I've talked to some type of media entity every day since the race," he said. "The reception, it's unbelievable."
Fields won his Olympic gold medal on Aug. 19 in 34 seconds; however, his mind didn't contain thoughts.
"The race was 34 seconds of me reacting, not thinking," he said. "It was a perfect race."
Following his victory — hearing his name as the first gold medalist BMX racer from the U.S. and listening to the national anthem play, Fields said he felt emotional.
"It sunk in, I felt like crying," he said.
Fields mentioned his parents having a huge impact in his BMX career. His mother got him involved in BMX after she saw a flier in a bike store.
"I've been riding since I was 7," Fields said.
After a loss at the London Olympics in 2012, Fields said he needed to redeem himself.
"To get put in the mix in Rio was cool, to finish with a medal was a big accomplishment," Fields said. "I don't get tired of posing with my medal."
At age 14, he wrote a message on the wall in his parents' garage that read, "One day I will be an Olympic Champion."
That was a goal he was able to fulfill.
"I hope that I can use that message to show people that if you set a goal, don't be afraid to set a high one and go after it," Fields said. "One day it might come true, and even if it doesn't, at least you tried."
Fields said about a week ago, he took a picture of his medal next to the writing on the wall.
When asked what advice he'd give his younger self, Fields said he'd say, "Learn to take the ups with the downs and the downs with the ups. Learn to embrace the roller coaster. Losing sucks, but there will be more races."
Fields said he plans to compete in the 2020 Olympics in Tokyo and will use his platform to promote BMX.
"I want people to come out to the BMX track and participate," he said. "Anyone can do it!"
Contact Raven Jackson at rjackson@reviewjournal.com or 702-383-0381. Follow @ravenmjackson on Twitter.