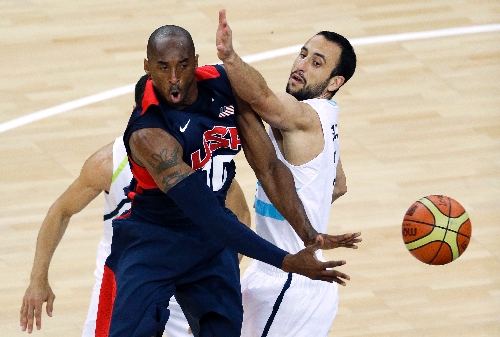 The surreal scene of an Olympic media mixed zone after a basketball game between the United States and Argentina on Friday evening:
At one end was Kevin Love, an NBA star who has talked openly about his frustrations with ownership of the Minnesota Timberwolves not providing enough talent around him to build a playoff contender.
At the other was Kobe Bryant, a Hall of Famer whose organization has provided him with enough talent over the years to fill the River Thames.
Which it has done again.
Love them. Hate them. Care nothing about them. The Los Angeles Lakers are about winning championships, or at least offering a roster that will have an opportunity most seasons. They do again today.
Hold those thoughts about the Oklahoma City Thunder ruling the Western Conference for years to come. Things just got real interesting.
Few times in Olympic history has a player not competing become the main topic of conversation as nations unite, but Dwight Howard did so here without even being here.
The U.S. beat Argentina 109-83 and will get its expected finals match against Spain on Sunday, when Lakers teammates Bryant and Pau Gasol oppose each other for a gold medal and yet undoubtedly will be thinking about what is to come after hugs are exchanged and flags are raised and someone's anthem is played.
"We just added one of the greatest defensive players of all time," Bryant said of the Lakers giving up Andrew Bynum in a four-team deal that landed them the league's best center. "We're a championship-caliber team, absolutely. I'm excited. It's going to be sensational."
LeBron James wouldn't answer questions about it. Kevin Durant said he didn't care, but you know he does. Manu Ginobili was upset Argentina lost but impressed with the trade. Andre Iguodala was too busy coming to terms with being shipped from the Philadelphia 76ers to the Denver Nuggets.
Love was probably counting the days until his unrestricted free agency. It's in 2015.
NBA players and Olympians were questioned about how much of an impact Howard will bring to a Lakers side that now has Steve Nash running the point and Bryant and Gasol in their usual spots.
Funny. Bryant said he and Durant joked about such a scenario earlier in the summer, but the young Oklahoma City star was convinced the Lakers couldn't get Howard without giving up Gasol.
Bryant wasn't so sure. He thought it possible.
He knows the history too well.
"I told (Durant), 'Well, we got Pau for virtually nothing (in 2008), so I think we can make this happen, too,' " Bryant said.
Championship franchises do what's necessary to win, even when an ego-driven commissioner wrongly denies a trade for an All-Star point guard and then allows him to go to the team with which you share an arena.
Chris Paul is here, too. You can imagine his thoughts on the Howard deal as his Clippers literally became the second-best team in Los Angeles again overnight.
If the Lakers and Thunder played today, Oklahoma City probably still wins. If they play in a conference finals in late May, who knows. Howard has proven to be as much diva as dominant, and Nash can't guard a chair, but we're now looking at a Lakers team that will start four Hall of Famers.
Can you imagine the number of dunks Howard will get off pick-and-rolls from Nash? Gasol might be a fourth option. That's a bit scary.
That the champion Miami Heat might get a reprieve from being the league's most despised team for a while won't bother anyone in Los Angeles, whose franchise resume of success and banners always has been a symbol for others to loathe.
"The Lakers have always made smart decisions and business moves," Bryant said. "Credit management. The deal for (Paul) got pulled from underneath us, and now they come up with something better. That's impressive.
"(Howard) just needs to come in and do what he does. Look, I'll play for maybe two, three more years. The team is his. He's not going to have to come and sacrifice much of anything. He can now carry the franchise well after I'm gone. Dwight couldn't be in a better position. Look at all the great centers who have been in LA. He's the next one."
Yep, it was a surreal scene, all right.
Gasol had just led Spain past Russia and into the gold-medal game when he came around the corner of the mixed zone to face a hoard of reporters.
One offered this welcome:
"We need to talk to you about Howard."
Said Gasol, smiling: "No (bleep)."
Las Vegas Review-Journal sports columnist Ed Graney can be reached at egraney@reviewjournal.com or 702-383-4618. He can be heard from 11 a.m. to 2 p.m. Monday through Friday on "Gridlock," ESPN 1100 and 98.9 FM. Follow him on Twitter: @edgraney.