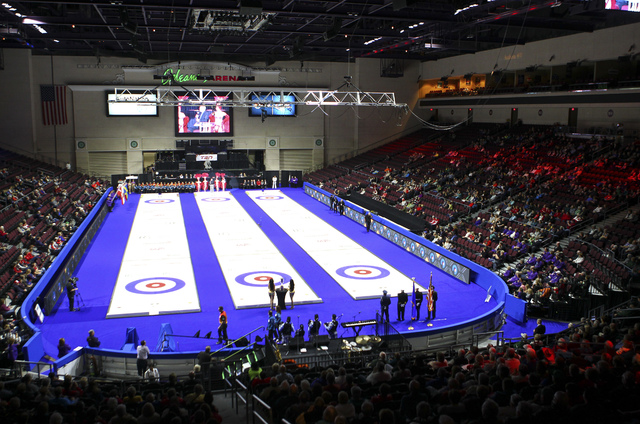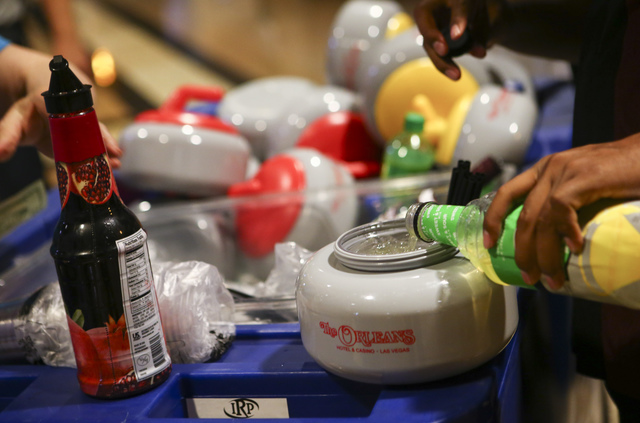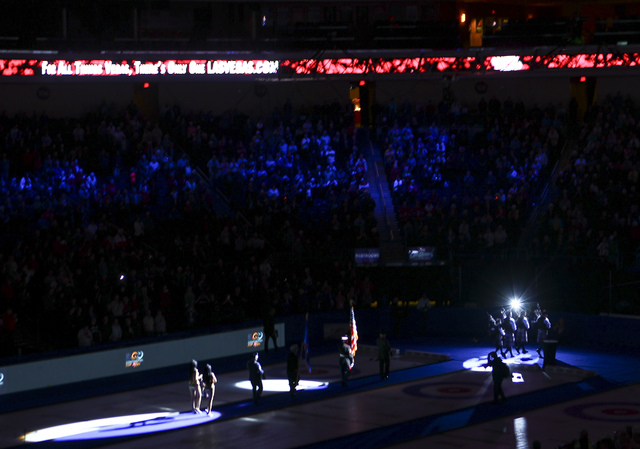 Shortly after the 2006 Olympics, Tom Howell noticed lines out the door at his local curling club.
"People wanted to give it a try and see what it was like and it was pretty wild," Howell, who is one of eight Americans competing at the Continental Cup at the Orleans Arena this week, said. "We were there for hours and hours and hours, probably a whole day, trying to get as many people in the door to try it as we could."
It's not unusual for curling clubs to see a post-Olympic spike. That, combined with more television exposure, has helped the sport's popularity climb around the country.
There were 10,000 members of the U.S. Curling Association in 2002. After the 2014 Olympics, that number hit 20,000 with 50 new clubs opened during that period of time.
The numbers are growing around the country, and the Continental Cup has brought the enthusiasm for the sport to Las Vegas once again.
Last year's Continental Cup, which also was in Las Vegas, drew 62,498 fans, shattering a U.S. attendance record for curling, which includes the 2002 Olympics.
Though many of those fans are Canadian, Jon Killoran, the chair of the Continental Cup Host Committee, said there's been an uptick of American fans at the event, estimating there would be about 10 percent at this year's event.
"The sport of curling is now growing in the United States in participation as well as on television. NBC Sports Network airs it regularly and we've been able to advertise our event on the NBC Sports Network, which has grown our audience in the United States," Killoran said. "We see a larger number of American curling fans joining their Canadian friends at the event."
The days of curling on television in the United States is relatively recent.
Howell, 22, said when he was younger, if it was a special occasion, they would occasionally stream a Canadian event at a club he'd go to.
Now, the options to watch curling have increased greatly.
Korey Dropkin, another American curler participating at the Continental Cup, was part of one season of Curling Night in America and said he had quite a few people contacting him after it aired asking how they could get involved and become members of clubs, too.
"That's gotten quite a bit of TV time and got quite a bit of people interested in the sport just through seeing it on TV," Dropkin said. "It's been nice to have that as a medium of people seeing the sport and wanting to kind of learn a little bit more about it."
Dropkin moved to Duluth, Minnesota, four years ago to attend college and pursue his curling career. He called Minnesota the "hub of curling in the U.S.," and said he knew it was where he needed to be.
But with added interest in the sport, it's started to grow across the country and spread from the Midwest and other northern areas.
"When I started … there was basically virtually no sound or noise of curling in southern states," Howell said. "Now there's clubs in Charlotte, North Carolina and South Carolina and Texas and Arizona and Colorado and obviously we're going to Las Vegas for a huge event, one of the biggest of the year this week.
"It's grown a lot and it continues to grow. It's pretty cool."
Contact Betsy Helfand at bhelfand@reviewjournal.com. Follow @BetsyHelfand on Twitter.
RELATED
Here's a spectator's guide to this weekend's Continental Cup
CONTINENTAL CUP
Who: Team North America vs. Team World
What: World Financial Group Continental Cup
When: Friday to Sunday, with competition beginning at 9 a.m. daily
Where: Orleans Arena
Tickets: Available at the box office, curling.ca and Orleans Arena website