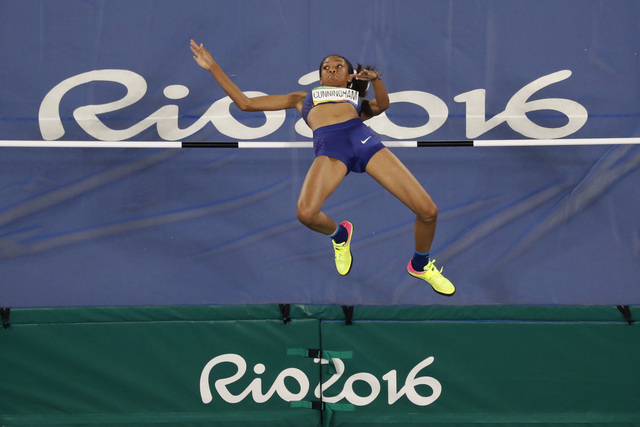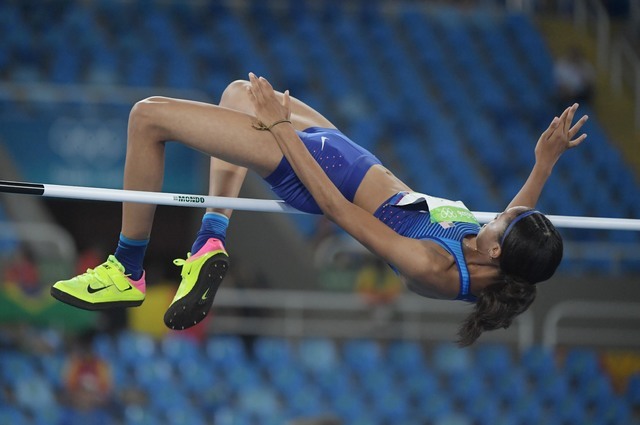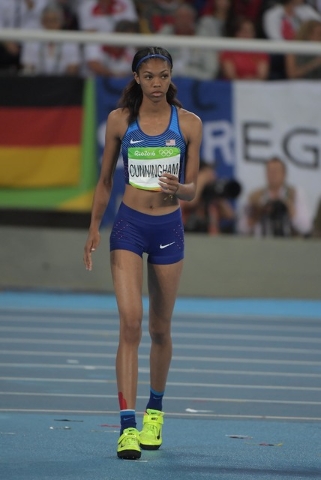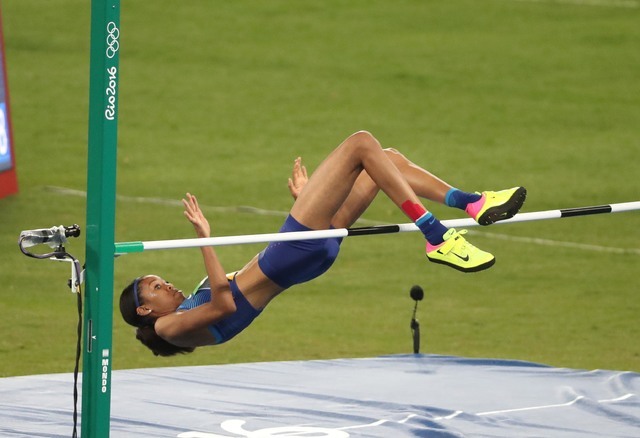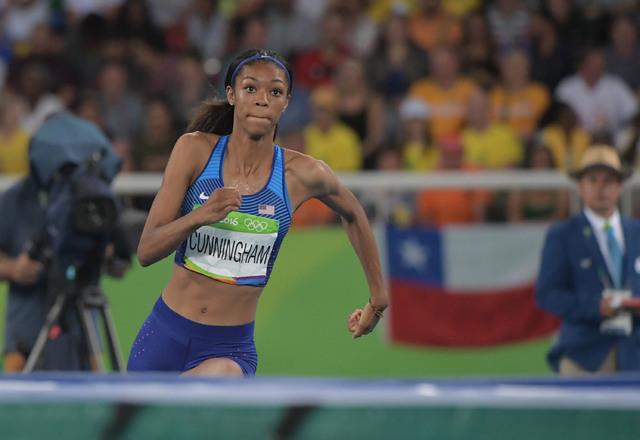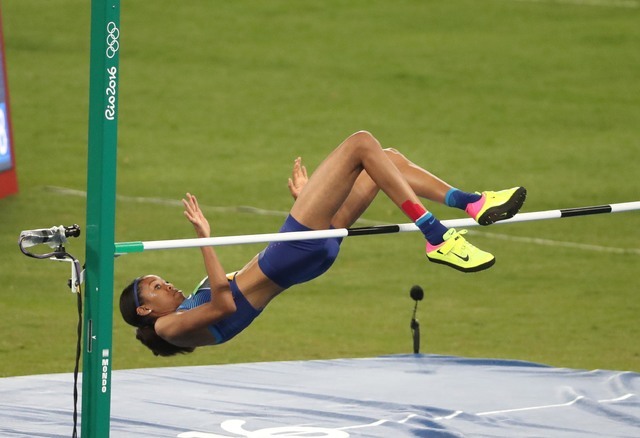 RIO DE JANEIRO — Vashti Cunningham approached the bar for her third and final attempt at 6 feet 4 inches, just the second height of the competition, a height that a dozen women would clear Saturday, a height she has glided over all season. She planted her left foot, pushed her body upward, twisted her torso, arched her back and kicked over her legs.
She landed in the foam pit. The bar landed in it, too.
Olympics, over. Just like that.
Cunningham, the 18-year-old phenom from Las Vegas, rolled out of the pit and began to sullenly walk back to the area where she left her sweats. Chaunte Lowe, the den mother of American high jumpers at 32, intercepted her. Hugged her. Hugged her hard.
"She was just telling me that I had a great season," Cunningham said, "and that I'm an amazing jumper."
"You know the heartbreak that she's feeling," Lowe said after finishing fourth. "From my perspective, I see that she's 18 and she has probably another 18 years ahead of her of competition. But to her, this is her world, this is her biggest meet that she's ever gone to. For her, she feels like it was a failure.
"From my point of view, looking at her, I see the future of high jump, and I see this being a great success for her."
Maybe Cunningham will realize that one day, too. She just wasn't on Saturday night, visually and verbally fuming after a 13th-place performance that belied her previous marks and current expectations.
Cunningham won the indoor World Championships in March at 6-6¼, a world junior record, although in a smaller venue against a far less loaded field. At the U.S. Trials last month in Eugene, Oregon, she easily cleared 6-4 on her first attempt and finished second at 6-5½.
But the Bishop Gorman High School product struggled at 6-4¼ in Thursday's Olympic prelims, finally clearing it on her third attempt. After breezing over Saturday's opening height of 6-2 — a layup for most elite high jumpers — she didn't come close at 6-4.
"It was just a bad day," Cunningham said curtly.
Anything in particular you were doing wrong and trying to adjust? "No."
Anything you'll take away from this experience for the future? "Yeah, not to lose."
Does being so young temper the disappointment? "No."
How mad are you? "Pretty mad."
What instructions did Randall, your father and coach, give you between jumps? "Same old stuff. Aim higher."
The competition continued without her, 12 women over 6-4, then four over 6-5½, then none over 6-6¾. The medals, then, were based on previous misses, and Spain's Ruth Beitia got the gold. Bulgaria's Mirela Demireva took the silver and Croatia's Blanka Vlasic the bronze.
They're 37, 26 and 32. Cunningham, the youngest member in the 17-woman final, doesn't turn 19 until January. She'll be 22 at the Tokyo Olympics in 2020. She could compete in a fourth Olympics by 30.
"I don't really put my age into it," Cunningham said. "It's what I chose to do as my profession. So I go about it regardless of how old I am. … But this will motivate me a lot, especially for the next Olympics."
Lowe, in her fourth and (she insists) final Olympics, tried to provide perspective:
"She did a fantastic job. She had a longer season than she's ever had. She's never done an indoor season before. They're going to learn from this and be able to come back. My first Olympic Games, I didn't even make the final. She made the final and did well. Definitely don't read too much into this."
Some will see Cunningham's technical struggles in Rio and read something else into it, that maybe it's time for Randall to hand his daughter to another coach and return to being just her dad, as some in the sport have quietly suggested.
She shook her head. There will be no coaching changes.
"I'm going to stick with my dad," Cunningham said. "Me and my dad have something that works, and I'm not going to change it because of what anybody else says."
Lowe concurred.
"Absolutely not," Lowe said. "He is doing a fantastic job with her. You have to think about it. She's doing things that no other 18-year-old has ever done. Nobody knows her like her father."