Las Vegas' Connor Fields qualifies for Olympic BMX semifinals
August 18, 2016 - 9:57 am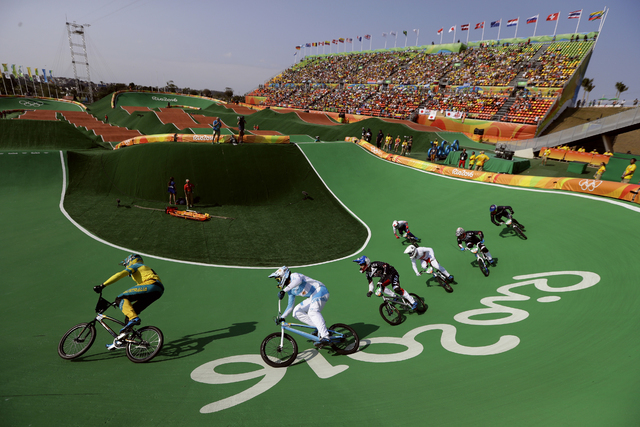 RIO DE JANEIRO — BMX cyclist Connor Fields felt something snap in his left wrist while landing a hard jump during a World Cup tour stop in Manchester, England. It required surgery but by all accounts it would be a relatively simple procedure. Maybe 45 minutes, tops.
"I woke up," the Las Vegas native said, "and found out I had a five-hour surgery and the damage was more extensive than I thought."
Fields started doing the math. That was April. The Rio Olympics were in August.
It computed, barely. Fields is here at Rio's wild and wooly Centro Olimpico de BMX, with a wrist not completely healed but a head and heart that is. And an incongruous reality: The injury, the surgery, the layoff, the uncertainty … could it have been a good thing?
"They say adversity makes you stronger," Fields explained earlier this week in Rio. "Not to get cheesy, but I think it helped me out. It's actually been a bit of blessing in disguise. I gained a bit more perspective and appreciation. I got a break, which physically and mentally was much needed.
"Had I not been injured I would have done almost a year straight without a break and I might have been burnt out by this point. (After the injury) I couldn't wait to get to the track. I was hungry. I felt like a kid again going out there."
He also reunited with Australian Sean Dwight, his coach in 2012 with whom he'd had "a falling out."
Fields was leading the points standings that would determine the first of three spots on the U.S. Olympic team when he got hurt, a margin that quickly vanished. The second spot went to the winner of the Trials in Chula Vista, California, in June. Fields missed that, too.
The third spot was a coaches' discretionary pick, and Fields got that after Corben Sharrah won the Trials, as expected. Had there been an upset Trials champion, things could have got dicey.
Still, the question lingered: Even on the team, what form could Fields possibly have by August?
"Sometimes you have to deal with a little bit of fear, depending on how you crashed," Long said. "Sometimes there is a little bit of a learning curve to get back into it. I thought it was going to be that way for him. I didn't see him ride for four months. Then he went out and rode a session, and I still didn't watch him. But somebody was like, 'Man, Connor looked really good.'
"Then I saw him and it looked like he didn't skip a beat."
It certainly didn't look that way during Thursday's quarterfinals, either. Fields blew away the field in his first heat on a day when there were numerous crashes. He rode more conservatively in the next two heats, finishing fourth and third to advance easily to Friday's semis at 9:39 a.m. PDT. The final is scheduled for 11:10 a.m.
Of course, that means nothing. He speaks from personal experience, emerging from the preliminary rounds in London in 2012 as the No. 1 seed, then had a bad start, got caught behind a glut of riders in the eight-man final and finishing seventh.
"I won five of my six runs before the final in London," Fields said. "No one knows that but me and my mom and dad."
He was 19 then. He's 23 now.
"I get asked a lot: What are you doing to do different?" Fields said. "Not much. I was the No. 1 seed in the final. But the biggest thing I learned was I got ahead of myself a little bit. I was riding so well and feeling so good, and I started to think about that podium before I had done it. I was younger and I hadn't really been in that position before.
"This time, I think I'll be more prepared to deal with the rigors of the day and any curve balls thrown my way."