Las Vegas' Evan Weinstock slides into Olympic dream
January 28, 2018 - 12:11 am
Updated January 28, 2018 - 1:30 am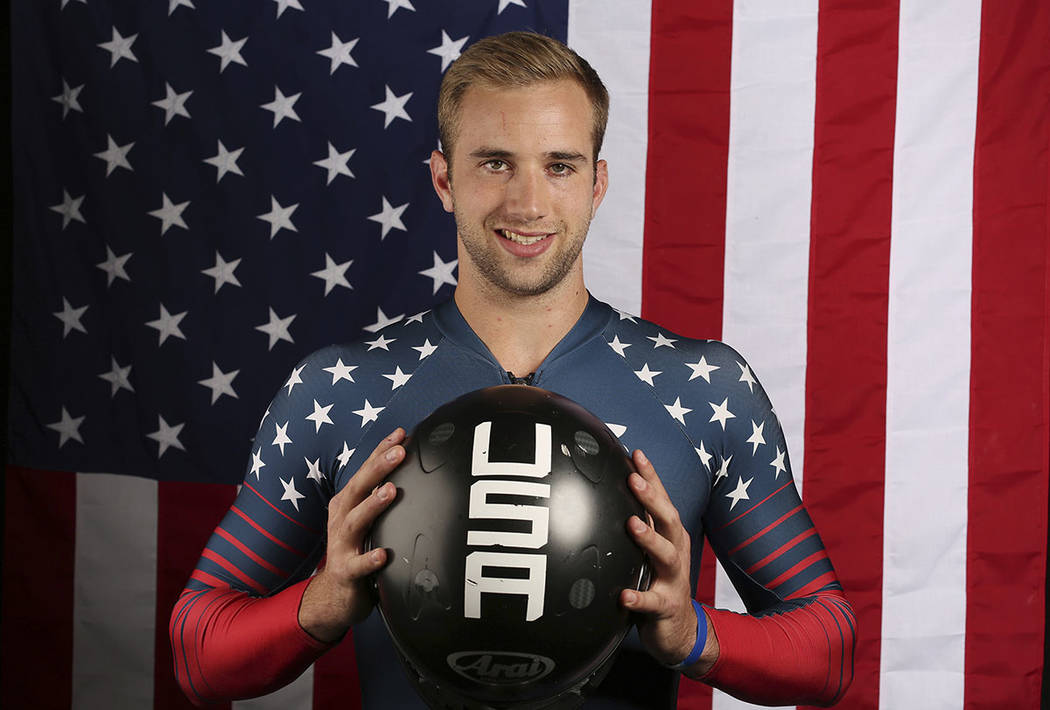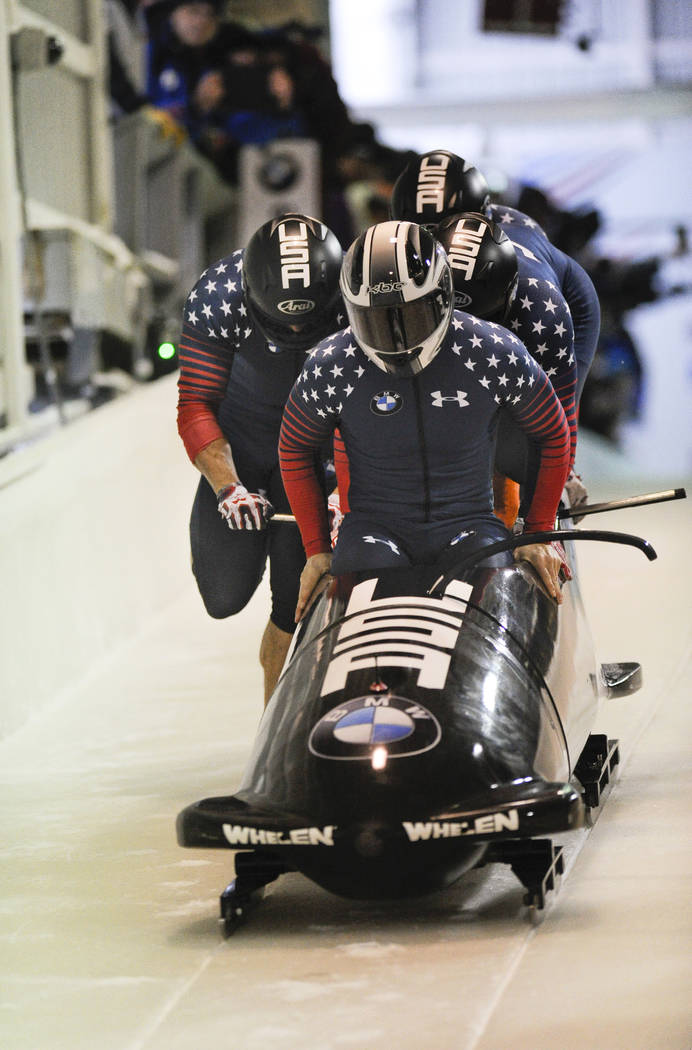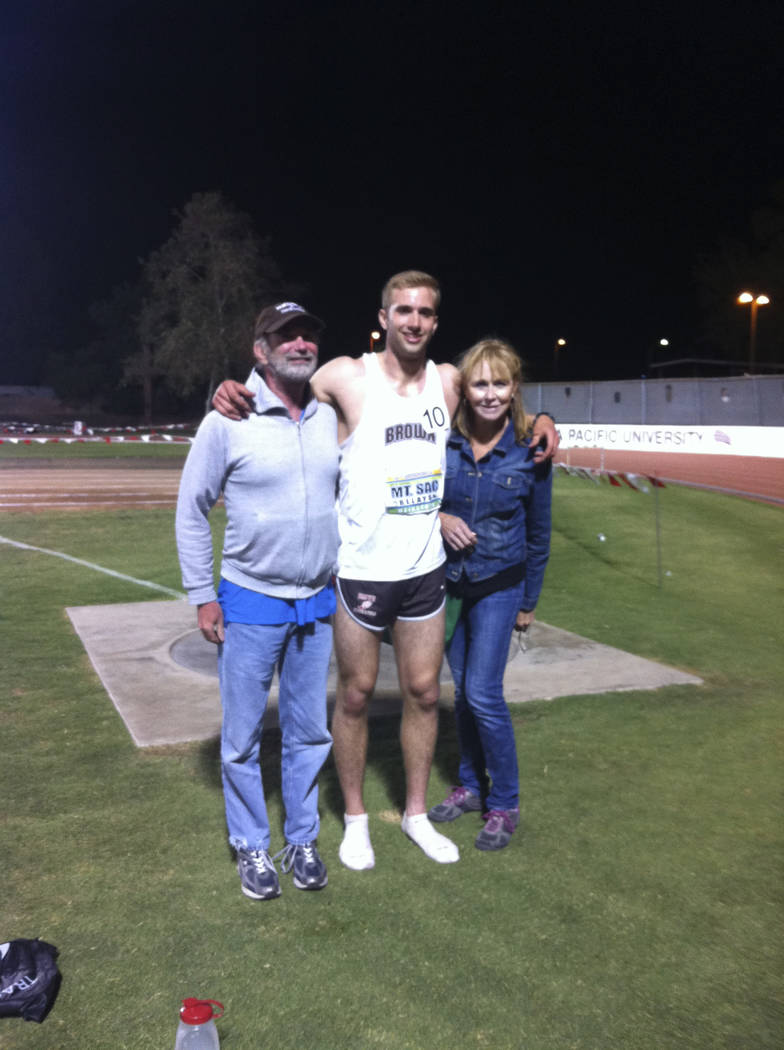 A group of 27 friends and family members will travel to South Korea next month to cheer on Evan Weinstock at the Winter Olympics.
"We're trying to break the Guinness Book (of World) Records of most family support at the Olympics," older brother Jason Weinstock joked.
Weinstock, a 26-year-old bobsledder who was a standout football player at Del Sol High School, is believed to be the first Las Vegan to represent the United States in the Winter Olympics. But when he heads out next month, one person will be missing from his cheering section: his mom.
As an equestrian rider, Virginia Hunt's goal was to participate in the Olympics. Eventually it became a shared goal for Hunt and her youngest son, Evan, but she didn't make it to see him achieve that dream. She died in April 2016 after a battle with cancer.
"Obviously, it would mean the world to her," Weinstock said. "I know she would be proud. It was a lifelong goal of both of ours."
And though she won't be physically present when Weinstock competes in Pyoengchang, he keeps her with him at all times.
"(She's) somebody you kind of carry with you no matter what the moment is," he said. "She's someone that I kind of always have in the back of my mind … supporting me and keeping me sane and keeping me motivated and moving in the right direction."
'Nothing's going to stop him'
Weinstock was always an athlete. He played Little League and flag football growing up. Some sports came more naturally than others.
"It took him three years to learn how to ride a bike," Jason said. "But he busts his ass. He worked hard. He picks up on things, and he continues to work."
In his senior year at Del Sol, Weinstock was named the Las Vegas Review-Journal's 2009 4A Football Player of the Year before heading to Brown University and having a decorated career as a decathlete.
While he was in college, a few teammates mentioned bobsledding to him because of his background in the decathlon. At the time, he brushed off the idea. His original goal was to make the Olympics as a track athlete, but he knew that would be a tough task.
So in the summer of 2015, while training with the track team at Stanford University, Weinstock sought out a bobsled combine and decided to try it out. At the very least, he figured he'd enjoy the combine.
It came as somewhat of a shock to his family. He wasn't particularly a big fan of the cold and hadn't seen much snow growing up in Las Vegas. Besides, the sport seemed to buck his personality.
"His brother was the daredevil of the family. Evan wouldn't drive a car fast," said his father, Arnold Weinstock.
But with skills that would translate and the opportunity to reach the Olympics down the line, he plunged headfirst into the new sport.
"When we heard he was doing bobsled, my mom and I were just like 'All right, he's going to make it to the Olympics somehow,'" Jason Weinstock said. "For us, it was like 'Whatever. This kid's crazy.' Nothing's going to stop him from the Olympics, whether it's darts when he's 40 or bobsled when he's 26."
Learning a new sport
Weinstock impressed the coaches at the combine, earning an invite to the training center in Lake Placid, New York, to continue learning the sport.
The motion of pushing a bobsled came naturally to him, he said, thanks to his background in track, and Weinstock liked the team sport aspect of bobsled and the opportunity to travel to some of the most scenic places around the world.
"When you come into the sport, they tell you bobsledding is 90 percent athleticism, 10 percent skill, so the skill part took me a fairly little bit of time to learn," he said, "but I think it was a pretty quick pickup and then my general athleticism kind of helped propel me in the sport a little bit faster than most."
He made the national team in his first year in the sport and quickly became one of the top push athletes, earning USA Bobsled & Skeleton's MVP award following the 2016-17 season.
Fellow Olympian Justin Olsen helped the process, as the two spent six weeks in Europe in early 2016. Olsen was transitioning to driving and took Weinstock under his wing, training with him and helping him learn everything he needed to know about the sport.
The pair has raced together since then and will be on a two-man bobsled team at the Olympics. Weinstock also will be competing with Codie Bascue's four-man team.
For the most part, the U.S. bobsled team heading to South Korea is a newer group, and to those who know him, it's no surprise Weinstock is part of it.
"He just kind of found the next competitive thing that he could do, and you could just see it with the posts, with all the training, that he was going to reach his goal," said his former Del Sol football coach, Preston Goroff.
Heading into the season, Weinstock was fairly confident he would get to this point — it was just a matter of staying healthy and progressing throughout the year.
His family was confident he'd reach his dream, too.
"We bought our tickets to go to Korea back in August," Jason Weinstock said. "We had a feeling."
'Her dream and his dream'
Weinstock remembers watching the Olympics with his mother as far back as the 2000 Summer Games in Sydney. The two were Olympic junkies, waking up at odd hours to watch some of the more obscure sports.
"We had always loved watching them together and dreamed of it, but I don't know if either of us really thought it would ever become a reality," he said. "It was just kind of a dream that we both had."
Hunt tried to instill in her son the goal of being the best he could be at anything he tried, and once he took to bobsled, the Olympic dream came alive again.
"The Olympics (are) the pinnacle of athletic competitions, and so as soon as I got into competing in bobsledding, that was both of our goals, and on both of our minds was that it could potentially be a reality," he said.
After flying to Austria and watching Weinstock compete in 2016, Hunt returned home and wasn't feeling well. A cancer diagnosis soon followed, and Weinstock flew home to be with his mother. After she died, he returned to the bobsled world, dedicated to achieving their dream.
"You talk to Evan and he'll tell you every time he slides down, she's sliding with him," Jason Weinstock said. "I think that was the real push for him to keep going. It was her dream and his dream, and that's kind of how he's living it out is through bobsled."
Contact Betsy Helfand at bhelfand @reviewjournal.com. Follow @BetsyHelfand on Twitter.