Las Vegas runner tries for Olympic spot after only five marathons
February 2, 2016 - 6:07 pm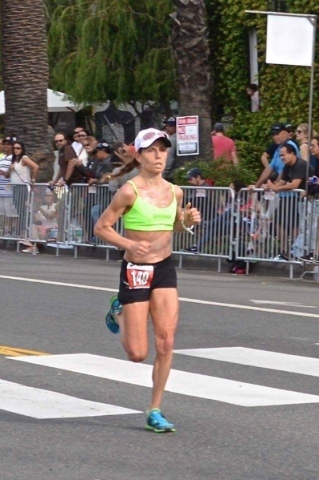 Las Vegas marathon runner Christina Vergara Aleshire is heading to Los Angeles on Feb. 13 to run in the U.S. Olympic Team Trials. She will be among the country's most elite female marathoners who have managed to crank out 26.2 miles in 2 hours, 43 minutes or faster, all vying for one of three open spots on the Olympic team.
If you guessed that Aleshire's resume is littered with podium finishes at marathons around the United States, you are wrong. The 34-year-old registered and licensed dietitian who has a master's degree in exercise physiology from UNLV has run in only five marathons.
A lifelong athlete who has a background in soccer, swimming and cycling, Aleshire decided to run the Rock 'n' Roll Las Vegas Marathon in 2011. Before training for the race, she had never run longer than 10 miles. She finished in 3:31.
A few marathons later in 2013, she caught the attention of local running coach Sylvia Mosqueda. With Mosqueda's guidance, Aleshire finished the Los Angeles Marathon in 2:44 in 2015, a minute shy of qualifying for the Olympic Trials.
Juggling her career with running upward of 70 miles a week, Aleshire wasn't about to give up on her dream. On June 21, she crossed the finish line at Grandma's Marathon in Duluth, Minnesota, in 2:40:10.
"I made a goal to qualify for the trials about two years ago," Aleshire said. "It takes a lot of work, dedication and sacrifice. And having Sylvia's trust in me."
When asked if she thinks she can qualify for the Olympic team, Aleshire gave a resounding no. She does, however, want to cross the finish line in 2:38.
"It is an honor to be able to be in that environment and running with professional athletes," she said. "I want to have a good race. I want to be proud of my performance."
More Girls Gone Running
Erica Schramm, 37, doesn't consider herself a distance runner. She grew up running the 400 and 800 meters in high school and college.
Still, on Jan. 17, she crossed the finish line at the Maui Oceanfront Marathon in 3:04:16 and broke the course record. That's just after winning the Tucson Marathon on Dec. 6 with a time of 2:59:52.
But her goal isn't just time.
A social worker and mother of 2-year-old twins, Schramm is part of the Red Rock Running Company's team. She has her sights set on running a sub-four-hour marathon in every state. She's already knocked out 16 states.
While she runs upward of 70 miles a week during training, Schramm still has a soft spot for shorter distance races such as 5Ks and 10Ks.
"As I got older, distance was something I evolved into," she says.
Laura Chappell, Schramm's Red Rock Running Company teammate, will defend her 10K title at Big Game 10K Weekend, which includes a 5K race and kids dash races. The event is Sunday in downtown Las Vegas.
In 2015, Chappell, a 37-year-old teacher at M.J. Christensen Elementary School, took first when she ran a 38:31 in the 10K race. Last year, she also won races such as the Mom's Rock 10K.
Thank El Nino
* Local ski areas continue to get pounded by winter storms. This weekend, along with powder stashes, Saturday is Brian Head's Triple Crown event. This is the third year for the competition, open to skiers and snowboarders in five categories: pro, amateur, women, ski-only and kids. The pro and the amateur are open events. Women may compete with the guys or other women.
Organizers expect up to 100 competitors from Las Vegas, San Diego and parts of Utah. Slopestyle kicks off the event at noon, followed by best trick and then the crowd favorite rail jam event that spectators can watch from the Giant Steps patio. There is a $10 entry fee, along with a lift ticket for those without a season pass.
* Here are the winners in last weekend's Lee Canyon's Lil' Air competition:
Benito Garbiso in Mountaineers Ski; Cru Carmen in Freeride Snowboard; and Canyon Robinson in Freeride Ski.
Stephanie Forte is a local longtime rock climber and snowboarder. She is one of the voices of Beyond Vegas, a social media community that helps to connect people to outdoor adventures in Southern Nevada. If you are hosting an outdoor event, send information to steph@beyondvegas.com. Follow her on Twitter: @StephNForte
Calendar
Running
Saturday — Mardi Gras Masquerade half-marathon/10K/5K, Equestrian Park, times vary.
Saturday — LV Track Club 10,000-meter relay, UNLV track stadium, 8 a.m.
Sunday — Big Game 10k/5k downtown Las Vegas, times staggered.
Triathlon
Saturday — 100×100 swimming event for triathletes, Henderson Multigenerational Center outdoor pool, 9 a.m.
Hiking
Saturday — Sunset Hike, First Creek Red Rock Canyon.
Saturday — New Moon Hike in First Grove Spring, Mount Ranch State Park.
Snow sports
Saturday — Triple Crown Event, Brian Head Resort.