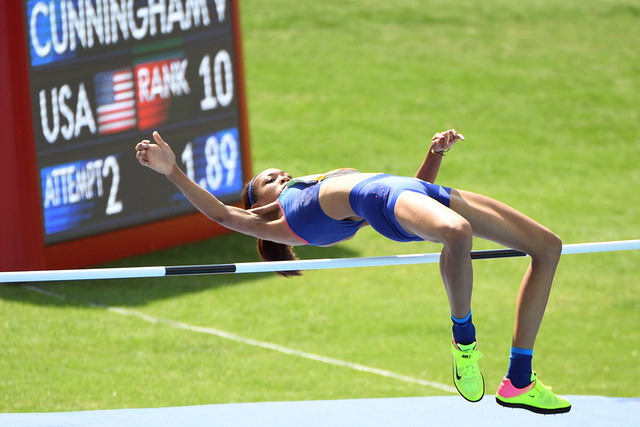 Vashti Cunningham cleared her first obstacle at the Rio Olympics. On Saturday, she'll see how high she can go.
Cunningham, the 18-year-old Las Vegan, will be one of 17 athletes competing in the women's high jump final, which will start at 4:30 PST in Rio de Janeiro. The event will be streamed live on NBCOlympics.com and shown on KSNV-3's prime time coverage starting at 8 p.m. PST.
Cunningham cleared 1.94 meters (6 feet 4¼ inches) in Thursday's qualifying round to advance.
Her best jump is 1.99 meters (6 feet 6¼ inches) at the USA Track & Field Indoor Championships in Portland, Oregon, in March. The mark would have been fifth best at the 2012 Olympics, and it topped the world junior indoor, the U.S. junior and the national high school records.
Cunningham, daughter of former UNLV and NFL quarterback Randall Cunningham, cleared 1.97 meters (6 feet 5½ inches) at the U.S. Olympic Trials to finish second behind Chaunte Lowe, who cleared 2.01 meters (6 feet 7 inches). Lowe, who finished sixth at the 2008 and 2012 Olympics, is the favorite to win gold.
Other top competitors in the event are Croatia's Blanka Vlasic, the 2008 silver medalist, and Ruth Beitia of Spain, who finished second to Cunningham at this year's world indoor championships in March.
RELATED
Las Vegas' Vashti Cunningham qualifies for Olympic finals in high jump
Las Vegas' Vashti Cunningham makes history, seizes spot on Rio Olympic team
Vashti Cunningham handles Olympic trials with poise of a queen