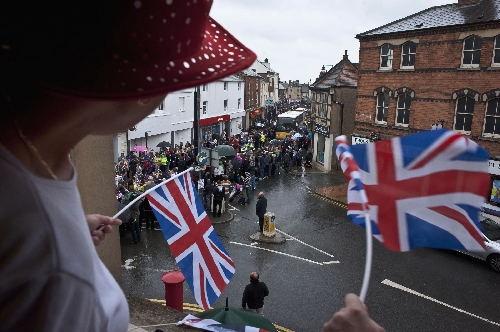 David Beckham will be missing and so, likely, will Oscar Pistorius, whose remarkable run on his magical blades came up agonizingly short. They were always going to be sideshows in London anyway, in an Olympics that hardly needs a supporting cast.
When London snatched the Olympics out of the hands of Paris a few years back, the British were confident they would score well. But even organizing chief Sebastian Coe couldn't have imagined the spectacle that will play out for 17 days in London.
The Queen will be on hand. So will Paul McCartney, leading some 80,000 people in a sing-along to open the games this month.
The former Beatle will top an opening act that, in contrast to the sterile proceedings in Beijing, features sheep, horses and chickens, among other things. There's even a cloud that produces rain, as if London needs any more of that.
Then the real stars take the stage for what could be an Olympics unlike any other.
We've gotten a taste of it the past few weeks, as Michael Phelps dueled with Ryan Lochte in the pool, Usain Bolt for a moment found himself the second-best runner in his own country, and American gymnasts showed off the kind of depth that potentially could lead to a bunch of medals.
But there's more. Much more. Always is in an Olympics, even if some of the sports are so arcane they are barely understandable.
Swimming is one we understand, and this could be the swim meet of the century. Phelps might not win eight golds again with Lochte challenging him at almost every turn, but he will win enough to add to his 14 gold medals and stamp himself as perhaps the greatest Olympian ever.
Lochte will win his share of gold, too, but the breakout star in the pool could be 17-year-old Missy Franklin, who already has the best nickname in the sport. Missy the Missile has big hands, size-13 feet and the kind of sprinter's speed that should make her a multiple medalist.
Just when everyone gets out of the water and takes a deep breath, track begins, and Bolt takes center stage. But countryman Yohan Blake beat the World's Fastest Man in the 100 and 200 meters in Jamaica's Olympic trials, and Justin Gatlin and Tyson Gay also could challenge Bolt in the Olympic 100.
In between, the biggest names in tennis will duel on the grass at Wimbledon, and a U.S. basketball team headed by LeBron and Kobe will preen its way to another gold. Then there's Zara Phillips, the 31-year-old granddaughter of Queen Elizabeth, carrying on a family tradition and competing in equestrian.
Yes, Beijing was grand and majestic. Everything was new and clean, even if sometimes it seemed the spectators weren't sure what they were watching.
But it can't match the flavor of these games, with tennis at Wimbledon, beach volleyball just outside the prime minister's 10 Downing Street residence and apparently enough barnyard animals on display that you'll think you're lounging in the English countryside.
NBC says it won't make money, not surprising because the network spent $1.18 billion just for the rights for these games. But the storylines from London should prove compelling enough to draw huge prime-time audiences, even in today's world where anyone with Twitter or a news app on his mobile phone will know the winner long before the network packages it up nicely and beams it into your living room.
What makes the Olympics so special isn't simply that 10,000 athletes from around the world gather together and countries such as the U.S. and China duke it out for the medal count. It's that for most athletes it's their one moment of glory, a moment so fleeting that it takes all the mental fortitude they have not to choke their guts out.
We saw it at the trials, where winning was big but scoring that ticket to London was even bigger. It's almost always accompanied by a huge feeling of relief, especially so for people such as swimmer Jessica Hardy, who was kept from going to Beijing because of a failed drug test.
"I'm going to London!" Hardy exclaimed on Twitter after winning the 100 freestyle Saturday. "Swam race of my life tonight, all heart and soul."
Others had their hearts broken, but that's often what chasing an Olympic dream comes down to. For the most part, Olympic hopefuls aren't superstars who make millions like Phelps or LeBron. Indeed, the vast majority can barely pay the rent and must rely on other jobs or donations to make ends meet so that someday they can tell their children or grandchildren they were an Olympian.
For them, it might all come down to one vault, one hurdle to get over or one big punch. They have no guaranteed contracts, just hope that when their chance finally comes, they somehow can find a way to rise to the occasion.
Those are the kind of stories that will emerge from London, and that's what makes the Olympics so enthralling.
The Brits would have liked Beckham, who helped London win the games, playing for the home team in soccer, but for some reason he wasn't picked. Pistorius, the South African, didn't qualify, either, though he still has an outside chance of becoming the first double amputee in the games if South Africa picks him for the 1,600 relay.
For thousands of others, though, London is calling. The city is ready for them, with little of the baggage incurred by other Olympic hosts.
It should be a jolly time, perhaps even a smashing success.
Tim Dahlberg is a Las Vegas-based national sports columnist for The Associated Press. Write to him at tdahlberg@ap.org or http://twitter.com/timdahlberg.