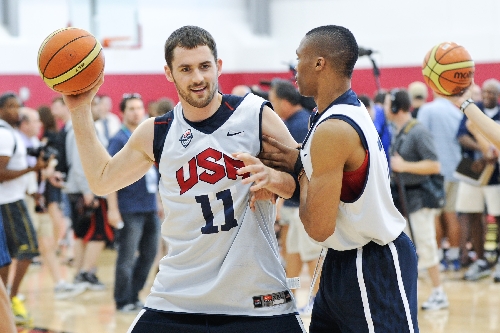 Kevin Love is living proof that it's possible for an NBA player to attend a basketball fantasy camp as a participant rather than as an instructor.
When you play for the woeful Minnesota Timberwolves, any other kind of basketball can be considered a fantasy.
Love, who has a spot on the U.S. Olympic team, is living his ultimate fantasy among a group of players, the majority of whom have known nothing but winning.
"It's an amazing feeling being around this team," Love said before practice Tuesday at UNLV's Mendenhall Center. "You watch the way guys like LeBron (James), Kobe (Bryant), and Carmelo (Anthony) carry themselves, the confidence they have, it can't help but rub off on you."
The 6-foot-10-inch forward is the only player on the 12-man U.S. Olympic team roster to have never experienced the NBA postseason. In four seasons with the Timberwolves, Love's year has always ended in April.
The upside? It gives him plenty of time to heal from injuries he sustained during the regular season. That was particularly important this season, when Love suffered a concussion April 11 after getting elbowed in the head by Denver's JaVale McGee and missed the final seven games.
Having a healthy Love is going to be key for the Americans when the Olympics begin in London on July 27. His rebounding, passing and ability to knock down midrange jump shots while backing up expected starting center Tyson Chandler makes him a valuable commodity.
"I've been looking forward to this for months," said Love, who added that he has recovered from the concussion. "It's an opportunity for me to have some success on the court, but also to grow as a basketball player and as a person."
Love, 23, experienced a basketball growth spurt two years ago at the 2010 World Championships in Turkey. He shot 57 percent from the floor and averaged 4.9 rebounds to help the United States win the gold medal and secure its place in the London Olympics.
Off the court that summer, Love underwent some lifestyle changes. He changed his diet to cut out juices, sugars and carbohydrates. Working out daily with then-Timberwolves strength and conditioning coach Dave Vitel, the UCLA product got stronger and more flexible.
The result was that Love became an NBA All-Star who averaged a double-double and was the league's second-leading rebounder last season at 13.3 per game. He was named the league's most improved player in 2011.
"He used that platform in 2010 to become an All-Star," USA Basketball chairman Jerry Colangelo said. "He's a mature player now, and he's stepping into his own and he's only going to get better."
But will the Timberwolves get better along with Love? He acknowledges growing impatient with management's inability to improve the team. In Love's four years with the Timberwolves, they are 82-230.
"I think we do have a lot of talent, we just need to get some pieces that fit together," Love said. "It would be great if we could sign some high-level players. There's a lot out there. Hopefully, we can go out and acquire a big name in the league. We definitely need all the help we can get."
Love is a big fan of coach Rick Adelman and thinks if the Timberwolves can stay healthy while adding to the roster, the team won't be on the outside looking in at the playoffs anymore.
"It's really for the fans and for us," Love said. "I'm the only guy here (with the U.S. team) who hasn't made the playoffs, and it's a little frustrating."
For now, Love is going to enjoy his time with the Olympic team, which is essentially the ultimate NBA All-Star team and every player's ultimate fantasy camp.
"It's an amazing group of guys," Love said. "We've only been together a few days, but you can see the chemistry that's developed. Everyone gets along. Everyone works hard. There's no ego. I'm just blessed to be a part of it."
But eventually, fantasy will give way to reality. October is coming and, with it, preparations for a new NBA season in the Twin Cities. Love signed a four-year, $62 million contract extension in January, but he can opt out after the third year. The T-Wolves went 26-40 last season. If things don't get better soon, Love could be looking for the exit.
"I love being in Minnesota," he said. "But like anybody else, I want to win. I've been pretty patient so far, but everyone's got their limit."
Contact reporter Steve Carp at carp@reviewjournal.com or 702-387-2913. Follow him on Twitter: @stevecarprj.