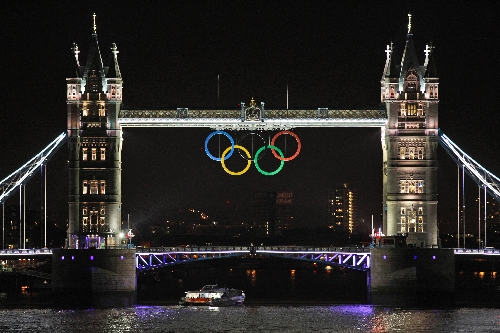 LONDON – Sammy Lee remembers it vividly: food rationing, bombed-out buildings, rubble.
The year was 1948, and London was hosting the Olympics amid severe austerity in the aftermath of World War II. Lee, an American diver, and fellow amateur athletes slept on cots at local air bases and schools, brought their own towels and were ferried to events in old London buses.
"We didn't mind," said Lee, who won a gold and bronze medal in the Empire Pool. "It was the spirit of the Olympics. We were there to compete against the best."
Sixty-four years later, Lee will return as a spectator next month when London welcomes the world again.
Saying these 2012 Olympics will be much different is in itself a gold-medal understatement. This will be a $14.5 billion extravaganza featuring multimillionaire professionals and global stars such as Usain Bolt and Michael Phelps, shiny new purpose-built venues and a revitalized east London.
Britain's biggest peacetime project also entails a massive security operation. To guard the games from terrorist attack, the country is deploying 35,000 safety, police and military personnel, surface-to-air missiles on rooftops, fighter jets, helicopters and two warships on the River Thames.
Yet, put aside worries about trouble and whether the city's stretched public transportation network can handle millions of extra riders, and this should be London's finest hour. A chance to throw a rousing five-ring celebration, a global bear hug that restores the festive atmosphere lacking at the past two Olympics, in Athens and Beijing.
"London this summer is going to be the place to have a party," Olympics Minister Hugh Robertson said.
The city will provide a stunning mix of old and new:
■ Beach volleyball players diving across the sand in Horse Guards Parade, practically on the doorstep of the prime minister's 10 Downing Street residence.
■ Marathon runners and road cyclists winding past Buckingham Palace.
■ Tennis stars dueling on the grass at Wimbledon.
■ Archers shooting at the hallowed Lord's cricket ground.
■ Sprinters and swimmers competing in brand new arenas erected in a once-derelict area of east London brought back to life as the Olympic Park.
Away from the playing fields, the city is dressing up, from the giant Olympic rings on Tower Bridge, to the party venues and giant screens in Hyde Park, to the landscaped gardens inside the 560-acre Olympic Park.
Four years ago, China used the Beijing Olympics as a coming-out spectacle to underscore its presence as a world power. But London never tried to compete with the epic scale of Beijing, largely because of a global economic crisis that triggered bailouts, mounting debt and political turmoil across Europe.
Still, the Olympic budget of 9.3 billion pounds ($14.5 billion) is more than triple the estimated cost when London secured the games in 2005. The government says the games are expected to come in about 500 million pounds ($778 million) under budget.
"This is the first time London got the games with no particular crisis around, but then they marched right into the worst financial crisis since before World War II," senior International Olympic Committee member Dick Pound of Canada said. "But they have succeeded remarkably well in spite of that."