Sacramento Kings' DeMarcus Cousins boogies down with Team USA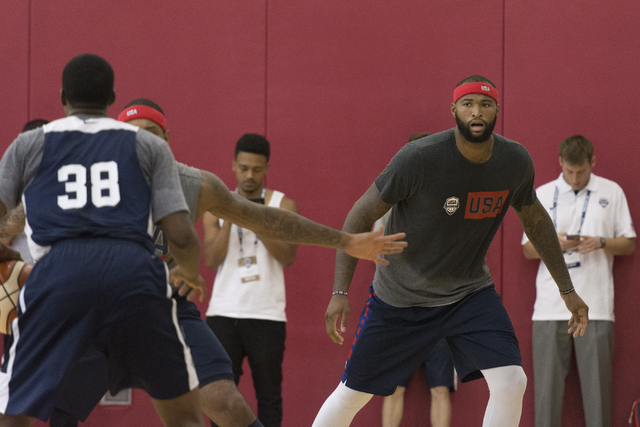 DeMarcus Cousins was going to leave following Wednesday's USA Basketball practice at Mendenhall Center without talking to the media.
But Cousins decided whatever he was going to do could wait. He sat in a chair and talked for 15 minutes.
So what's the big deal? It was a sign that the Sacramento Kings' 6-foot-11-inch center is maturing. At least in this setting.
He may be somewhat enigmatic as a member of the Kings, but in Las Vegas with the Olympic team, Cousins is a model citizen. He works hard, as evidenced by his sweat-drenched shirt. He listens to his coaches and gets along with his teammates.
"I love it here," he said. "I come here and I get better every time I leave."
It's a special environment. And for the 26-year-old Cousins, it's one he thrives in. Here, he's not asked to carry the entire team on his shoulders. There's no revolving door of coaches and general managers to deal with. There's nothing but stability and tranquility.
"I think we've got a great group," Cousins said of Team USA, which has spent three days training in Las Vegas. "There's a lot of talent and everyone gets along. I know my role, which is to play defense and rebound, and I'm comfortable with it."
Cousins got to Las Vegas a month before his teammates. For the past three years, he has worked out with Joe Abunassar's Impact Basketball on East Sunset Road. He gets to work on his game, improve his body and have fun while doing it.
"It's a great place," Cousins said. "I'm able to work on things. There's always a good pickup game to get a run in. Joe and his staff are very professional. I get a lot done. That's why I keep coming back."
Cousins has also found the benefits of yoga, Pilates and hot body sculpting. He admitted it was hard at first doing things to his body he didn't think were imaginable. But he has not only lost weight, he's the most flexible he can remember being.
"The first time I did the hot body sculpting, I thought I was gonna die," he said. "But I stuck with it. It's still hard. But I get through it a lot easier now."
He's going to need to be in shape. As one of two centers on Team USA (DeAndre Jordan is the other), Cousins can expect to see plenty of minutes next month in Rio de Janeiro. He said he wanted to be ready because he know his role would increase.
"Nobody had to tell me," he said. "I just knew. So here I am, ready to work every day."
Jerry Colangelo, the managing director for the Olympic team and the chairman of USA Basketball, has had his moments with Cousins in the past. Not anymore.
"Maturity," Colangelo said in summing up the change in Cousins from a few years ago when he first entered the national team program. "He's growing up. He understands the culture here and he has embraced it.
"I'm so proud of DeMarcus. He's come a long way and he's going to be a big part of what we do in Rio."
Dave Joerger, the Kings' new coach, is hoping he'll get the same Cousins come October that Team USA has now. Cousins, who has played for five different coaches since the Kings drafted him in 2010, said he can count on it.
"He's a great coach," Cousins said of Joerger. "He's the piece we've been missing. I'm looking forward to playing for him."
But Joerger will have to wait. There's gold to be acquired next month in Brazil.
"I've dreamed about that my whole life," Cousins said of being at the top of the podium. "I want that (gold medal) more than anything."
Contact Steve Carp at scarp@reviewjournal.com or 702-387-2913. Follow on Twitter: @stevecarprj.