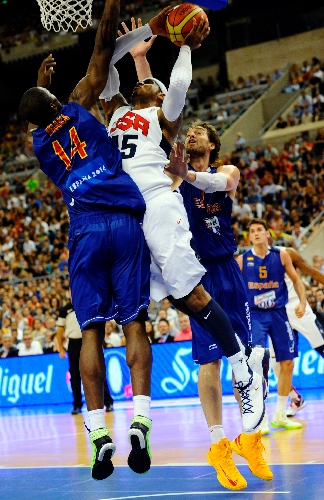 BARCELONA, Spain – Gold medal at stake or nothing at all, the U.S. Olympic basketball team was bringing its best Tuesday.
Being back on the Dream Team's turf required it.
Carmelo Anthony came off the bench to score 23 of his 27 points in the first half, and the Americans beat Spain 100-78 in a rematch of the 2008 gold-medal game – and possible preview of this year's.
LeBron James added 25 points and Kevin Durant had 13, including 10 in the first 3½ minutes of the third quarter to help Team USA break open the teams' final exhibition game before heading to London.
"We knew that this was a big game," guard Chris Paul said. "When Coach K (Mike Krzyzewski) talked to us, he told us this was probably the biggest game here in Barcelona since the '92 team was here, so we approached it like that and it was a good win for us."
The teams played a memorable gold-medal game four years ago, the Americans pulling away from Spain for a 118-107 victory after leading by only four points with less than 2½ minutes left.
This one turned out much easier once the U.S. controlled the final three quarters.
"It was a good test for us tonight, but the exhibition games are over, the friendlies are over and we look forward to the real challenge of going to London," James said.
Pau Gasol had 19 points for Spain, and Oklahoma City forward Serge Ibaka, a native of the Republic of Congo who became a Spanish national last year, scored 16.
Both teams have been weakened by injuries, with the U.S. missing Dwyane Wade, Dwight Howard and Chris Bosh, all key contributors in Beijing, along with Derrick Rose. The Spaniards are without point guard Ricky Rubio, and All-Star center Marc Gasol, Juan Carlos Navarro and Rudy Fernandez have battled injuries this year.
They're still the best teams in the world and favored to meet again in the Aug. 12 gold-medal game. Spain would have a different look, as Marc Gasol was held out of this one while recovering from a left shoulder injury and backup point guard Sergio Rodriguez also sat out.
It might not matter if the Americans play like this in the games that count.
Spain's players said Monday that while they would try to win this tuneup, the bigger priority was preparing for London. The Americans responded that the Spaniards, playing in front of their home fans, would be compelled to go all out in hopes of a victory.
Spain seemed to be playing for real, but was simply overmatched and the Americans ran away from them.
"Well, it was definitely a game that we would have loved to play better as a team," Pau Gasol said. "We made too many mistakes which they capitalized and they played their game. They're a quick unit, very athletic and once they were able to convert a few fast-break opportunities due to our turnovers, it was hard for us."
The Americans, who would have had Howard, Bosh and Blake Griffin on this roster, believe their quickness and versatility will overcome their size problems, and that's what happened in this one.
Spain's size advantage was evident early, especially once Tyson Chandler, the only center on the U.S. roster, went to the bench with two quick fouls. The Spanish pounded the ball inside to Ibaka, who accounted for three straight Spain baskets on dunks, and the Americans were forced to use a timeout – that never happened 20 years ago when the Dream Team ruled Barcelona – after Victor Sada's jumper made it 22-13 with 1:40 left in the opening period.
But though Gasol and Ibaka had an obvious advantage inside, neither could deal with Anthony on the perimeter. He made five 3-pointers in the first half while often appearing unguarded behind the arc.
He opened and closed a 20-6 burst with 3-pointers as the Americans went from four down to ahead 42-32 with about three minutes left in the half. They later went up by 13 before taking a 48-40 lead into the locker room.
Gasol had the first basket of the second half, but Durant dominated the next few minutes as the Americans extended the lead to 60-46. Russell Westbrook scored seven straight later in the period, his steal and dunk making it 69-48 with 4:19 left.