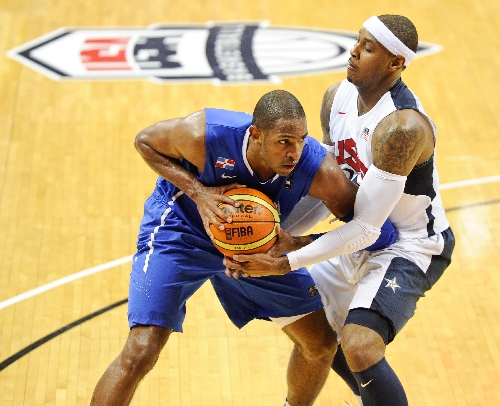 Anthony Davis was planning to play basketball in Las Vegas. He just wasn't expecting it to be until this weekend.
The 6-foot-10-inch forward from Kentucky, selected first overall by New Orleans in the NBA Draft last month, rather unexpectedly wore a Team USA uniform Thursday. Davis wound up scoring nine points in just under 10 minutes in the Americans' 113-59 rout of the Dominican Republic in a pre-Olympic exhibition game at the sold-out Thomas & Mack Center.
"It was a nice surprise," Davis said. "I was prepared to be here (with New Orleans in the NBA Summer League), but I'm glad to be here with the Olympic team, too."
Davis was added to the roster after Los Angeles Clippers forward Blake Griffin injured his surgically repaired left knee during Wednesday's practice at UNLV's Mendenhall Center. Griffin complained of swelling and discomfort upon waking Thursday and flew back to Los Angeles to be examined by Clippers team doctors. The exam revealed torn cartilage that will require arthroscopic surgery, causing Griffin to miss the Olympics.
"That's what we've heard," USA Basketball chairman Jerry Colangelo said after the game. "But until we get official word and that Blake has to withdraw, he's still on the team and Anthony is still an alternate. However, Anthony will travel with us to Washington and work with us."
Team USA leaves this morning for Washington, D.C., where it will practice this weekend before facing Brazil Monday in its second tuneup.
Davis, who was cut from the Olympic team last week and had planned to play for New Orleans in the NBA Summer League on Sunday, was in Los Angeles on Wednesday to attend the ESPY Awards. He was summoned to Las Vegas by Colangelo on Thursday and played virtually the entire fourth quarter against the Dominicans, who were coached by Kentucky's John Calipari.
Davis converted a four-point play with 32 seconds remaining after being fouled on a made 3-pointer.
"I just took a deep breath and played basketball," Davis said. "It was a great experience and it was good to beat Coach Cal."
Davis' new teammates thought he handled himself well.
"It's a great opportunity for him," said Kobe Bryant. "We're going to need him. You can never have enough size. But the real key will be when he practices with us and we're banging him around a little. But I don't think he'll have a problem."
Chris Paul, Griffin's teammate with the Clippers, said while losing Griffin is a blow, the addition of Davis will help ease some of the burden.
"(Davis) can do a lot of things," Paul said. "He's going to get better once he gets comfortable with our system and we get to know him."
The Americans did plenty of running, dominating the Dominicans from start to finish. Kevin Durant and Andre Iguodala were particularly impressive, coming off the bench to score 24 and 18 points, respectively.
Durant made his first five 3-point shots and complemented his game-high scoring total with 10 rebounds. Iguodala shot 7 of 9 from the field, making four 3-pointers.
Team USA played unselfishly, too. There were 27 assists on 42 made baskets, with Deron Williams compiling 10 assists.
"This is the way this team needs to play," coach Mike Krzyzewski said. "We want to push the ball, share the ball and pressure the ball on defense, and I thought we did a good job of all of those things."
But the news regarding Griffin was sobering and took a bit of an edge off the win. Because Griffin hadn't officially pulled out following the game, Davis did not want to speak out of turn, and Colangelo hadn't had a chance to tell him he was still with Team USA.
"I just have to stay ready for whatever they need me to do," Davis said. "But if I do make the team, I'll try to do what I did tonight – rebound, block shots, run the floor and make a shot when they need me to."
Contact reporter Steve Carp at scarp@reviewjournal.com or 702-387-2913. Follow him on Twitter: @stevecarprj.