Team USA's Paul George puts 2014 injury in Las Vegas behind him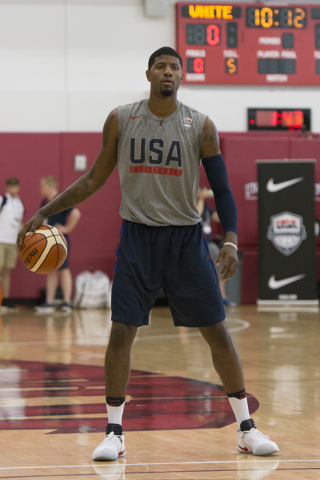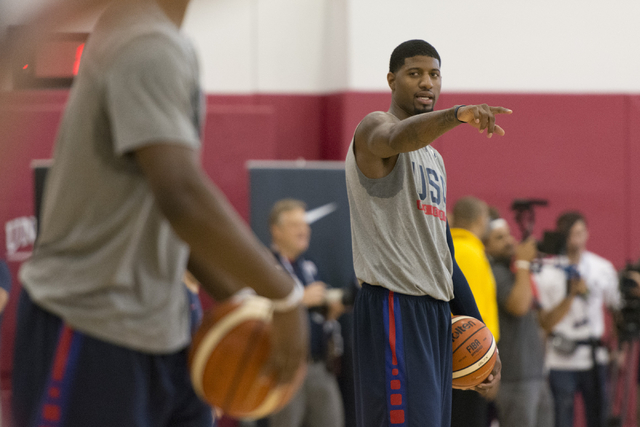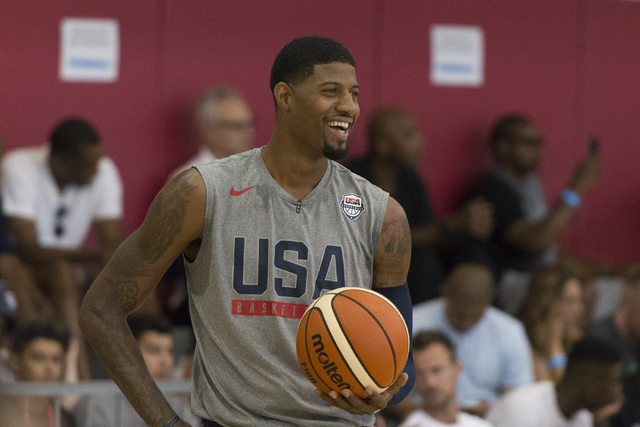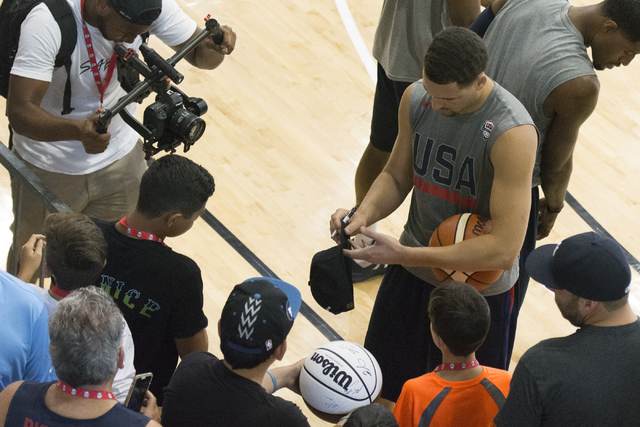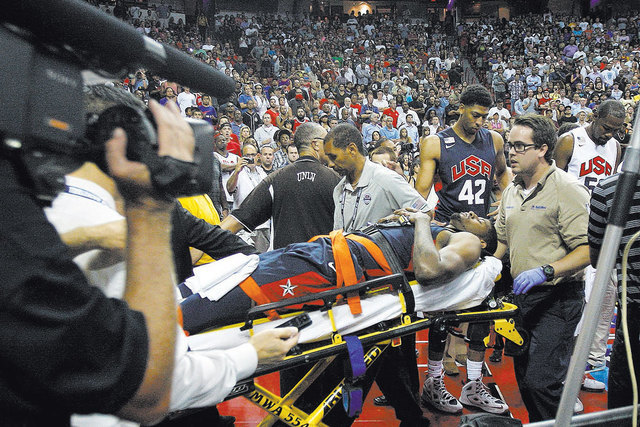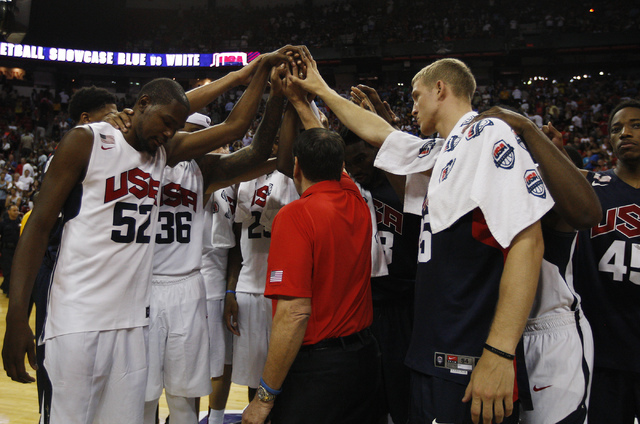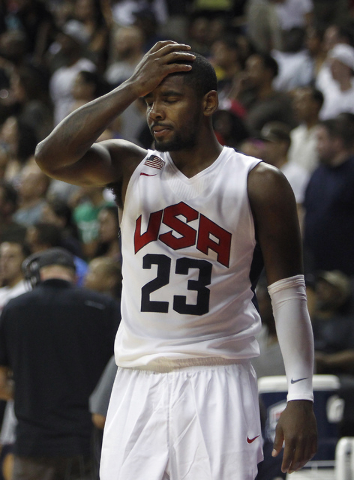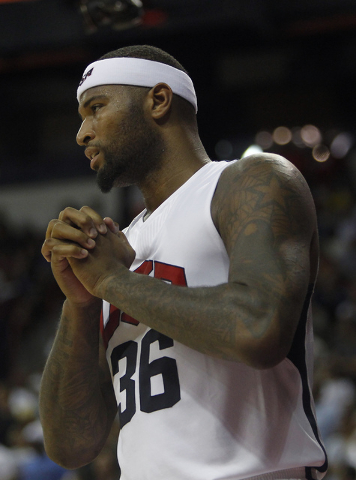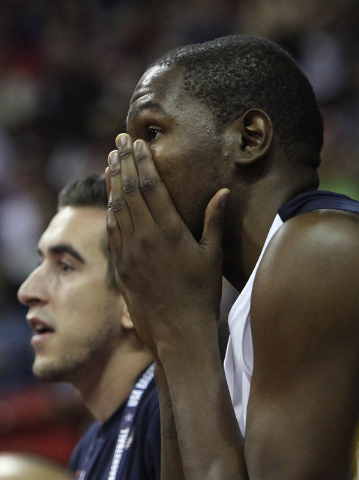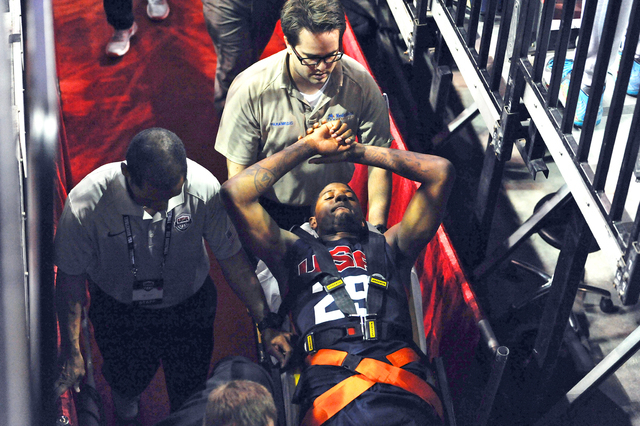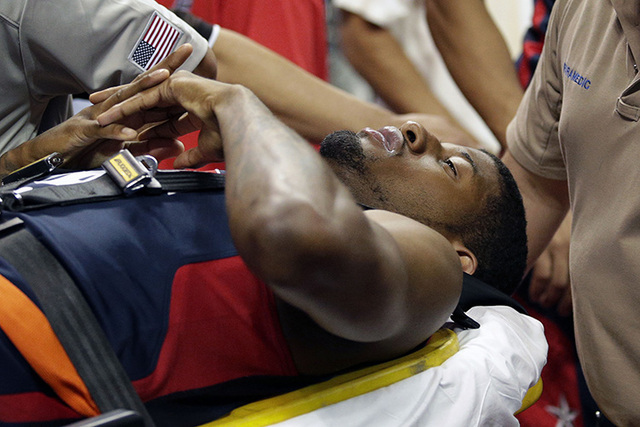 When Team USA is introduced Friday before its exhibition game with Argentina at T-Mobile Arena, expect loud cheers for Kevin Durant and Carmelo Anthony.
But the loudest ovation will likely go to Paul George.
On Aug. 1, 2014, the Indiana Pacers' 6-foot-9-inch All-Star forward suffered a broken right leg after crashing into the bottom of the backboard stanchion early in the fourth quarter of the Blue-White scrimmage at the Thomas &Mack Center. Not only did George miss the World Cup of Basketball tournament, he didn't return to the Pacers until eight months later.
Friday, he's back playing in Las Vegas, though in a different venue.
"It's going to be a little emotional," George said at practice at Mendenhall Center. "I'll always remember the love and support from the fans in Vegas. But I'll never forget the great care I received from the doctors at the hospital. They saved my career."
George is referring to the staff at Sunrise Hospital and Medical Center. He was rushed to the Maryland Parkway facility after being stabilized by USA Basketball trainers and paramedics.
Within minutes, he was on the operating table having his tibia and fibula repaired by Drs. David Silverberg, Joseph Yu and Riley Williams, who was the team physician.
"Those guys were so professional," George said of his doctors. "I was lucky in that sense that I got hurt in a place where they had such great doctors."
George was chasing down James Harden, who was driving to the basket for a layup with 9:33 to play in the scrimmage. He was unable to get the block. Instead, his leg smacked against the stanchion and he landed awkwardly.
He was taken to Sunrise, the remainder of the scrimmage was cancelled and a promise was made to George that if he recovered and wanted to play, a spot would be saved for him on the 2016 Olympic team.
"That motivated me," George said. "My dream has always been to play in the Olympics. It made me work hard in my rehab so I could resume my career."
He returned to the Pacers in April, 2015. During 2015-16, George had one of his best seasons in his six-year NBA career, averaging 21.7 points and 7.0 rebounds while playing 81 games.
Jerry Colangelo, the managing director for the Olympic team and the chairman of USA Basketball, said it was an easy promise to keep.
"That commitment is something we really wanted to do because of what happened without even knowing what the future would be," Colangelo said. "But the fact he's here, that he's 100 percent that he's earned it on his own makes it even more special."
George has looked good in practice this week and he will give Team USA offense, both on the perimeter and around the basket. He also will be expected to help big men DeMarcus Cousins and DeAndre Jordan in rebounding.
"I feel great," he said. "My leg is strong. I don't even think about it.
"When I came back (in 2015), it took a few games to get comfortable again and I was a bit hesitant at first. But I quickly put that behind me. It's over. It's in my past."
Contact Steve Carp at scarp@reviewjournal.com or 702-387-2913. Follow on Twitter: @stevecarprj
USA BASKETBALL SHOWCASE
What: U.S. Olympic team vs. Argentina
When: 6 p.m. Friday
Where: T-Mobile Arena
TV: NBA TV
Tickets: $40 to $250