Vegas' Vashti Cunningham proves to be bright light for family, US track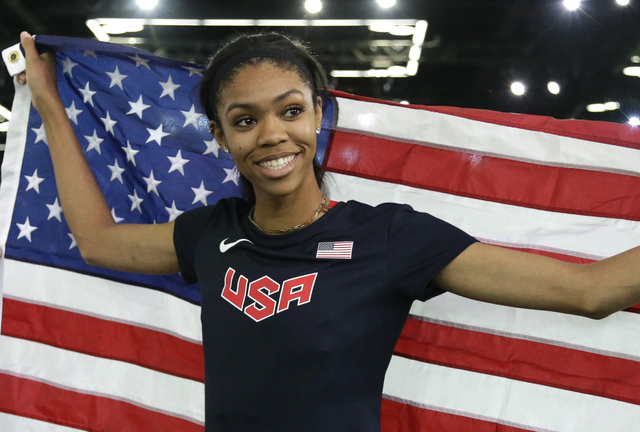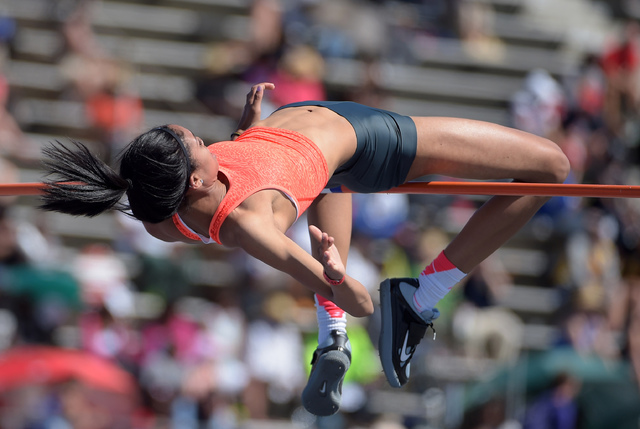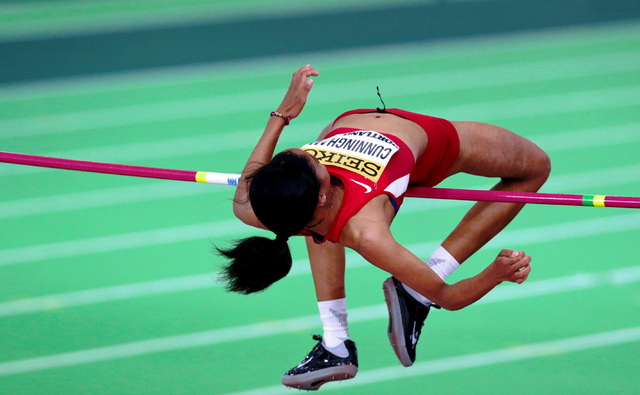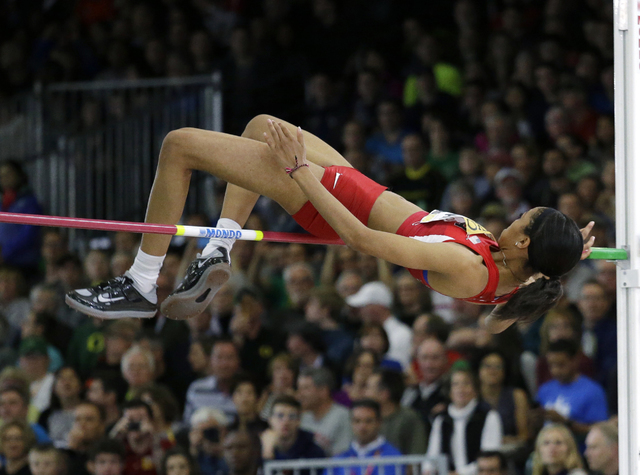 EUGENE, Ore. — Vashti Cunningham was there that day, that awful, painful, inconsolable day.
What she remembers most is her father, Randall Cunningham, loading the entire family on his back in the midst of such sorrowful trial, imploring them to move forward in a deeper direction, holding them tight and focusing on the importance of wisdom and faith.
"It was a really tough time, but my dad carried us through it and gave us the shelter we needed," Vashti Cunningham said. "The church helped a lot. That's our extended family. We were never alone in our faith. For me, I dealt with it and then buried it deep inside me and continued to live.
"Basically, we all learned that nothing can ever be taken for granted, especially life."
From the abyss of great loss, of her 2½-year-old brother drowning in a backyard hot tub at the family's Las Vegas home in June 2010, has risen a tall, lean, athletic figure soaring over a horizontal bar placed at measured heights.
Vashti Cunningham takes flight at 4:15 p.m. Friday in the qualifying round for the high jump at the U.S. Track and Field Trials at Hayward Field on the campus of the University of Oregon.
A year ago, at the state championships, she failed to clear the bar once.
At 3:15 p.m. Sunday, should she predictably advance to the high jump final, she will compete for the right to represent America at the Rio Olympics in August.
She is 18.
JUMPING PRODIGY
Cunningham, who graduated from Bishop Gorman High School in May, arrives at the trials having cleared 1.99 meters (6-6 1⁄4) in March while winning the USA Track and Field Indoor Championships. It was the highest jump by an American woman in three years.
A short time later, after also winning the world indoors in Portland, Oregon, she stood inside Remnant Ministries in Las Vegas, which her father founded and is the main pastor, and announced she was bypassing the opportunity to jump in college and instead turning pro by signing with Nike.
She since has emerged as one of the promising faces of American track and field, daughter to a former NFL quarterback and professional dancer Felicity Cunningham, armed with a level of intelligence and sophistication and talent beyond her years.
If she indeed qualifies for Rio this weekend, the global interest and attention given her story over the next few months will rise like she does. She is just one of four American women to achieve the Olympic A standard of 6-4 required to compete in Rio, no matter the results at trials this week.
Six years later, from the darkness of little Christian drowning in a backyard hot tub, a bright light has risen in the Cunningham family.
"I don't think we could ever find anything positive in him passing away," Vashti said. "But we know he's in a better place. We are assured of that.
"I never considered myself a light. I think of my older brother and sisters that way, my parents and the strength they give all of us. My goals are simple: make the Olympic team, go to Rio and, Lord willing, win a gold medal."
It is a long and arduous and incredibly technical pursuit, one that challenges the mind as much or more than the body.
THE NEXT STEP(S)
So Cunningham might have owned an athletic advantage or two when she first sprung onto a rubberized artificial running surface, genes supplied by her father's College Football Hall of Fame standing from his days at UNLV and his NFL career, and her mother's grace as a ballerina with the Dance Theater of Harlem.
Her brother, Randall Jr., recently won the high jump and secured first-team All-America status at the NCAA championships as a sophomore for Southern California. He, too, is scheduled to jump at the trials in hopes of earning an Olympic berth, with men's qualifying July 8 and the final July 10.
But it's often more about what is above the neck than below it that separates Olympians from the rest.
"Physically, (Vashti) is a young lady trying to break into a woman's world," said Sue Humphrey, USA Track and Field woman's chair, who has coached some of the sport's greatest Olympic high jumpers. "She still has a high school body. Very slight. Very thin. Not muscular. What happens or doesn't happen as she matures, we'll have to wait and see. It seems like her father is bringing her along at his pace, and you have to respect that.
"But dealing with the pressure and expectations that will come with all of this can be tricky. We tend to do more damage than good in that respect with young athletes. Pressure from Dad and the shoe contract and having already won major championships. She's still an open book in a lot of ways because she's so young. How tough she is mentally when things don't go well — and they never go well all of the time — will have a lot to do with how far she goes."
The high jump final in Rio is Aug. 20, and should Cunningham advance past the trials and then through Olympic qualifying, there is a better-than-even chance NBC would show the event more than it has in, well, decades.
Her star potential is thought to be that massive in an event whose popularity long ago plummeted in comparison to the more thrilling disciplines of sprints and relays.
Think about it: Raise your hand if you knew Javier Sotomayor is the only person in history to have cleared 8 feet in the high jump, or that Charles Austin holds the Olympic men's record, or that Stefka Kostadinova set the women's world record of 2.09 meters (6-10 1⁄4) in 1987.
Raise your hand if you have heard of any of them.
Dwight Stones is a Hall of Famer and arguably the most recognizable American high jumper. He might also know more about track and field than anyone, certainly more than most who will offer facts and figures and opinions on your television screen the next few months.
He also knows what it's like to live in Cunningham's spiked track shoes.
Stones won a bronze medal in the high jump as a teenage UCLA freshman phenom at the 1972 Munich Games, transferred to Long Beach State and won another bronze at the '76 Games in Montreal. He doesn't disagree with Cunningham's decision to forgo her college eligibility, but also suggests she formulate a Plan B.
"You're not going to be a high jumper at age 35," Stones said. "No one is immune to getting hurt or putting on weight or having a bad year. Anything can happen and you damn well better prepare for all of it. At some point, like all of us, she will grow up and it would be a disservice to her not to seek higher education. You can manage school and jumping. You can do both."
DAD AS COACH
Randall was a self-taught high jumper as a track star at Santa Barbara (Calif.) High, but knee problems forced him to choose between continuing to compete in multiple sports or pursuing a career solely in football. He certainly made the right call.
He has heard both sides of the argument — those who think he should coach Vashti until one or both believe a change is needed and those who favor parent coaches walking away and allowing more experienced tutors (such as, say, Humphrey) to assume control once an elite athlete reaches the doorstep of Olympic reality.
"She's my daughter and I plan on always being with her on this journey," said Randall, who also coaches a track club team and the varsity football team at Silverado High. "I know the athlete's body. I know the mechanics. We have a good relationship, much like Venus and Serena Williams did with their father and Tiger Woods with his pop.
"Vashti is very mentally strong. In that way, she's a lot like me. She's tougher on herself than anyone, including me. She doesn't worry about much. She's very confident. God has led her to this point, and without our faith, it would be hard to survive."
THE HISTORY OF IT
How did she get here? Some other kid was faster.
Vashti Cunningham played volleyball and basketball and flag football and competed in all sorts of track and field events growing up. She had visions of being a great hurdler, of being the next Lolo Jones, but kept coming in second to the same competitor during meets in Las Vegas.
"Finally, around the eighth grade, I said, 'She is way too fast for me, so I'm done with this,'" Cunningham said. "I started focusing on the high jump and fell in love with it."
There are 21 female high jumpers declared for the trials, including UNLV senior Kaysee Pilgrim. Cunningham might have a better mark than all this year, but you would think a veteran like three-time Olympian and fellow Nike athlete Chaunte Lowe, at age 32, would be the favorite given her experience.
Lowe won the event at the Prefontaine Classic in May, where Cunningham finished fifth in an eight-person final that consisted of six non-American jumpers.
It all means that Cunningham is likely a solid effort away this week from finishing in the top three and making the Olympic team, from continuing along a path that many believe could lead her to becoming the youngest female American individual track and field medalist since 16-year-old Willye White at the 1956 Games in Melbourne.
The high jump is far more technical than many assume. It's not all about natural skill. It's about the perfect steps and timing and making the correct decisions on when to pass on certain marks. All of that will be critical to whether a bright light of the Cunningham family will shine here like never before.
This is just the beginning for her, a initial leap into what could prove a distinguished Olympic career.
"I really don't think I will feel any pressure," she said. "It's my first time jumping to make the Olympic team. I can keep my mind open. It's all new to me. I'm going to enjoy it. I'm not going to think too much. For me, it's just another track meet.
"My dad talks to me all the time about not letting the journey get the best of me. Just be thankful for everything and stay on the right path and strong in our faith. If we have that, we have everything."
Ed Graney can be reached at egraney@reviewjournal.com or 702-383-4618. He can be a heard on "Seat and Ed" on Fox Sports 1340 from 2 p.m. to 4 p.m. Monday through Friday. On Twitter: @edgraney
RELATED
Las Vegas' Vashti Cunningham's Olympic dreams on verge of reality