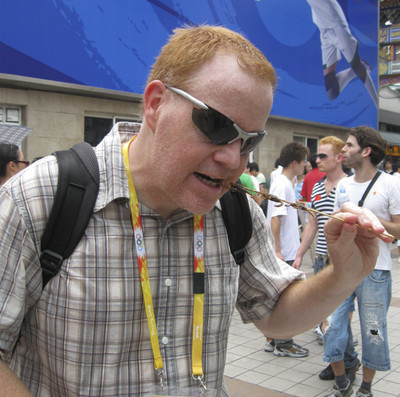 I have seen scorpions in my dishwasher, on the walls and near the back door of my Summerlin home. My children always run first to the exhibit of the crafty little arthropods at Red Rock Canyon. Scorpions freak me out like the thought of Tom Cruise running the world.
So what to do about scorpions in Beijing?
Eat one.
When in China, sampling fast food at the marketplace means deciding not between a Big Mac or Double-Double but, rather, pig brains and goat lungs.
I chose a seasoned skewer of farmed scorpions (which I assume means they're better than the city folks we have crawling around back home) for 20 yuan. That's around $3 for the chance to have your tongue resemble something out of "The Attack of the Killer Tomatoes."
It tasted like a mixture of popcorn and chicken with the smell of an old shoe. It was bland and crunchy, not terrible or revolting.
Here is what a Beijing travel guide says about sampling local homegrown specialties: "While you might consider things eaten in China to be distasteful, you must bridge the cultural gap and look at it with an open mind."
Sounds reasonable … until you get a look at the dog liver with vegetables.