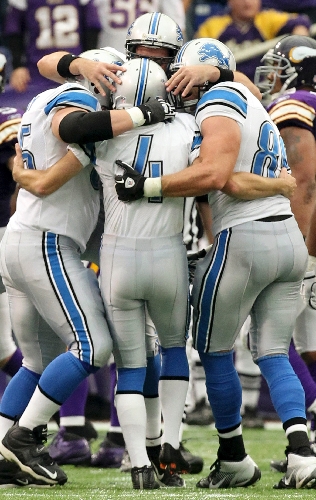 ALLEN PARK, Mich. — The climb began late in 2010. First, Detroit beat a Green Bay team that went on to win the Super Bowl. Then the Lions even won a road game.
Now, it seems every week brings a new milestone for this resurgent franchise, and coach Jim Schwartz is far from satisfied.
"Our biggest win hasn't come yet," Schwartz said.
After beating Minnesota 26-23 in overtime Sunday, Detroit has won seven consecutive games dating to last season. Still, these are the Lions, and everything they accomplish is viewed in the context of the team's sorry past.
That's what Schwartz is trying to change. Yes, Detroit won at Minnesota for the first time since 1997, and yes, the Lions are 3-0 for the first time since 1980. Those were important steps — nobody denies that — but Schwartz doesn't feel like grading his team on a curve.
A lot has changed since Detroit went 0-16 three seasons ago and brought in Schwartz as its new coach.
"I think I said a while ago — this maybe goes back a couple years," Schwartz said. "We don't need to have ticker-tape parades over regular-season wins."
Detroit's players got a well-deserved day off Monday after rallying from a 20-0 deficit against the Vikings. As recently as a year ago, this kind of victory would have been unheard of for the Lions. They'd lost 19 consecutive games against the NFC North before beating the Packers in December to start what is now the longest active regular-season winning streak in the league.
Detroit had also lost 26 consecutive road games before winning at Tampa Bay late last season. Now, the Lions are winning on the road and within the division.
They appeared to have met their match in Minnesota. The Lions struggled to protect Matthew Stafford and fell behind early, but nobody has been able to keep the Detroit quarterback down for long lately. Stafford went 32 of 46 for 378 yards, including a pair of touchdown passes to Calvin Johnson.
The Lions finally won it on Jason Hanson's overtime field goal.
"I always go on and on about how they all count the same, but road counts a little bit different," Schwartz said. "It is tough winning on the road in the NFL, and the Metrodome is a very, very difficult place to play with the crowd noise. And then a division opponent — when you get a win, you are always putting a loss on one of your division opponents, so it means a little bit more there."