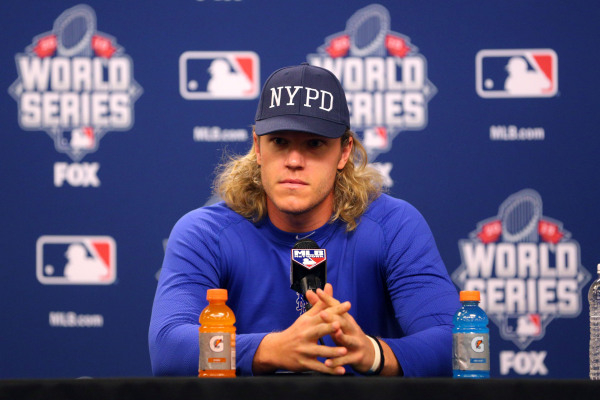 Besides the World Series, NFL and college football, the NBA, NHL and the Breeders' Cup Classic, there's not much sports to watch on TV this Halloween weekend.
For a trick, watch the New York 51s, er, Mets try to make a 2-0 deficit to the Kansas City Royals disappear as the World Series shifts to Citi Field for Games 3, 4 and 5 (if necessary).
Also, UNLV will try to pull an upset win over Boise State out of its helmets on Halloween at Sam Boyd Stadium.
For a treat, check out a battle of NFL unbeatens between the Denver Broncos and Green Bay Packers on "Sunday Night Football."
TODAY
World Series, Royals at Mets, Game 3 (5:07 p.m., Fox (5)): By the hammer of Thor, former 51s star Noah Syndergaard will try to pitch New York past Kansas City after fellow flamethrowers Matt Harvey and Jacob deGrom failed to do so. Yordano Ventura starts for the Royals.Miami Heat at Cleveland Cavaliers (4 p.m., ESPN (30)), Golden State Warriors at Houston Rockets (6:30 p.m., ESPN (30)): LeBron James leads the Cavs against his former team in the opener of a solid NBA doubleheader. In the nightcap, reigning league Most Valuable Player Stephen Curry and the defending NBA champion Warriors take on James Harden and the Rockets in a rematch of last season's Western Conference finals.
BEST OF REST: Football: Louisville at Wake Forest (4 p.m., ESPN2 (31)), Wyoming at Utah State (7:15 p.m., ESPN2 (31)); Horse racing: Breeders' Cup (noon, NBCSP (38)).
SATURDAY
World Series, Royals at Mets, Game 4 (5 p.m., Fox (5)): The Mets will either try to tie the series at 2-2 or avoid getting swept behind rookie pitcher Steven Matz, a Long Island, N.Y., native who compiled a 2.19 ERA in 14 starts for Las Vegas this season before getting called up by his hometown team.
Breeder's Cup Classic (1 p.m., NBC (3)): American Pharoah is attempting to become the first horse to win a "grand slam" of the three Triple Crown races and the Breeders' Cup Classic, the richest event in American horse racing.
No. 9 Notre Dame at No. 21 Temple (5:05 p.m., ABC (13)): ESPN's "College GameDay" show will broadcast live from Philadelphia's Independence Mall before the biggest game in the history of Temple football. The Owls are 7-0 for the first time ever and ranked for the first time in 30 years. Notre Dame (6-1) will try to keep its College Football Playoff hopes alive.
BEST OF REST: Football: Southern California at California (noon, Fox (5)), No. 11 Florida vs. Georgia (12:30 p.m., CBS (8)), Boise State at UNLV (12:30 p.m., ESPNU (320)); NHL: Nashville Predators at Los Angeles Kings (1 p.m., FSW (49)).
SUNDAY
Packers at Broncos (5:20 p.m., NBC (3)): In a matchup of two of the NFL's five remaining unbeaten teams, Denver's league-leading defense will be tested by Green Bay quarterback Aaron Rodgers, who leads a Packers offense averaging 27.3 points per game this season. Both teams are 6-0 and coming off their bye weeks.
The Broncos are coming off a 26-23 overtime win over the Cleveland Browns in which they overcame three interceptions by Peyton Manning, who has been picked off 10 times this season and thrown for seven scores. Among qualified passers, Manning has the league's second-lowest quarterback rating (72.5). Rodgers has thrown for 15 TDs and two INTs.
BEST OF REST: NFL: Detroit Lions vs. Kansas City Chiefs (6:30 a.m., Fox (5)), New York Giants at New Orleans Saints (10 a.m., Fox (5)), Tennessee Titans at Houston Texans (10 a.m., CBS (8)), Seattle Seahawks at Dallas Cowboys, 1 p.m. KVVU (5); World Series: Royals at Mets, Game 5, (if necessary) (5 p.m., Fox (5)).
Contact reporter Todd Dewey at tdewey@reviewjournal.com or 702-383-0354. Follow him on Twitter: @tdewey33