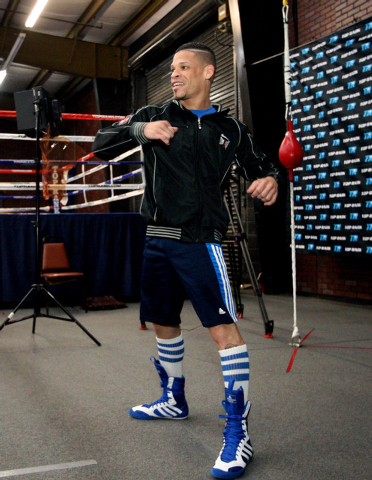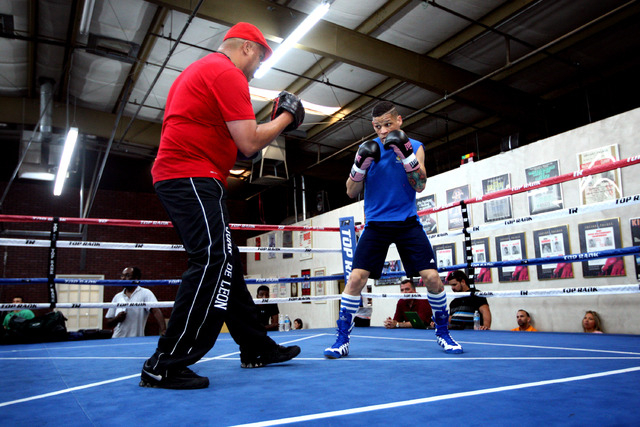 It's been more than a year since Orlando Cruz came out of the closet and announced he is gay. And while Cruz being boxing's lone openly gay fighter is not the news it was a year ago, it's still part of him and always will be.
The 32-year-old southpaw from Puerto Rico looks to make bigger headlines Saturday at the Thomas &Mack Center as he attempts to win the vacant WBO featherweight title against fellow veteran Orlando Salido. The fight, which is scheduled for 12 rounds and will be televised by HBO Pay Per View, is the co-feature to the WBO welterweight title fight between Timothy Bradley and Juan Manuel Marquez.
"I've worked my entire life for this opportunity, and who knows if this chance will come around again?" Cruz (20-2-1, 10 knockouts) said Monday at the Top Rank Gym. "He is a very good fighter, and he has been a world champion. I'm going to have to fight with a lot of intelligence. But I feel I can adjust and if I follow the game plan, I believe I will win."
Cruz will have a lot of support from a group of fans not normally associated with the sport. As expected, the gay and lesbian community has been supportive of Cruz, and he loves having a bigger fan base. Yes, there are the detractors who have lambasted Cruz and his sexual orientation, but they are a distinct minority.
"It's great; it's wonderful," he said. "Everyone has been respectful and supportive and I'm excited."
He's also more relaxed. For years, his sexuality was a source of anxiety for Cruz as he kept things inside him. Losses to Cornelius Lock in 2009 and Daniel Ponce De Leon in 2010 added to his stress level as he was fighting two battles simultaneously — one in the ring, one within himself.
"I wasn't happy," Cruz said. "I wasn't free. I was under a lot of pressure within myself. I was so scared what people would think and what would happen to my career, that I would cry."
But when he made his announcement and saw the public's reaction, Cruz was able to relax.
"For 12 years, I wanted to be free and now, I am," he said.
He won a 12-round decision over Jorge Pazos on Oct. 19, then followed that up with a sixth-round KO of Aalan Martinez on March 15. His growing confidence is evident as he appears more relaxed.
"Definitely," Cruz said. "I'm different. I can feel it when I walk to the ring."
However, Cruz said he feels different from other openly gay athletes. Unlike basketball players Jason Collins or Brittney Griner, Cruz doesn't have teammates to rely on for emotional support. Plus the nature of boxing doesn't tend to lend itself to support for a gay fighter, which is why no boxer came out until Cruz did a year ago. The late Emile Griffith didn't make public his bi-sexual lifestyle until long after he retired. Griffith, a talented world champion welterweight and, later, middleweight who fought from 1958 to 1977, died in July at age 75.
"Boxing is different; it's macho," he said. "But I applaud all athletes who are open about their sexuality."
And while Cruz has been open about being gay, he's trying to keep some of his life private. He has plans to marry his longtime life partner, Jose Manuel, but he will not discuss him or their relationship. At least not while he is preparing for Saturday's fight.
Salido (39-12-2, 1 no decision, 27 KOs) said Cruz's sexuality is not an issue for him.
"I admire him for what he's done," Salido said. "Everybody chooses what they want to do and I never had a problem with it. At the end of the day, we're just two human beings fighting for a world title."
Cruz said he was grateful for Salido's comments, but he still wants to beat him come Saturday.
"I appreciate him saying that," Cruz said. "But I know he wants the title just like I do, so I expect a very tough fight."
Contact reporter Steve Carp at scarp@reviewjournal.com or 702-387-2913. Follow him on Twitter @stevecarprj.