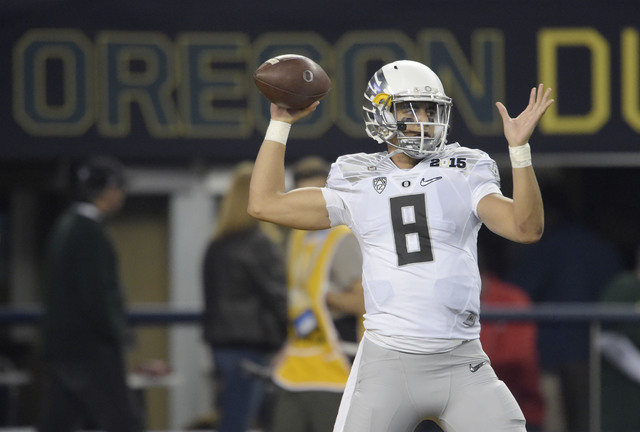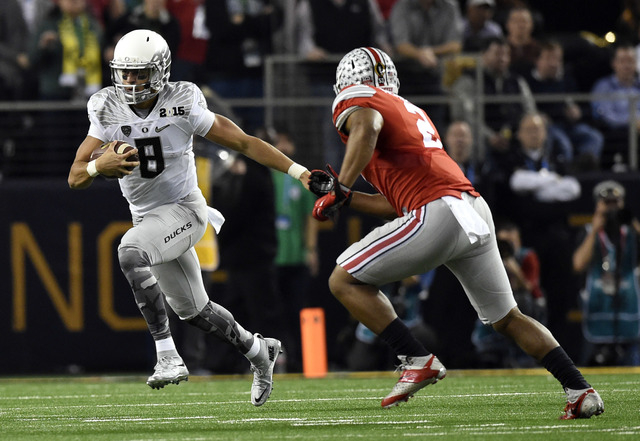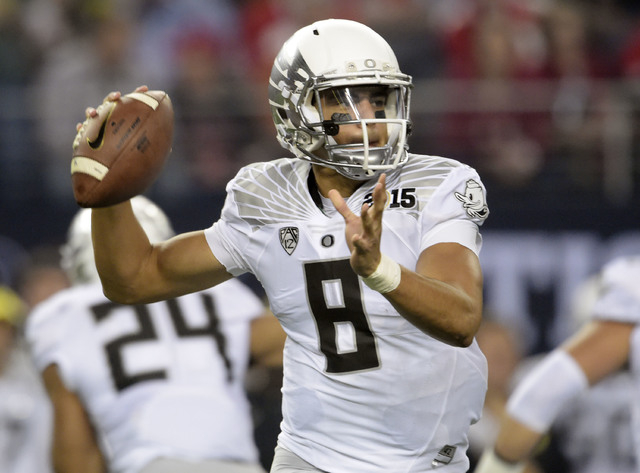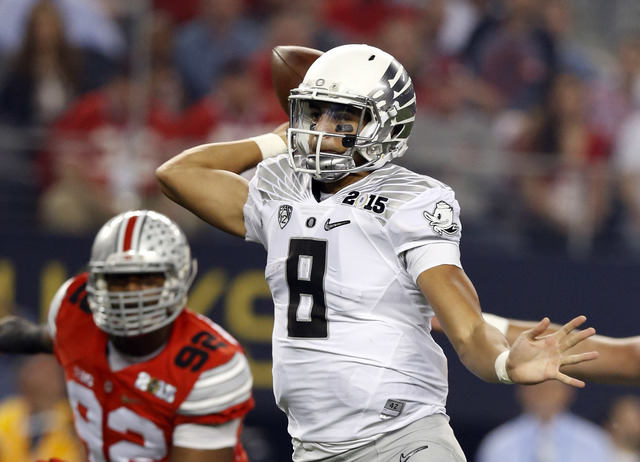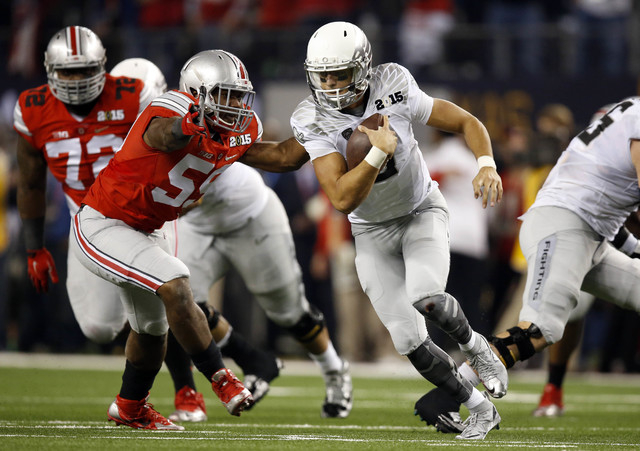 Oregon quarterback and Heisman Trophy winner Marcus Mariota will forgo his senior season with the Ducks to enter the 2015 NFL Draft.
NFLDraftScout.com, a property of The Sports Xchange distributed in partnership with CBSSports.com, ranks Mariota as No. 1 overall prospect.
Mariota announced his decision in a news release Wednesday.
"After meeting with my family I have decided to forego my final year of eligibility and apply for the 2015 NFL Draft," Mariota said in the statement. "My four years at the University of Oregon have been an awesome experience. I cannot thank Coach Kelly, Coach Helfrich, Coach Frost, the rest of the Oregon coaches and the support staff enough for molding me as a person, player and student-athlete.
"The support I received from the University, the city of Eugene and Duck fans has been tremendous. I will always remember the great times and support I received. Once a Duck always a Duck. I will miss being with my teammates. Being a part of this team was something special that I will always treasure."
The announcement comes two days after the Ducks were dominated by Ohio State, 42-20, in the first College Football Playoff national championship game.
Mariota will finish with 10,796 passing yards with 105 touchdowns and just 14 interceptions in three years. The Ducks won 35 games with Mariota under center.
The Hawaiian became the first player in Pac-12 history to produce more than 5,000 yards of total offense in a single season, amassing 5,224 yards in 2014-15. Mariota threw a touchdown pass in all 41 of his career games, but his last collegiate throw was an interception on the title game's final play. Mariota completed 24 of 37 passes for 333 yards and two touchdowns with the one interception Monday night.
Mariota, who set a Pac-12 Conference record with 58 total touchdowns this season, also was named The Associated Press Player of the Year and the Pac-12 Offensive Player of the Year, among other awards.
Mariota had 42 passing touchdowns this season, 15 on the run and one touchdown catch. He also set the conference mark for career touchdowns with 136.
"It's been an honor to watch Marcus develop over the last four years, and I'm excited to see what his future holds," Oregon coach Mark Helfrich said in a statement. "He's given this program everything we could have asked, and he'll be the standard by which others are judged. Mahalo."