Outcome might not settle spat
December 6, 2008 - 10:00 pm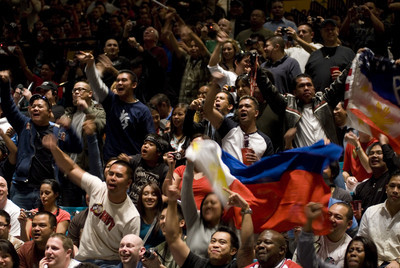 If Oscar De La Hoya defeats Manny Pacquiao in their 147-pound fight tonight at the MGM Grand Garden, it probably will mean the laws of physics are intact.
After all, De La Hoya has a 4-inch height advantage, and his reach is 5 inches longer than Pacquiao's. Simply put, he's the bigger fighter and is expected to win because of the size difference.
But what if De La Hoya loses to the man considered boxing's best pound-for-pound fighter? Only a part-time combatant at age 35, it will be time for De La Hoya to retire once and for all, observers will say.
He last fought May 3 and went the 12-round distance to decision Steve Forbes, another fighter smaller than he is. De La Hoya's record is only 4-3 over the past five years.
In the 29-year-old Pacquiao, De La Hoya will face a fighter in his prime, a natural southpaw with speed who certainly will pressure his opponent.
Essentially, De La Hoya is in a perceived no-win situation, though he doesn't agree. If he wins, it'll be because he was supposed to. If he loses to a smaller fighter, he'll be chided for having fading skills.
"This is a big test for me," said De La Hoya, a minus-190 favorite at the MGM Mirage sports books (Pacquiao is plus-160). "I haven't gotten the most out of my talent recently. That's the reason I've changed trainers so often.
"But I know my abilities, and I know the kind of fighter I am. I'm ready."
One area where De La Hoya will win, no matter what happens in the ring, is at the pay window. His purse is $20 million to Pacquiao's $6.6 million.
For Pacquiao, it's the opposite scenario. He's in a virtual no-lose situation. Beating De La Hoya would be a victory over one of the great fighters of this generation, even if De La Hoya is on the downside.
If Pacquiao loses, he still has a number of options for 2009 at 140 pounds, the weight at which he plans to compete. He'll have plenty of big-money bouts at his doorstep, with possible opponents including Ricky Hatton, Juan Manuel Marquez (for their third meeting), Juan Diaz, Kendall Holt and Nate Campbell.
"I have trained very hard for this fight," Pacquiao said. "In my last few fights, my style is always changing, and I think for this fight we have a couple of techniques that I can't talk about right now but you will see in the fight."
Pacquiao (47-3-2 35 knockouts) is seeking his third win in as many weight classes this year. On March 15 he won a 12-round split decision over Marquez at 130 pounds. On June 28, in his one and only attempt at 135, he knocked David Diaz out in the ninth round.
Now he moves up two weight classes. He easily made 147 pounds at Friday's weigh-in, coming in at 142. Trainer Freddie Roach expects his fighter to enter the ring at around 150. De La Hoya weighed in at 145 and figures to be close to 155 at the opening bell.
"Manny has handled the extra weight better than I even expected," Roach said. "He hasn't lost any of his speed and quickness and he's much stronger. I think we're going to have a big night."
Some in Pacquiao's camp are comparing their fighter's 2008 run to that of Henry Armstrong, the great fighter who won titles at featherweight, welterweight and lightweight in a 10-month span from October 1937 to August 1938.
De La Hoya (39-5, 30 KOs), hasn't fought at welterweight since 2001. But he also claims to be strong at 145.
"I feel great," he said. "I asked myself, 'What am I doing at 160, 154? I probably can feel comfortable at 140.' I feel energetic right now (at 145)."
De La Hoya said he's not in a no-win situation. He actually sees it the opposite way, given Pacquiao's lofty status.
"Manny Pacquiao is one of the best fighters in the world and he comes to fight," De La Hoya said. "We don't have to trash talk. My motivation has been his skills. My motivation has been his speed, his power.
"Winning is my motivation. The fire is back in my belly. Being back at Big Bear to train showed me how much I want to be the great fighter I used to be."
How great? De La Hoya gets his chance to show whether the word still applies.
Reporter Steve Carp can be reached at scarp@reviewjournal.com or 702-387-2913.
ON THE WEB View the slideshow FIGHT NIGHT DE LA HOYA VS. PACQUIAO • WHEN: 6 p.m. today • WHERE: MGM Grand Garden • RECORDS: Oscar De La Hoya (30-5, 30 KOs), Manny Pacquiao (47-3-2, 35 KOs) • ODDS: De La Hoya minus-190, Pacquiao plus-160 • TV: HBO Pay Per View ($54.95 analog, $64.95 HD)