Outspoken Darryll Fish takes on WSOP's Crazy Eights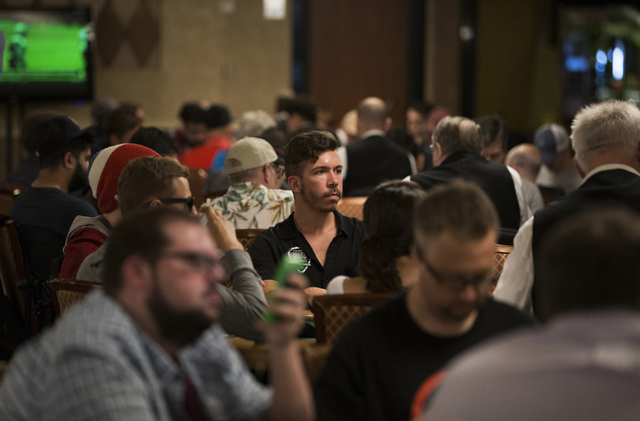 Darryll Fish admits his red rope hat with the four-word slogan is a troll.
"MAKE POKER GREAT AGAIN"
But beyond mocking a certain presidential candidate, Fish's hat has a deeper message. And it is a fitting symbol for the socially conscious 30-year-old with more than $2.3 million in career live tournament earnings.
"Poker is kind of an individual sport where you are playing for your own self interests," Fish said. "I'm trying to diversify my time so that being a professional poker player can be redefined as not just a selfish, greedy type of career."
Fish has spoken out on several issues throughout his career. He wore a T-shirt supporting the "People Over Politics" organization during the final table of a World Series of Poker circuit main event last year and also has sounded off on the topic of sexism in poker.
The Las Vegas resident is expected to be part of the field for the WSOP's $888 buy-in Crazy Eights No-limit Hold 'em event that starts Friday at the Rio Convention Center. The eight-handed tournament, in its first year on the schedule, features an $888,888 guaranteed first-place prize.
"It's kind of interesting that the better you do in tournaments the more exposure you get, the more of a following you get on social media, all these types of things," Fish said. "And I'm starting to gain traction with that over the last couple years, so I want to use that opportunity to maybe spread some positive ideas and maybe have some sort of positive influence on the community and ideally the world.
"That's grandiose of me to think that I can impact that, but every little bit counts."
Fish was born with a chronic heart defect known as a coarctation (narrowing) of the aorta. During an annual checkup at age 15, doctors discovered that the condition had returned, and the promising skateboarder underwent a second open-heart surgery.
Unable to participate in physical activities, Fish became a competitive Magic: The Gathering player and eventually turned to poker. He bypassed college to play cash games in Gainesville, Florida, and Biloxi, Mississippi, and started to focus on tournaments following his victory in a PokerStars "Super Tuesday" event in 2007.
In November 2015, Fish finished second in the main event at World Poker Tour Montreal and used the platform to address the topic of the objectification of women in poker.
Fish requested that the WPT's Royal Flush Girls not appear with him in any publicity photos from the final table, but has since softened his stance on the matter.
"I'm conflicted about the Royal Flush Girls situation," Fish said. "But at the time, it felt like an opportunity to make a difference and make a statement that people might take seriously and think, 'Hey, maybe there's something to look at here.' "
This summer, Fish has received attention for his "Make Poker Great Again" campaign. In addition to the obvious jab at Donald Trump's slogan, the headwear sheds light on another issue important to Fish.
"Over my poker career, I've seen a steady decline in the general just fun aspect of the game," Fish said. "There's so much social dynamics that go into it, and a lot of that gets lost on tournament poker these days. The hat was kind of a way to promote let's kind of bring that energy back."
Fish won the WSOP Circuit main event in January 2015 in West Palm Beach, Florida, wearing his "People Over Politics" shirt, and has amassed more than $1 million in lifetime WSOP and circuit winnings.
Fish has made two final tables this summer, finishing eighth in the $565 buy-in Pot-limit Omaha and $2,500 buy-in No-limit Hold 'em events. He also made the money in the $1,500 Shootout No-limit Hold 'em tournament before being eliminated Thursday afternoon.
"I'm pretty happy with the results," Fish said. "In tournaments, if you just keep knocking on the door, eventually it will open and you'll have that win. I feel like in the last year or so I've really been putting in hard work, thinking about things clearly and knocking on that door, so it's only a matter of time."
Contact reporter David Schoen at dschoen@reviewjournal.com or 702-387-5203. Follow him on Twitter: @DavidSchoenLVRJ