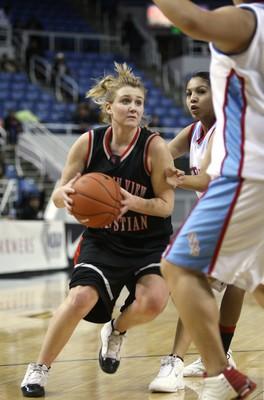 RENO — As Mountain View kept chipping away at Owy-hee's big lead in their Class 1A girls basketball state final matchup, the Saints finally were doing what coach Tom Van Kempen wanted — driving the lane.
A 10-point Owyhee lead midway through the fourth quarter dwindled to one with 31.9 seconds left.
Then fate stepped in — in the form of Maria Gartiez.
The Braves' 5-foot-2-inch guard jumped in front of a driving Randall Van Kempen, drawing a charge and sealing Owyhee's 42-38 win Saturday at Lawlor Events Center.
"That was the worst call I've ever seen," said Tom Van Kempen, who was given a technical foul for protesting the call. "The worst call in the world. We won that game — I don't care what anyone said. We won."
Owyhee coach Carol Couchum conceded that she also thought Gartiez had committed the foul but that Gartiez did have position.
But though he was upset at the call, Tom Van Kempen was more displeased with his players' aversion to the inside. For much of the first half, the Saints were camped on the perimeter, chucking up long shots. While Ellie Markwardt hit four of those 3-pointers, finishing with 20 points, Tom Van Kempen wished his players had tried to penetrate more.
"I specifically told our girls that we can't win just going outside," Tom Van Kempen said. "Randall started driving in the middle of the fourth quarter, making layup after layup after layup. I wish she had done that the whole game.
"I don't know if we'd be in this position if she did."
With the Braves' size advantage, it might not have mattered.
Owyhee jumped to an 8-0 lead in the first quarter, winning the rebounding battle
17-5. Early in the second quarter, though, the Saints outhustled the Braves on the boards, recapturing control of the game while taking a 15-11 lead.
"We got lazy in the second quarter," Couchum said. "I went into the locker room and said we were going down now because we're not stepping in and attacking the boards like we should be. We were kinda stuck on the floor."
Though they weren't maintaining the vast rebounding margin, the Braves continued to roll through the second and third quarter because of Tina Gallardo's hot hand. Gallardo had 10 of her 13 points in the second and third quarters, hitting three 3-pointers with the Mountain View defense keyed on Holly Thomas.
"We can shoot inside, and we can shoot outside," Couchum said. "And (Thomas) can pop a 3 if she's ready to go, or post up.
"But they knew they had to be on her, and they were."
Contact reporter Jon Gold at jgold@reviewjournal.com or (702) 380-4587.